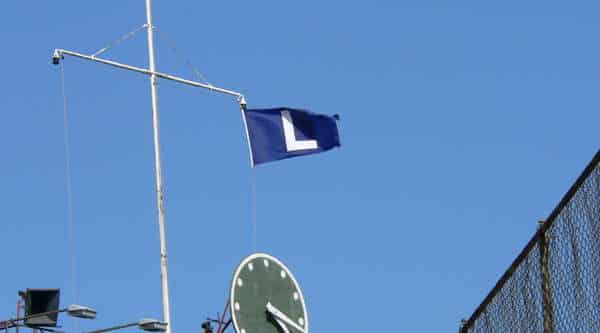 A Tip of the Recap – 5/19 (Brewers 5, Cubs 3)
Cubs Record: 28-11 (1st Place NL Central)  
W: Junior Guerra (3-0, 3.96)
L: Jason Hammel (5-1, 2.31)
S: Tyler Thornburg (1)
MVP: Kirk Nieuwenhuis: 2-4, HR, 2 RBI, 2 R
After a marathon 13-inning win on Wednesday night, the Cubs looked to take the rubber match against the Brewers Thursday afternoon. Yet again for the Cubs, an unheralded Brewers starter kept them off balance most of the game. Two struggling Cubs outfielders could not cash in on late chances for go-ahead runs and Milwaukee won the series.
The Cubs offense got off to a very nice start early in the game as leadoff hitter Dexter Fowler cranked a solo shot to left field to earn an early edge. Jorge Soler doubled and scored on Miguel Montero's single in the second inning to double the lead. Milwaukee then stormed back with two runs on a wild pitch and a Chris Carter longball.
The big blow came off the bat of Kirk Nieuwenhuis (that name is right up there with Samardzjia spelling-wise) in the bottom of the sixth. Kirk N's two-run bomb gave the Beermakers a lead they would never relinquish, though both teams would tack on late runs to make it a 5-3 score. Tyler Thornburg made things interesting with two walks to lead off the 9th before recording his first career MLB save.
The Good
Junior Guerra was making his fourth career major league start for the Brewers on Thursday and the converted catcher was very good with a line of 7 IP, 5 H, 11 K, and 3 ER. Guerra was able to settle down after a shaky first couple of innings to put up a very solid start. The Brewers put up three quality starts this series and people are going to be eager to jump all over the Cubs for their recent offensive struggles. Just seems like a cold streak for the Cubs hitters; things like this happen during a season it will get better.
Nieuwenhuis was a thorn in the Cubs side today. With Jonathan Lucroy and Ryan Braun out of the lineup, it felt like maybe the Brewers offense would be off. Unfortunately, Nieuwenhuis with his deep ball and scoring on a wild pitch early in the game did enough damage to put the Cubs behind for good.
There has to be at least one Cub in the good section, right? This site is Cubs Insider not the Bernie Brewer Beer Blog (which really is a good name for a Brewers blog). Miguel Montero was 2-for-3 with an RBI single, a triple, and a run scored. A triple and stolen base the last two games for Montero? I'm sure we all saw that coming.
The Bad
Jason Heyward did not have a good game today, going 0-for-5 with 2 K's. I was really hoping Heyward would deliver in the ninth with two on and two outs. Social media has been coming down hard on him recently amidst his offensive struggles. I'm not worried myself, since Heyward is traditionally a second-half hitter and I think history is likely to repeat itself. The last four games the Cubs are 1-3o with runners in scoring position. That will not continue; RISP averages tend to even out over the course of the season. Things will get better, Cubs fans, trust me.
The Ugly
Jason Hammel's 6th-inning hanging slider to Nieuwenhuis was pretty ugly. The Brewer did not miss his chance, pounding it into the upper tank at Miller Park to give the Brewers the lead for good. Hammel was not bad today, giving up 4 runs on 5 hits in 6 innings pitched. The fact that that kind of outing creates angst on Cubs Twitter shows just how good Hammel has been to start the season.
Coming Attractions
Friday night, Cubs ace Jake Arrieta (7-0, 1.29) looks to play stopper against old war-horse Jake Peavy (1-4, 7.43) and the Giants at 8:15 CST. Peavy has had a rough start to the season so far, but Cubs fans know after the last three games you can't count on other teams' starting pitchers imploding. The Cubs are in the midst of their first slump of the season, which was bound to happen to the Cubs at some point. Hopefully it is a short one.