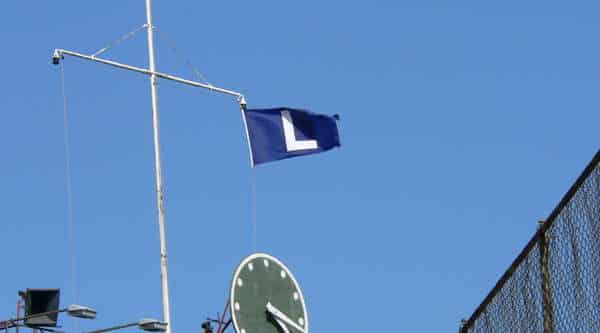 A Tip of the Recap – 5/21 (Cubs 3, Giants 5)
Cubs Record: 29-12, 1st Place NL Central (6.5 games up)
W: Matt Cain
L: Jon Lester
SV: Santiago Casilla
MVP: Matt Cain
Jon Lester struggled mightily and was the first Cubs starter to not make it through 5 innings this season. It was an amazing run that had to come to an end sometime, but it was pretty ugly for Lester and the Cubs today. Matt Cain did his job for the Giants and gave up just one run, a Kris Bryant solo shot to dead center through 6 innings. The Cubs added runs in the 8th (Javy Baez RBI single) and 9th (Dexter Fowler solo HR), but the rally fell short.
The Good
Dexter Fowler had a great night at the leadoff spot, going 3-for-5 with 2 singles and his 5th HR in the 9th inning. He is hitting a robust .324 on the year and is playing himself into a slam-dunk All-Star selection.
Kris Bryant went 2-for-4 with his 9th HR (a solo shot in the 3rd) and 31st RBI. He his hitting .282 and I really liked him in the 2 hole behind Fowler and in front of Rizzo with Heyward out for a few days.
Ben Zobrist had his 14th multi-hit game of the year, going 2-for-5 and is hitting a team-leading .329. He got the start in RF tonight with Baez getting the start at 2nd.
Jorge Soler had another good day, going 1-for-3 with a double off the RF wall and a run scored. He also drew walk and looks to be locking in a bit after starting off very slowly. He also had an assist, gunning down Giants catcher Trevor Brown, who was trying to stretch a single into a double.
The pen had to do some heavy lifting tonight and Trevor Cahill, Clayton Richard, Justin Grimm and Travis Wood combined to give 5.1 innings of scoreless baseball. They gave up just 3 hits with 2 walks and 3 K's (all by Cahill).
The Bad
Jon Lester had his worst start of the year and only made it through 2.2 innings, giving up 5 runs (all earned) on 6 hits and 3 walks with just 1 K. He gave up a two-run double to his counterpart, Matt Cain, who crushed a 3-2 fastball to CF over Dexter Fowler's head. Lester's record falls to 4-3 on the year and ERA ballooned from 1.88 to 2.60 with tonight's start.
Tim Federowicz struck out with two on in the 8th after replacing Miguel Montero, who was announced as a pinch hitter, prompting Bruce Bochy to go to a lefty reliever. The bad part about this is that Federowicz was the the last righty bat off the bench and I'm not a fan of carrying three catchers, especially with a short bench due to Jason Heyward being out 3 to 5 days.
The Ugly
The ugliest thing about this one is that it felt like the most winnable game of the weekend. The Giants were shorthanded with Angel Pagan and Hunter Pence both out with minor hamstring issues and the Cubs should have had the upper hand between the two starting pitchers.
Coming Attractions
The final game of the series will be tomorrow night at 7:05 PM (CST) on ESPN's Sunday Night Baseball. The game will be leaning in favor the Giants as they start Madison Bumgarner (5-2, 2.45) against Kyle Hendricks (2-3, 3.51). Hendricks struggled a bit in his last start against the Brewers and comes in with a 5.19 road ERA. All of these things add up to a very tough game Sunday night.