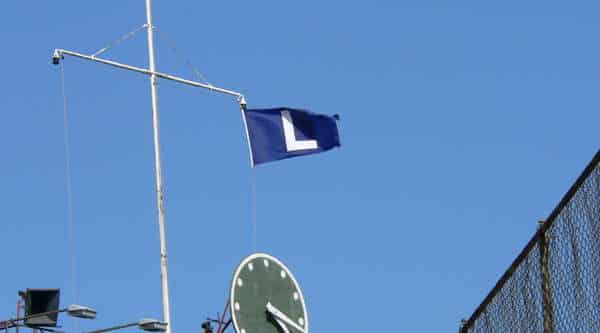 A Tip of the Recap – 5/22 (Cubs 0, Giants 1)
Cubs Record: 29-13, 1st Place NL Central (6 games up)
W: MadBum
L: Kyle Hendricks
SV: Santiago Casilla
MVP: MadBum
Far be it for me to elevate another beard in baseball above Jake Arrieta's, but I found myself transfixed by Madison Bumgarner's facial fleece. I mean, that has got to be the most impeccably maintained hair this side of Eric Karros's soap-star pompadour. Just incredible. Whether it was his fluff or his stuff, the Cubs were apparently in awe of the Hickory, NC product as well. Coming with that lefty crossfire delivery, MadBum might as well have been Rutger Hauer in Hobo with a Shotgun the way he mowed opponents down out there.
The only real excitement in the game came when Joe Maddon had some choice words regarding a disputed call (more on that below) on a close play with Javy Baez at first. Oh, Arrieta's live interview was pretty cool too. Dude was just so chill, following the game from behind reflective shades as he broke down his performance and talked a bit about the Cubs as a whole. I've always been pretty meh on in-game chats like this, but Arrieta actually provided some legit insight and I thought it was pretty worthwhile.
As for the rest of the game, however…
The Good
Kyle Hendricks more than pulled his weight — which isn't saying all that much since he tips the scaled at just over 75 pounds — over 5 1/3 innings Sunday night, allowing only a single run on three hits and three walks. Of course, that lone run came on an RBI double from the opposing pitcher, the second straight game in which the Cubs have allowed such a hit. Other than that, thought, Hendricks was nails. If you'd like to lay blame for this loss at his feet, please leave your name and address in the comments below so I can show up at your doorstep and box your ears.
Travis Wood and Pedro Strop were absolutely lights-out as well, pitching a combined 2 2/3 (Wood tossed nearly two innings) and allowing only one hit while striking out two apiece. That kind of overall performance gets you a win pretty much every time out. Well, unless your offense is facing MadBum the Southern Buzzsaw.
The Bad
The Cubs loaded the bases in the top of the 1st against a less-than-sharp Bumgarner but were unable to capitalize. The burly lefty hit Anthony Rizzo, gave up a single to Ben Zobrist, and then walked Jorge Soler to give the Cubs the only serious threat they'd pose all game long. With a chance to make some noise early, Addison Russell then worked a full count before taking strike three on a pitch that was down in the zone but was wholly untakeable in that situation.
It appeared that the Cubs' game plan against MadBum was to be even more patient than usual and to really make him command his stuff early. During that aforementioned interview, Arrieta spoke to his counterpart's cross-body delivery and how it sometimes results in a lack of control early in games. Arrieta likened this to his own motion, which we've seen in action quite often. Unfortunately for the Cubs, Bumgarner settled in and was very Arrieta-like for the rest of the game.
The Ugly
The top six spots in the Cubs' order combined to go 1-for-21 with six strikeouts, four of which came from Russell. After their scorching hot start, the Cubs have now dropped seven of 11 and have averaged only 1.86 runs per game in those losses. In stark contrast, they've averaged 6.87 runs in their last eight wins. It all balances out in the end, but the feast-or-famine tendencies being displayed of late are frustrating.
Things almost got ugly in the top of the 8th, when Javy Baez got squirrelly with his path to first while trying to beat out a bunt. He was ruled out for going out of the baseline to avoid the tag, a call Joe Maddon was none too pleased with (he even drops an audible F-bomb at the 1:17 mark of that video clip). Baez appeared to have been within the legal limits of the line and was able to reach the base with his hand, though starting about five feet in on the grass and swinging wide probably didn't help his case.
It looked for all the world like Maddon was trying to get tossed, but first base ump Dana DeMuth showed a little grace. Or maybe he just figured forcing the skipper to sit through another inning of his team's struggles was a harsher punishment than getting run and hitting the showers early.
Coming Attractions
The Cubs now head to St. Louis for three more games, the first of which comes against Adam Wainwright at 7:15 pm (CT). Waino has been uncharacteristically bad this season (5.92 ERA), but shut down the Rockies in his last start and has generally had success against the Cubs (12-7 with a 3.95 ERA). John Lackey takes the bump once again in this old stomping grounds and looks to repeat the masterful performance he authored earlier this season.