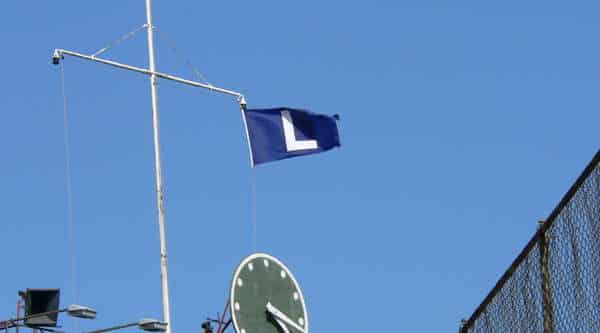 A Tip of the Recap – 5/31 (Dodgers 5, Cubs 0)
Cubs Record: 35-15 (1st in NL Central)
W: Joe Blanton (3-2)
L: Clayton Richard (0-1)
MVP: Corey Seager (3-5, HR, 3 RBI)
All good things must come to an end and after 23 consecutive wins with Jake Arrieta starting, the Cubs finally dropped a decision. That isn't to say Jake Arrieta didn't have his best stuff, but that it was a frustrating 5-0 loss in which the Cubs hitters looked uncharacteristically uneasy at the plate. Arrieta went seven innings giving up two hits and no earned runs while dropping his season ERA to a minuscule 1.56.
Indeed, this was an offensively challenging game for both sides, with a late afternoon shower quite literally putting a damper on the occasion. The Dodgers beat the Cubs at their own game by drawing long at-bats and challenging Cubs pitchers to throw strikes. The Dodgers bullpen did their part, shutting down the Cubs offense after Scott Kazmir went 6 strong innings.
Ever since shutting down the Minnesota Twins on June 21st last season, Arrieta has been another planet. He rode an historic 2nd half to a Cy Young win and has been even better through the first two months of 2016. After a challenging start against the Cardinals last week, Arrieta quickly regained his top form and did everything he could to give his team the best chance to win. At the end of the day, that's all you're looking for from a starter.
The Bad
In a perfect world, Joe Maddon would have loved to have Travis Wood or Justin Grimm available tonight. However, after Wood, Grimm, Pedro Strop, and Hector Rondon combined for 7 perfect innings Monday night, that just wasn't going to happen. On nights like these, you really have to take the good with the bad. Clayton Richard, who has struggled in what limited time he's seen this year, gave up three base hits and two earned runs while failing to actually get anyone out.
In his defense, Richard has been suffering some bad luck from BABIP gods (see below). A ground-ball specialist, Richard should start seeing a change in fortune before long. Perhaps some low-leverage outings will go a long way to helping turn those numbers around. A tie game against a very good Dodgers team probably isn't the best situation, but Maddon had to make do with what few options he had.
Interesting re: Clayton Richard

.382 BABIP against despite only 12% LD rate and 15% hard hit rate. Also 47% LOB%.

He hasn't been that bad

— FullCountTommy (@FullCountTommy) May 31, 2016
The Ugly
If all goes well, I won't have to write many bad things about this Cubs offense this year. It's not as though Scott Kazmir is a bad pitcher, but it's not like the Cubs should have looked as lost as they did against him. Kazmir had an ERA above 4.00 and had a bit of a problem with the longball heading into tonight's game. However, the Cubs acquitted Kazmir nicely, uncharacteristically offering at pitches they usually don't.
The weather did play a role, what with the suddenly cool and damp temperatures effectively neutering potential home runs and making it that much harder to get hard contact. However, that shouldn't be an excuse for only having one hit, a 3rd inning Dexter Fowler line drive, for the entire game. I anticipate a different approach (and hopefully better weather) later in the series.
Coming Attractions
The Cubs will face off against the 28-year-old righty Mike Bolsinger Wednesday. He is 1-1 0 with a 4.50 ERA over 10 innings pitched and got a win against the Reds in his last start, going  5.2 innings and giving up three hits, two earned runs, and six strikeouts. Jon Lester will take the mound for the Cubs coming off a win against the Phillies where he went 6.1 innings, giving up six hits, one earned run, and striking out seven.
Craig Sager will throw out the ceremonial first pitch as part of Conquer Cancer Day. If you have the time, I highly suggest reading David Haugh's article on the longtime NBA sideline reporter and lifelong Cubs fan. The Cubs will be part of Wednesday Night Baseball on ESPN, with first pitch coming at 7:05 PM.