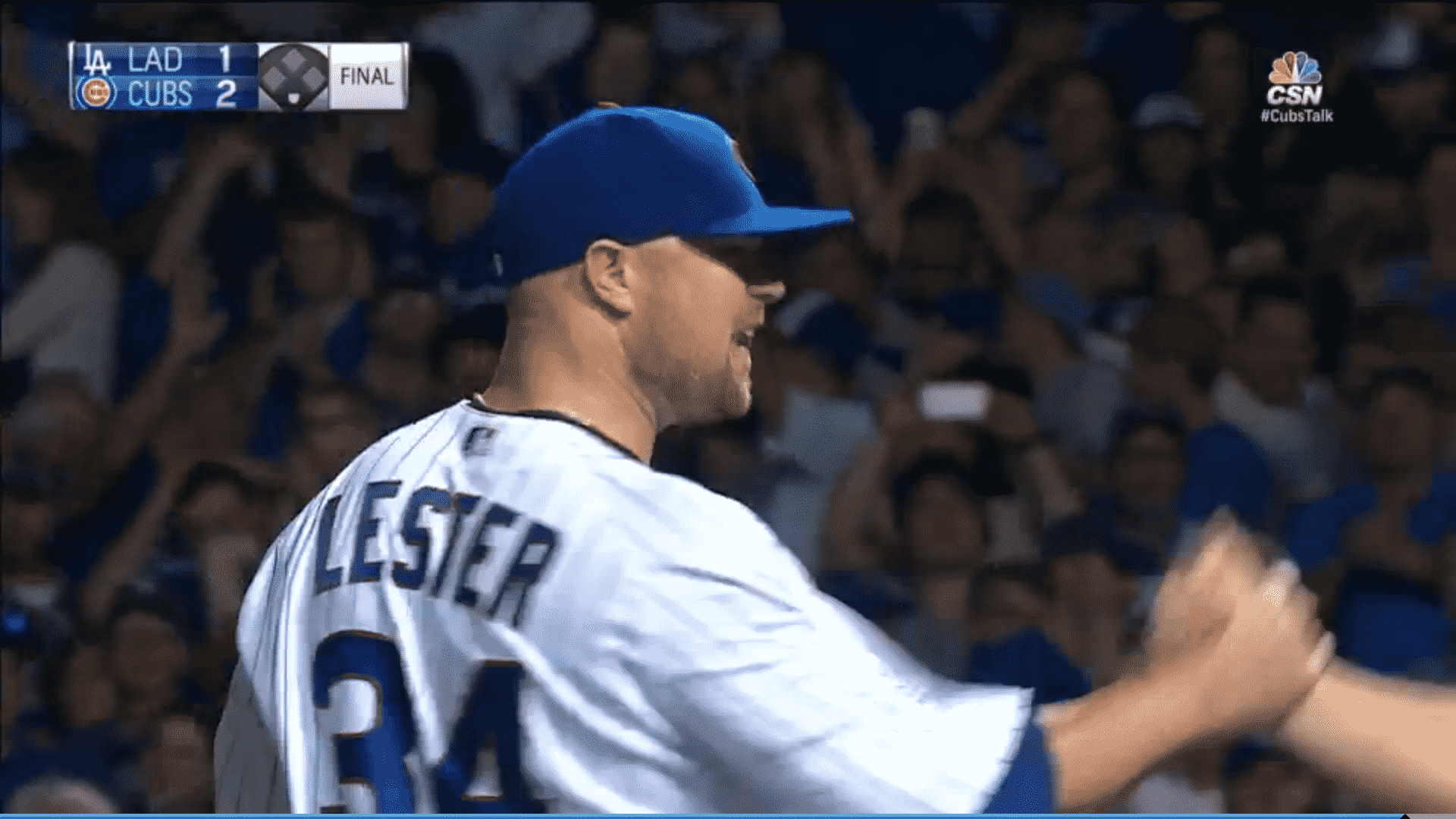 Jon Lester Worth Every Penny As He Shuts Down Dodgers
Jon Lester will earn about $606,060 for each start he makes in 2016, which comes out to roughly 60.6 million cents. But when Kiké Hernandez sent the Lester's second pitch of the game over Kris Bryant's head and into the left field bleachers, you could almost sense the "here we go again" from Statler, Waldorf, and the rest of the characters who constantly bring up the value of the lefty's contract.
That homer was the only run the visitors would push across all night, though the fetid scent of anti-Lester arguments will likely linger beyond today's complete-game effort. Of course, shutting the Dodgers down to move to 6-3 and lower his ERA to 2.29 after 11 starts should have at least sprayed enough Febreeze to make things tolerable for the next few weeks. Or at least until his next start.
I'm probably not telling you anything you don't know here, but Lester is a really good pitcher. Like, really really good. And, boy, was he on his game Wednesday, mixing pitches and velocity to keep hitters guessing. It was almost unfair at times, like when he flat-out abused Corey Seager in the 6th inning.
After dialing the heater up to the mid-90's on three straight offerings, Lester snapped off a wicked 77 mph curve at which the young shortstop could do nothing but flail his bat helplessly. It was a thing of beauty, and it was just one of 10 strikeouts the veteran logged against nary a walk.
Given Joe Maddon's stated strategy to conserve his starters' innings pitched, it was a bit of a surprise to see Lester take his at-bat in the bottom of the 8th. Then again, he was only at 102 pitches and had been throwing with an ease that belied the game's close score. It turned out to be the right move, as Lester promptly struck out. Wait, no, that's not what made it the right move. That would be when the he went back out for the 9th and induced two ground-outs before striking out Howie Kendrick to end the game.
The last of his 113 pitches, like 73 others before it, was a strike (that's about $8,200 per if you're counting). He didn't dance around the Dodgers hitters, but attacked them with his full arsenal. This is the Jon Lester Theo Epstein was willing to douse himself in deer urine to woo. I'm not sure how all that would've worked, but the Cubs' number two sure has been taking the piss out of his opponents this season.
So, yeah, he's expensive. But as long as he keeps throwing BBs like this, I'm more than fine with the Cubs hauling mountains of copper to his doorstep.
Why do I have the sudden urge to listen to Live?