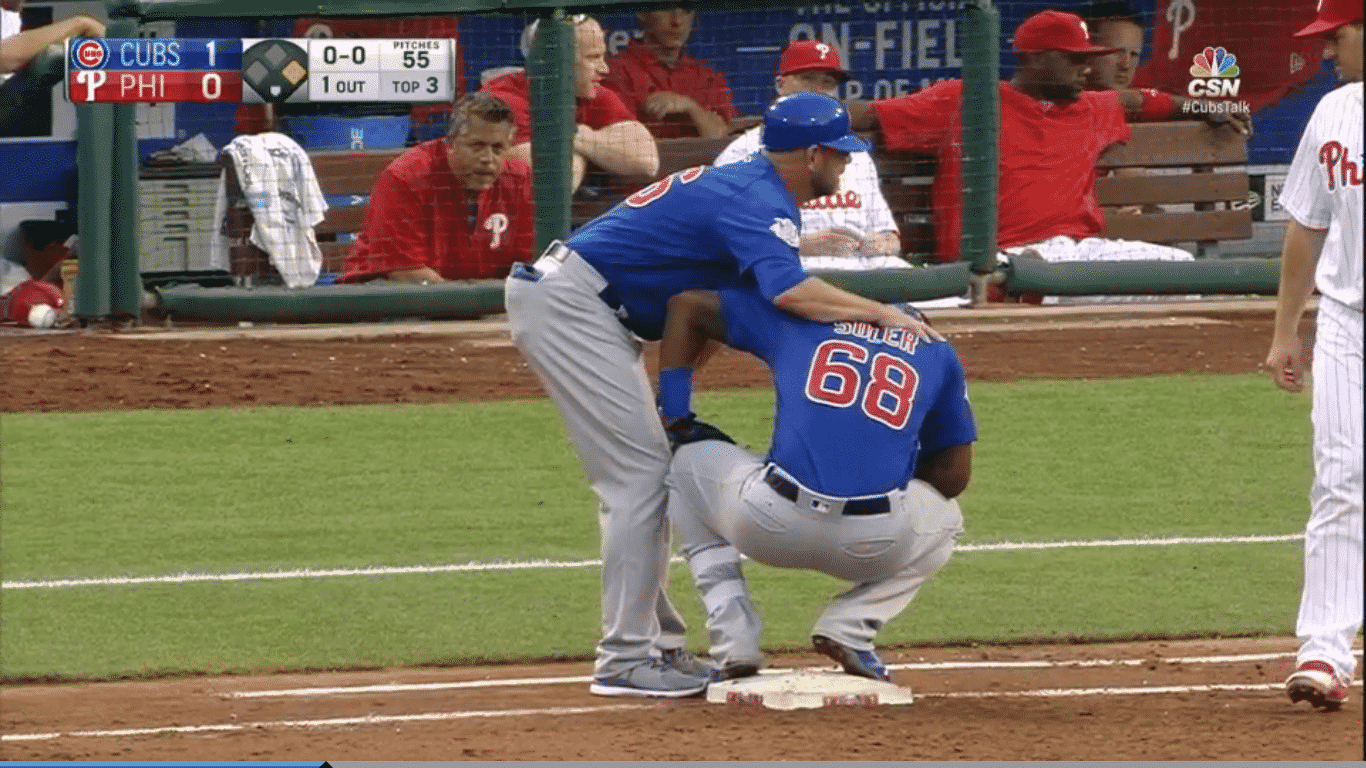 Hip, Hip…No, It Was Actually Jorge Soler's Hamstring (Updated)
I wish I could tell you that I'd been thoroughly enjoying Jorge Soler's recent upswing without the taint of anxiety that comes from waiting for the other shoe to drop, but I can't lie to you. I've just never been able to shake the worry that a leg injury was right around the corner, though I was starting to feel cautiously optimistic of late in spite of myself.
Since May 18 (16 games), Soler has slashed .286/.412/.571 with 3 home runs and 11 runs scored, good for a .420 wOBA and a wRC+ of 166. So that's pretty good. He had even been playing some decent defense in left, highlighted by a leaping grab at the wall in Philly to rob Tommy Joseph of extra bases.
Georgie Sunshine was lighting up Phillies starter Adam Morgan with two singles in two at-bats, too, though the second one didn't end so well. After absolutely roping the ball down the line to the wall in left, Soler came up lame while rounding first. The Cubs were quick to confirm that it was a hamstring injury, though the severity is not known at this time.
Hammies are scary enough all on their own without throwing in the history Soler has had with leg injuries. That's not to say that his past led to this particular tweak, but that you worry about it more and that the Cubs may be extra cautious with his recovery as a result. The timing here couldn't be much worse either, as we just saw that awkward cartoon character of an outfielder in San Francisco tear his hamstring badly enough to require surgery.
The positive news is that Soler was able to walk off under his own power, which could bode well for further news of the injury. There's certainly no need to push it with a guy who's got questionable wheels, particularly at this point in the season. So here's to hoping it's just a run-of-the-mill pull like Mark Grace would get every time he had to round second at speed and not a Hunter Pence redux. The Cubs have already lost one left fielder, so they'd be kinda hamstrung if George has to be put on the shelf for a significant period of time.
I have long referenced the guy's propensity for leg issues as a reason for not being too bullish on his potential, but this would be one instance in which it would be nice to be wrong for a change.
UPDATE #1: Soler said after the game that this injury did not feel quite as bad as the one he suffered a couple years ago, but an MRI Tuesday will provide more clarity on the exact prognosis. Matt Murton could be called up if Soler hits the DL, but Maddon specifically mentioned that Albert Almora would also be a possibility.
Given Matt Szczur's presence and Kris Bryant's ability to play either corner, my money is on Murton. While the idea of seeing Almora and Jason Heyward flanking Dexter Fowler has me thinking impure thoughts, I don't know that the Cubs would call the kid up to play in a limited role. Of course, that conversation changes if Soler's hammy is more balky than I think it is.
UPDATE #2: Looks like Almora is going to get the call if Soler hits the DL, at least according to the Des Moines Register's intrepid Tommy Birch:
Albert Almora Jr. will not be with the Iowa #Cubs today. No word on if he's officially been called up of is on standby to wait on Soler.

— Tommy Birch (@TommyBirch) June 7, 2016
Basically: if Soler goes on the DL, Almora Jr. will be there and ready. If he doesn't, Almora Jr., will head back to Iowa. #MiLB #Cubs

— Tommy Birch (@TommyBirch) June 7, 2016