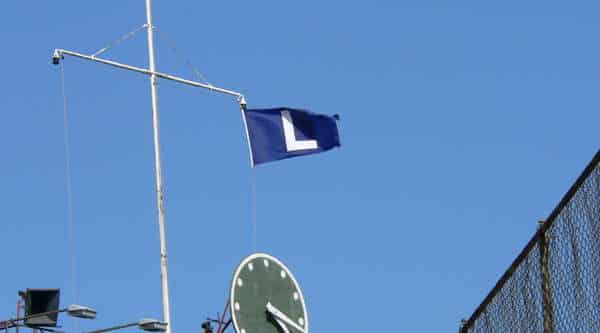 A Tip of the Recap – 6/5 (Cubs 2, D-Backs 3)
Cubs Record: 39-16 (1st Place in NL Central)
W: Patrick Corbin (3-5, 4.73)
L: Jake Arrieta (9-1, 1.80)
S: Brad Ziegler (11th Save)
MVP: Patrick Corbin
What an odd game today for Jake Arrieta and the Cubs. Arrieta was his normal dominant self, if not even more so than usual, but only made it through 5 innings. He struck out 12, though he did give up 9 hits (8 singles) with a walk and 3 runs (all earned) while earning his first loss of the year (and first since late July of 2015). He needed 108 pitches to get his 15 outs and had stretches that saw the D-Backs get three hits and even five hits in a row today.
The bats were mostly quieted by Patrick Corbin, who changed speeds and located very well. Arrieta got the Cubs on the board in the 2nd with an RBI double that was one more biscuit for breakfast away from being a two-run HR. Javier Baez would later hit his 4th HR of the year to pull the Cubs within one run.
The Good
Like I said earlier, Arrieta had great stuff today and deserved a better fate. He got 12 of his 15 outs via the strikeout, but the D-Backs were 9 for 10 on balls they put in play (.900 BABIP, league average is around .290, Arrieta's was .216 coming into the game). I chalk this up to just a bit of bad luck for Arrieta; it wasn't like he was giving up lasers left and right either, they were just hitting them where the Cubs weren't.
The pen came in did a great job as well with Trevor Cahill, Justin Grimm, Travis Wood and Adam Warren combining to strike out 6 more D-Backs over their 4 scoreless innings of work. In total, the Cubs pitching staff generated 18 K's today, which is no small feat and usually doesn't translate to many losses.
Baez is good at baseball and showed some opposite field power today, hitting his HR into the RF bleachers with a flick of the wrist in the 6th inning. He is now hitting .252 with 4 HR's and 11 RBI on the year. The more consistent AB's he gets, the better off he will be. Hopefully he will get a little more run, possibly starting at 3rd with Kris Bryant playing some LF.
The Bad
The Cubs are just not going to win every game that they play. I know it feels like it and the way the year has started it feels like they win almost all of the time, but they just got beat today in a game in which they were heavily favored (as they are every time Arrieta takes the mound). As they say though, you can't predict baseball. Nothing bad enough to complain about here.
The Ugly
Joe Maddon was tossed out of the game in 7th inning when he came out to argue that Paul Goldschmidt actually went around on a pitch that was called ball four. He really just popped out of the dugout to see if the home plate ump could ask the 1st base ump, but he must have had a tone because he was run from the game. The replays showed that Goldie did go around and should have been K'd, but it seemed like the ump had little patience with Joe protesting. This bordered on an #umpshow.
Coming Attractions
The Cubs hit the road in their cool track suits as they head to the City of Brotherly Love for a 3 game series with the Phillies. Game 1 is Monday night at 6:05 PM (CST) and it will feature a matchup of Jon Lester (6-3, 2.29) against lefty Adam Morgan (1-4, 7.07). Back on May 27th, Morgan gave up 6 runs in 4 innings of work against the Cubs, so perhaps a repeat of that is in order this time around.