MLB Draft Rounds 3-10: Cubs Go After Some Big Arms on Day Two
My dream of the Cubs selecting Kyle Funkhouser ended early in the 4th round when the Louisville pitcher was drafted by the Detroit Tigers. In fact, most of the players I previewed this year went in the early part of the 4th round, including one of my favorites, DJ Peters, who was picked by the Dodgers. I barely missed on a lot of picks and hit on just one so far.
It is clear that the Cubs' pool of $2.3 million affected who they selected and, now, who they will sign. Without picks in the first two rounds, and the money that goes with them, the Cubs relied on their scouts to find and select players who could blossom and develop under the tutelage of the organization's coaching. The key word of the day was "projectability." Of the eight players selected, the Cubs picked seven pitchers, six of whom are 6'5″ and above. Five of the players were in the top 205 of Baseball America's Top 500. I think that is pretty amazing considering the Cubs did not select until #104.
Round 3: Tom Hatch – RHP – Oklahoma State


Hatch was the Big 12 pitcher of the year with a fastball that sits 89-94 and a plus slider. He did miss all of 2015 with an elbow injury that did not require surgery, but recovered nicely this year with a new arm slot. At one point, he threw three consecutive complete-game shutouts. He has a back-of-rotation or middle-reliever profile and was ranked 178 on Baseball America's Top 500. MLB.com said the following:
He doesn't miss a ton of bats but the running and sinking life on his heater generates a lot of groundouts. Hatch's new arm slot lends itself well to a slider, and his low-80s breaking ball is a plus pitch at times and he can throw it to both sides of the plate. He has feel for a changeup and for commanding his pitches, so it's easy to project him as a starter at the next level.
Hatch was ranked 81 on their board. At 6-0, 180, Hatch has his work cut out for him if he wants to stay a starter.
Round 4: Tyson Miller – RHP – California Baptist


The 6'5″ RHP comes from a Division II school and made a name for himself in the Cape Cod League, which seems to be a theme for many Cubs. In 25 innings last summer, he struck out 29. His arsenal includes a 91-93 fastball that tops at 96. He relies more on ground balls and also has a plus low-80's slider. He throws a low-80's change that needs some work. Miller was ranked 197 by Baseball America and 189 by MLB.com.
Jim Callis and Jonathan Mayo described his potential:
Tall and projectable, with loose actions and a lean, athletic body, the 6-foot-4 Miller will flash a fastball up to 93 mph, with the potential for more once he gets into a player development system. He'll show glimpses of a decent slider and has an average changeup to round out his three-pitch arsenal. Miller tends to throw strikes, though he is more control over command at this point.
I think there is a theme going here that the Cubs are finding pitchers who are still physically projectable and need some work on a third pitch.
Round 5: Bailey Clark – RHP – Duke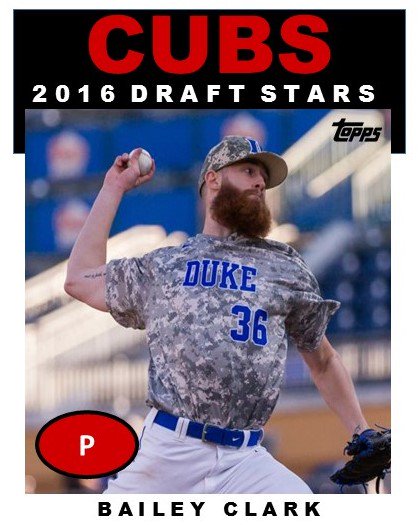 Clark has big stuff and he's pitched at high levels in the ACC, the Cape Cod League, and Team USA. He did not have a good junior season in 2016 at Duke, where his stuff eluded him and he was sent to the bullpen. He has a fastball that sits at 95 and can top out at 98 with a plus curve that is an out pitch.
Callis and Mayo discussed how Clark could be a plus in the bullpen:
He wouldn't have to worry about pacing himself or having to be as fine with his pitches in shorter stints, and he might have closer upside if he improved the consistency of his breaking ball. If he's going to stay in the rotation, he'll need to improve his changeup.
At first glance, he looks like Myrtle Beach's Daniel Lewis. To be honest, their games may not be that much different either. Clark was ranked at #155 on MLB.com and #132 at Baseball America.
Round 6: Chad Hockin – RHP – Cal State Fullerton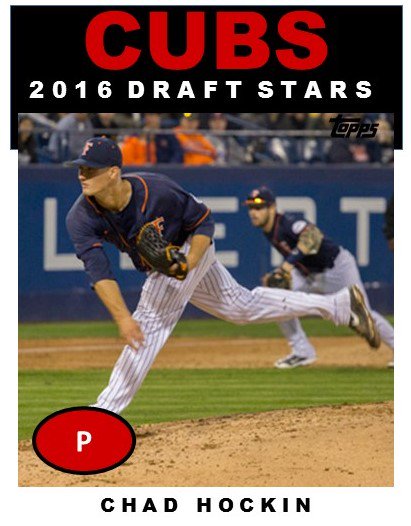 The 6"2″ RHP had a unique season. MLB.com describes it well:
For most of the season, Hockin has been operating with two premium pitches: a fastball up to 97 mph and a slider touching 89 mph. He throws both pitches for strikes, though he knows how to expand the zone with his breaking ball effectively, and misses bats with both offerings. The right-hander was on the shelf for what scouts were told was both for some academic trouble and because of elbow tenderness. When he did return, Hockin's fastball was more in the 92-94 range and he did appear tentative in throwing his devastating slider.
The Cubs are taking a little bit of a gamble here, but it could easily be worth it if they get Hockin on the right track. He was ranked #70 in MLB.com's top 200 and #104 on Baseball America's top 500. I like the pick, I like that the Cubs got someone they can mold into something very special. Yes, there is risk, but there is also reward. I'm going with his upside.
Round 7: Michael Cruz – C – Bethune Cookman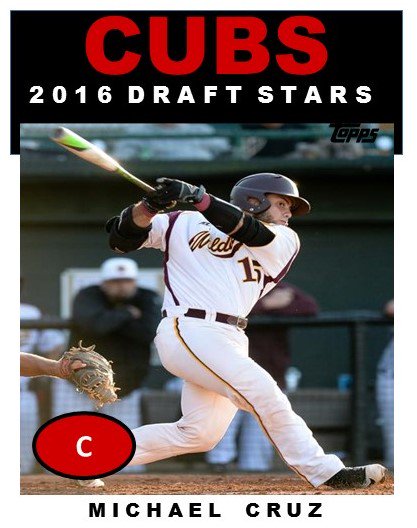 This was a fun pick to watch online as nobody had any immediate information until about 5 minutes later. He did play against top flight competition and put up double digit home runs. Originally from Puerto Rico, Cruz went to Puerto Rico Baseball Academy and then Clarendon Junior College. He has played first, third, outfield, and a lot of DH and, of course, catcher. I don't think he stays behind the plate, even though his favorite player is Yadier Molina. Cruz is 5'11" and 210 lbs. and bats left-handed.
As a junior this year, he hit .365 in 65 games with 16 HR's and 45 RBI while slugging .605. His OBP was also very solid at .461. He was also hit by 16 pitches, which you don't usually see at the college level.
Round 8: Stephen Ridings – RHP – Haverford College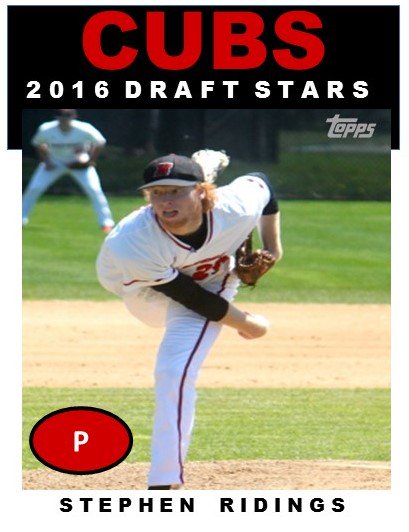 Here's another pitcher and another big one. His bio lists him at 6'6″ and 190. For the second pick in a row, Callis and Mayo both went to their computers to find information, as he was not on either MLB.com's or Baseball America's Top 500. However, BA profiled Ridings coming into this year. Here's what they said of the Division III product:
Ridings starred in the Valley League last summer thanks to a 90-92 mph fastball, a diving slider and a changeup with late drop.
On air, Callis mentioned he will likely need some tweaks on his secondaries. He also added that Ridings' fastball was up to 95. In his breakout junior year, Ridings pitched 65.1 innings with a 2.61 ERA with 87 Ks in 11 starts. In the regional NCAA game, he K'd 11 in 6 innings.
Round 9: Duncan Robinson – RHP – Dartmouth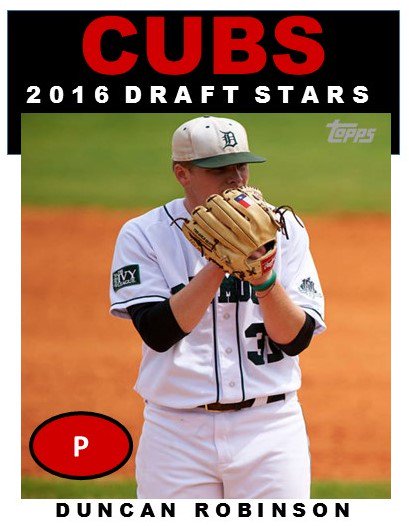 The Cubs get another Pitcher of the Year, this time from the Ivy League. At 6'6″, Robinson dominated in his 62.1 IP with 73 strikeouts and only seven walks. In addition, he threw seven complete games.
Before the season, Baseball America said this of Robinson:
Robinson was the conference's pitcher of the year in 2015, and he brings another year of strength and experience to the table in 2016. Robinson's fastball-curveball combo helped go 6-2, 2.62 with 52 strikeouts in 65 1/3 innings last season.
It should be interesting to see him pitch.
Round 10: Dakota Mekkes – RHP – Michigan State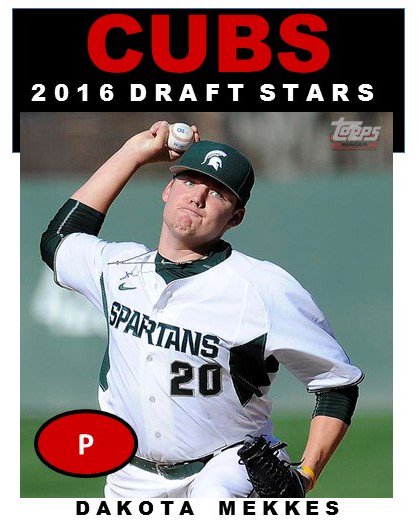 6-foot-7, 96 Ks in 56 innings. Yikes! He's a redshirt sophomore and hopefully the Cubs can sign him.
Mekkes' fastball sits at 94 and he has a good curveball with a delivery that is very deceptive according to reports. He was ranked at #206 on Baseball America's Top 500. In their scouting report, they praised Mekkes for his ability to pitch inside and above the hands to get hitters out.
What I Liked the Most About Today
The Cubs got a lot of arms, big arms, that throw in the mid 90's on a regular basis. I like the fact that they might have gotten an under-the-radar bat in Michael Cruz. I don't know if all these pitchers will be starters, but I would be willing to bet 5 of the 7, are given the opportunity to start next year.
Tomorrow, the Cubs will be busy selecting 30 more picks. Expect to see more position players, likely be culled from the college ranks. I don't think the Cubs can afford any high school picks this year.