MLB Draft Day Three: Cubs Hope to Find Some Gems Among All the Arms
Day three of the draft is always a whirlwind as the picks are made via conference call every 15-20 seconds. After 5 hours of listening and searching, I am beat. When it was all settled, the Cubs made 30 picks that they hope will help restock the lower part of the system. The organization's allotment for their draft pool was $2.3 million (that includes a 15% overage fee), which is not going to sign a lot of vaunted players. Last year, the Cubs signed 27 players. This year, they will be doing well to get to 20. On the other hand, there are several players they selected they should target to sign from today's portion of the draft.
In the 10's today, the Cubs once again backed up the truck for pitchers, selecting nine more arms. Oh, they did take one shortstop too. The first of those pitchers was Michael Rucker from BYU, a small (6-1, 185) right-anded starter. I really liked them taking Trey Cobb, a reliever from Oklahoma State who has four pitches like a starter, and Parker Dunshee from Wake Forest, who has a bulldog mentality.
SS Zach Short from Sacred Heart was the only position player taken in the section. He is known as a very good defender and a player who, at 5-11 and 175 pounds, is still growing. In the last three years, he's grown 3 inches and added 20 pounds.
The Cubs made what I think are their best two picks of the draft at #23 and #24.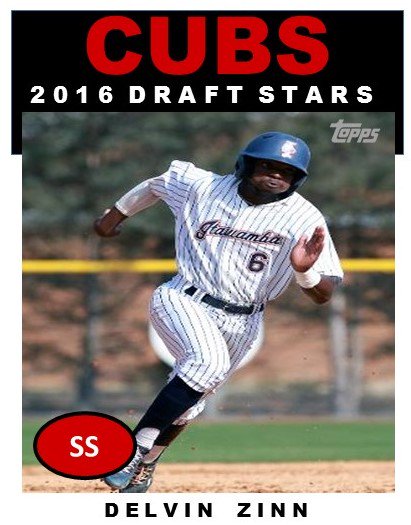 Delvin Zinn is a player we talked about them potentially redrafting just last week. The athletic shortstop hit over .400 this year at Itawamba JC and displayed the athleticism Jason McLeod and the Cubs so covet.
Rey Rivera is a first baseman with a very large frame at 6-5 and 250 pounds. He exudes power now, an attribute the Cubs sorely lack in their system. I would love to see the Cubs sign these two young 19-year-olds above most of the picks made Saturday.
Two player who could be surprises are Trent Giambrone, a 2B from Delta State, and P Holden Cammack — a converted catcher who transferred from Coastal Carolina — from Oral Roberts, who put up some amazing strikeout numbers after only began pitching this year as a reliever. Giambrone has some pop in his 5-11 frame, hitting 9 home runs and driving in 52 in 59 games. He hit .386 and struck out only 26 times while drawing 18 walks.
Throughout the rest of the 20's, the Cubs made several small college players very happy, but they shied away from going after players from any large D1 schools. It seemed like they were trying to stay within a budget all day long.
In the 30's, the Cubs drafted mostly high school players who committed to big schools in the SEC, Big 12, WAC, and the PAC 12. They did select a couple of small speedy outfielders they could sign in Tolly Fioltei from Faulkner State and Zach Davis from Texas Tech.
It is a little early to judge this class of players (all 38 of them), but the Cubs did go pitching crazy, selecting 29 pitchers, 7 of them prep arms who will not likely sign. I don't think the Cubs are going to sign all of their 9 drafted position players, 2 of whom were HS players, either. As I mentioned, I think Zinn and Rivera are the position players with the most talent and highest ceilings. More than likely, the Cubs are hoping to find another Chesny Young/PJ Higgins small-school-type player among the trio of Giambrone, Zach Short, and maybe Connor Myers of Old Dominion.
Most of the picks will need to sign quickly, as the Eugene Emeralds and the Cubs Arizona Rookie League team begin play on Friday the 17th. It should be interesting to see who signs. I am going to keep my fingers crossed for Zinn and Rivera. Most of the picks between 10-20 should sign as well.
To see the full list of picks, go here.