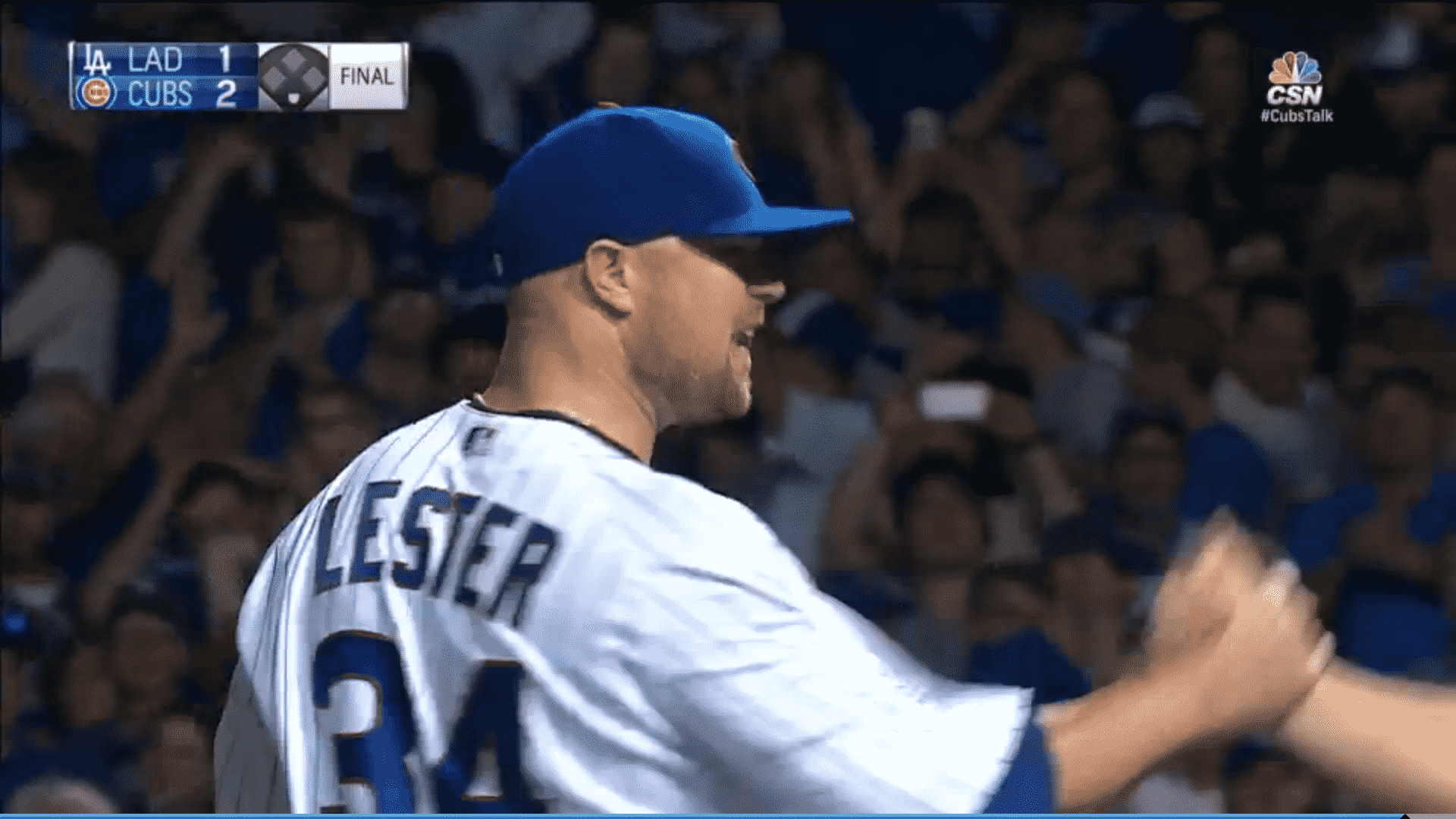 Don't Walk This Way: Jon Lester Hasn't Been Letting Anyone Pass Lately
They say a pitcher is worth a thousand words, but I'm really going to try to keep this post a little shorter than that. Not that Jon Lester's performance this season isn't deserving of my time and effort, just that I want to kind of keep things along the lines of the southpaw's no-nonsense approach.
He doesn't have Clayton Kershaw's nausea-inducing curveball or Jake Arrieta's NSFW slider, but that doesn't mean Lester doesn't have great stuff. And it's not the result of doctoring the ball, though Lord knows he's got more than enough grit to scuff it up a little. Anyone who's seen Lester pitch can clearly see that he's a bit of a perfectionist, the type of guy who isn't a fan of making mistakes. That goes double for the umpires calling his games.
The way he's been pitching lately, however, Lester hasn't had much occasion to yell at himself or the arbiters of subjective justice crouching behind David Ross. After issuing a walk to Tyler Goeddel with two outs in the 6th inning on May 27, Lester has avoided throwing four balls to any one batter. That's a span of 25 innings, during which the big lefty has given up only a single earned run.
Huh, it's almost as if throwing strikes and avoiding free baserunners has had a positive impact on Lester's performance. Crazy, I know. Lester actually had a really good season for the Cubs in 2015, though it was largely clouded by the attendant expectations of the big free-agent deal that brought him to Chicago. And I don't just mean fans, as the veteran has admitted to putting a good deal of pressure on himself.
It was evident at times that he was pressing and that showed up in some inconsistency, particularly early in the season. Consider that Lester allowed 3 or more earned runs in all four of his first Cubs starts, a trend that eventually pushed out to five of his first seven and seven of his first 12 trips to the bump in 2015. On the other hand, nine of his 32 starts on the season resulted in only 1 earned run, while he allowed no earned runs in another four.
It all felt a little feast-or-famine with Lester, though it's important to note that even the famines were short-lived. This season, however, it's only opposing hitters who've been going hungry. That's because they've only pushed across 3 or more earned runs three times in Lester's 13 starts. He hasn't allowed more than 1 earned run in the other 10 (including three efforts of no earned runs). Since that relatively disastrous effort in San Francisco in which he gave up 5 runs in 2.2 innings, Lester has allowed only 2 earned runs in 30.1 innings.
As I mentioned earlier, Lester isn't necessarily possessed of the kind of eye-popping stuff that drops jaws and weakens knees. The guy just knows how to pitch. He's been leaning on his fastball more than in any season since his 2006 rookie campaign, using it to set up the cutter and curve, as well as the occasional change. Locating well and throwing strikes has enabled him to get out in front of hitters and dictate the pace of the game.
We could run through all the numbers and see that Lester's walk rate is down and his strikeout rate is up, that he's stranding more baserunners than ever, and that he's already halfway to last season's 5.0 WAR. And I suppose we could point to the 1.89 ERA that sits fourth in MLB. Those things are all well and good, they're all pretty incredible, to be quite honest. It's just that I don't think they really do a great job of telling Lester's story.
To watch Lester ply his trade on the mound is to see a man who has been around enough to have picked up all the little off-label uses for the various tools in his bag. He's memorized the list of pitcher-friendly life hacks and he employs them so subtly that most people probably don't even realize what he's doing. Maybe it's changing the interval of his timing between pitches or looking a runner back a certain way. It could be varying the location of his fastball ever so slightly or throwing the curve when the hitter's looking cutter.
Whether you want to talk stats or intangibles, a very cogent argument can be made that Jon Lester has been well worth the money the Cubs are paying him. I can't wait to see what he's got in store as this team heads down the stretch and the lights get a little brighter. Maybe then we'll be able to see exactly how he does it. They way it's going, opposing hitters will be hoping for the same thing.