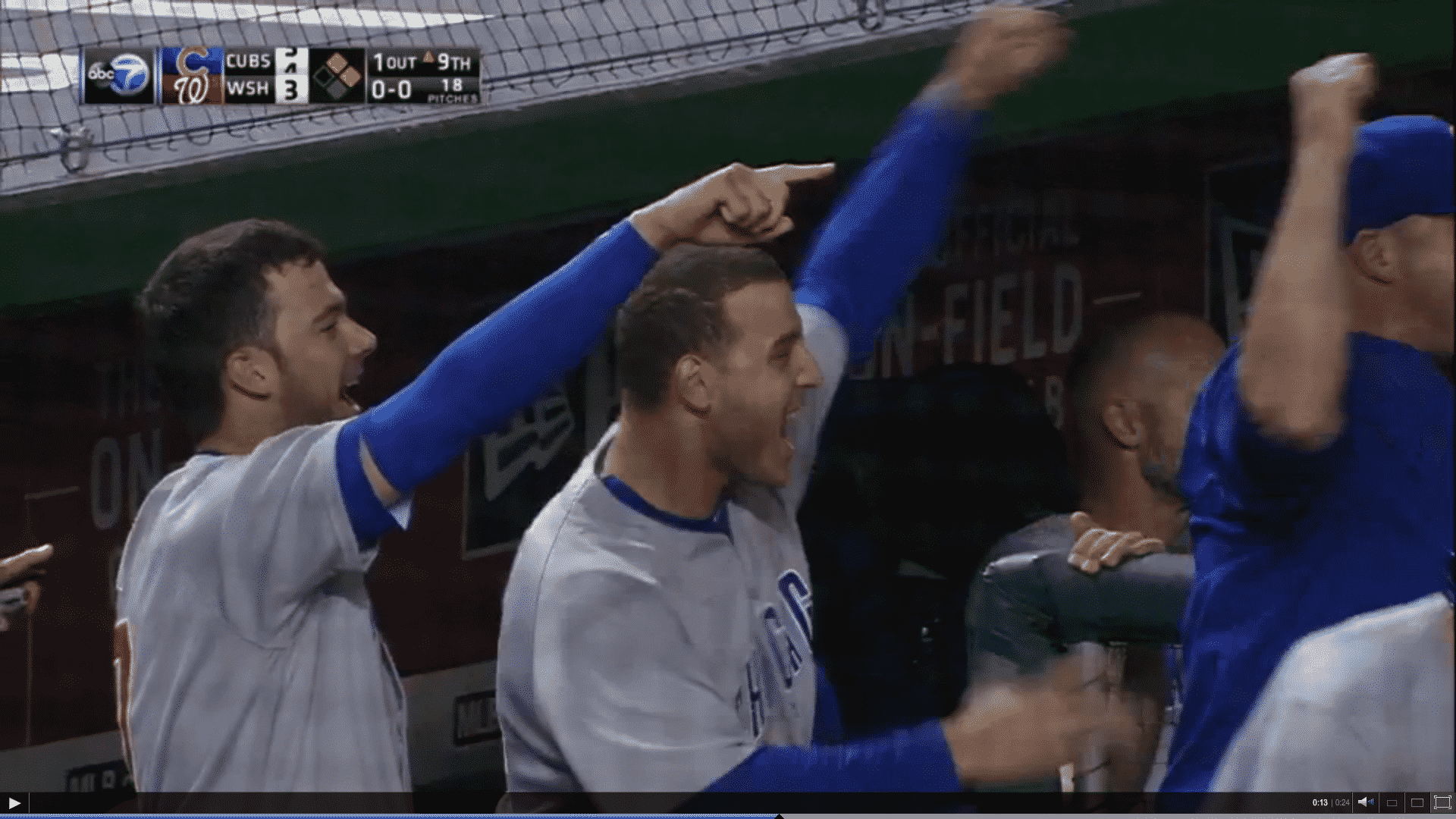 It Wasn't Always Pretty, but Lackey and Co. Showed Cubs Can Win Close Games Too
John Lackey is not a handsome man. But when he goes out and pitches like he did Tuesday night in DC, I feel (not entirely) comfortable calling him a sexy beast. His unconventionally attractive visage anchored an unconventionally attractive Cubs win that reminded folks that maybe the Cubs have what it takes to win in October after all.
The grizzled starter was more or less in lockdown mode through 6 innings, allowing the Nationals only a single run on three hits while striking out seven. He was unable to record an out in the 7th though, hitting Danny Espinosa in an 0-2 count to open the inning and then giving up a double to Jose Lobaton that just barely snuck inside the first base line.
It appeared as though Lackey just mis-gripped a fastball to Espinosa, getting too far outside the ball and running it in on the left-handed batter. Then there was the Lobaton hit. A couple inches here or there and Lackey's got a pair of outs instead of men on second and third to open the frame. But at 98 pitches and breathing a little heavier than usual, Joe Maddon didn't want to see if the pendulum of luck would swing back in his starter's favor.
Pedro Strop limited the damage with two strikeouts, though a sac fly between them did push a run across and brought the score to 3-2 Cubs. Travis Wood came out for the 8th and walked Bryce Harper before getting Daniel Murphy to line out. Wood then gave way to Hector Rondon, who had to have his joints oiled in preparation for the five-out save chance. Rondon promptly allowed a run to score on a single and sac fly, thus putting himself in line for the win.
Was this an act of vengeance from the would-be closer? Probably. I mean, he did mow the Nats down with only seven pitches in the bottom of the 9th, so allowing that run couldn't possibly be anything other than sandbaggery, right?
Then again, the win would not have been possible without a little run-manufacturing in the Cubs' half of the final frame. Addison Russell, who's been scuffling of late but homered off of Max Scherzer Monday night, drew his second walk of the night to set the tone. David Ross sacrificed the young shortstop to second to bring up Albert Almora, who had just come into the game in the 8th as part of a game of musical defensive chairs.
Almora is a lot of things, but patient isn't one of them. That worked to his advantage this time, as he laced Sammy Solis's first offering into the gap in left-center for an RBI double. As he stood on second, flexing and bellowing in exultation as his teammates pointed back at him, the kid absolutely looked like he belonged. If he's not careful, he's going to force the Cubs to make some difficult decisions once Jorge Soler is healthy.
That single run was all the Cubs would get, but it's all they needed as Rondon put a nice bow on the game. It wasn't perfect and it wasn't another of the many ho-hum affairs we've grown accustomed to, but this win may have said more about what this team really is than any 10-run blowout could.
What is said is that the Cubs are really flippin' good and that they're not going to let one loss define them. They're also able to win in a variety of ways and with contributions from anyone and everyone on the roster. It ain't always pretty and it ain't always fun. But a 44-19 record is pretty fun.