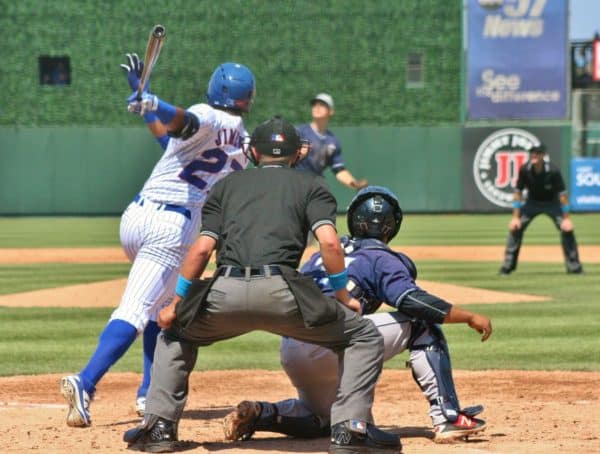 Cubs MiLB First Half Review – A Lot of Surprising Performances and Improved Development
It is hard to believe that the first half of the minor league season is complete. The Southern League, Carolina league, and Midwest League play their mid-season All-Star games Tuesday night. It was a half filled with a lot of surprise performances, improved development, and even some disappointment. The South Bend Cubs were the only affiliate to make the playoffs and the Myrtle Beach Pelicans were the only other team to finish above 500 at 36-34.
Surprise Performances
Ian Rice – In just 38 games, Rice banged out 9 HRs and 27 RBI, and hit .306 with a .993 OPS. That's pretty good for a 29th round pick from 2015. He is the breakout hitter of the first half and has exceeded all expectations that one could possibly have for a pick from that deep in the draft. To be honest, he's pushing Victor Caratini for the best-hitting catcher in the minors.
Zach Hedges – The 23-year-old skipped short-season ball and went straight from rookie ball to low-A South Bend, where he had an up-and-down season. Over the winter, he put on more muscle, gained some mph on the fastball, and is the most improved pitcher in the system. The right-hander put up a 2.47 ERA in 12 starts and threw 73.0 innings, the second most in the minors for the Cubs.
Paul Blackburn – A 0.29 ERA in April will get you noticed. Blackburn actually began pitching really well in the second half of last season at Myrtle Beach, where he had a 1.31 mark in 8 second half starts. He continued that great pitching in the first half this year with a 2.43 in 13 starts, good for a 2.11 ERA in 119.2 innings. I don't think anyone expected Blackburn to improve this much in one calendar year.
Improved Development
Willson Contreras, Albert Almora, and Dan Vogelbach – This trio lit the Iowa scoreboard on fire every night, which resulted in two of them getting promoted to Chicago a couple of months ahead of schedule. When you are done learning what you can at Iowa, it's time to learn in it Chicago. I think that last sentiment applies to both Almora and Contreras. Keep them in Chicago. The Cubs will be better for it in the long run and so will the two top prospects. Vogelbach, on the other hand, looks to be on pace for a magical season at AAA. He is tracking toward 100 RBI, 20+ home runs, and an average just north of .300.
Eloy Jimenez – The 19-year-old is progressing a little faster as a hitter than anyone imagined. You can see the power lurking just below the surface, too. I don't think anyone in their right mind thought that Eloy would hit .341 for the first half with a K-rate of only 24 percent. If he learns to lay off some more pitches, his OBP would be Bonds-like.
Trevor Clifton – This year, Clifton is performing like he is the best starting pitcher in the Cubs system. He's made 12 starts (59.1 IP) and has a 2.12 ERA with 65 Ks, the most in the system. Clifton has been throwing three pitches at any time for strikes. The key for him this year has been his ability to throw inside for strikes and to keep his walk totals low. He is also more assertive, especially when it comes to keeping the leadoff hitter off the bases.
Ian Happ – I call him Mr. Quiet. He's very intense, but he quietly put up some great numbers in the first half. He hit .296 with a .410 OBP, 7 HRs and 42 RBI in a pitcher's league. Sure, I would like to see his power numbers a little higher, but that OBP is a testament to his approach.
Mark Zagunis – He had a crappy April during which he only hit .239. Then again, he had a .359 OBP. In May he took off and hasn't looked back. Two weeks into his promotion, he's killing it at AAA Iowa with a .381 average and .469 OBP. For the year, Zagunis is hitting .317 with a .419 OBP between AA and AAA. That's extremely solid.
Disappointment
Tennessee Smokies – The opening-day roster had 17 players who were part of back-to-back championships at Kane County and Myrtle Beach. There were injuries and poor performances all around and the AA club ended the half at 28-42, last place in their division and 18 games out. Believe it or not, though, this team has the starting pitching and a rebuilt bullpen to win a second half title. The question is whether the hitters can get it going. Jeimer Candelario seemed to find his stroke when he got to Iowa and Billy McKinney is improving month-by-month after breaking his patella last season.
Ten Second-Half Predictions
1. Hot Take – Dan Vogelbach should still be a Cub by the end of the minor league season, but I think we will see him in September in Chicago. That left-handed bat off the bench in absence of Kyle Schwarber will just be too valuable.
2. Myrtle Beach – If the Pelicans get any kind of offensive help in the second half, their starting pitching could carry them to the playoffs.
3. Tom Hatch – He might just be the second-best pitcher in the Cubs system by the end of the year behind Dylan Cease. He is a master of command and I love his fadeaway sinker. We chronicled his CWS start the other day on Cubs Insider. When he signs, I would not be surprised to see him at South Bend or Myrtle Beach in the bullpen for the rest of the year.
4. Drafted RPs – The relievers the Cubs drafted will be the stars. Pending signings Chad Hockins, Trey Cobb, Dakota Mekkes, and Jed Carter might surprise some people. Holden Cammack might be the biggest surprise of all. His arm strength is off the charts after years of catching and the Oral Roberts product averaged almost 2 K's per inning.
5. Duane Underwood is having his worst year as a pro. Sure, he is throwing in the mid-to-upper 90's on a regular basis, but his ERA is above 5. I wonder if relief pitching in his future? He has the arm for it and it's a trend we've seen with smaller pitchers like Corey Black and Carl Edwards. Underwood, however, has a much bigger frame to handle the load. Maybe strange, but the thought has crossed my mind.
6. Gleyber Torres will continue to evolve as a hitter. It may not show this year, except for his power numbers, but it will definitely pay off next year at AA Tennessee. It'll be interesting to watch as he continues to turn on the on the ball rather than go the other way, which is his natural swing.
7. Two other players whose evolving development could shock some are Kyle Miller and Casey Bloomquist, pitchers from South Bend who just recently moved from the bullpen to the starting rotation. Both have been outstanding in their three starts so far.
8. The Eugene Emeralds rotation is loaded with Dylan Cease, Bryan Hudson, Francisco Paulino, and Pedro Silverio. They are going to give Myrtle Beach a run for their money as the best rotation in the Cubs system.
9. Eddy Julio Martinez will set the Cubs minor league system ablaze in July and August. I can see his progression from a free-swinging kid into a more polished hitter every game. He is getting the Cubs approach to hitting down quickly. In June, he is hitting .286 with 13 BBs in 19 games. That is much improved over April, when he walked 3 times the whole month.
10. Eloy Jimenez is the man. He is only 19, but watching this kid play 45 games this spring, I can tell you that come September he will be the best prospect in the Cubs system. He is an untouchable for me. The dude can flat out rake for average and he has just begun to scratch the surface of his power. Imagine what happens if he can cut his K-rate, increase his BB-rate, and hit for more power. Superstar, that's what. And he doesn't turn 20 until November. I love this kid!
Tennessee, Myrtle Beach, and South Bend all resume play Wednesday.