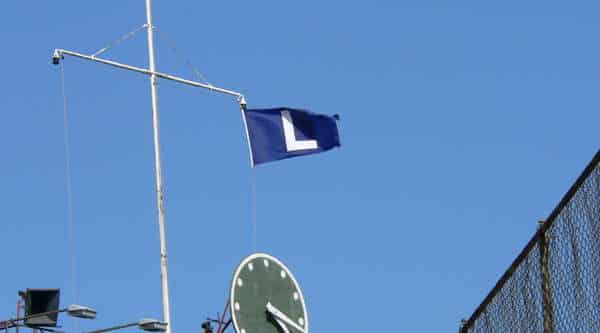 A Tip of the Recap – 6/20 (Cardinals 3, Cubs 2)
Cubs Record: 47-21 (1st in NL Central)
W: Jaime Garcia (5-6)
L: John Lackey (7-3)
S: Trevor Rosenthal (13)
MVP: Jaime Garcia (6.2 IP, 2 ER, 6 Ks)
Cardinals devil magic has struck again. Coming into Monday's game, the Cardinals were coming off five straight losses, while the Cubs had an impressive sweep of the Pittsburgh Pirates. What happened? The Cubs' bats largely froze up on a warm and breezy night against a pitcher that they probably could have easily beaten.
Off nights happen, and, to their credit, the Cubs battled truly until the last batter. This was probably John Lackey's worst start in quite some time, though it was far from bad. Since the beginning of May, Lackey has been dealing, giving up two runs or fewer in all but two starts (both against the Cardinals.) Combine that with the fact he was working with a new catcher and there are some positives to take away from his start.
The offense largely struggled and was held in check by the Cardinals apart from a two-run 3rd inning and their ill-fated rally in the 9th. There are some positives though, particularly with Willson Contreras, who followed up his first-at-bat home run Sunday going 1-4 with a RBI.
The Good
Something I've noticed through the first 68 games of the 2016 Cubs season is their ability to consistently battle back from a deficit. Indeed, this team just has a knack for being able to strike at any time, and it can come from anyone in the lineup. While the offense had difficulty pushing runs across the plate, they were able to stay in the ballgame until the final out was recorded, and they pushed Trevor Rosenthal to the limit. If it hadn't been for Albert Almora Jr's ill-advised steal attempt (more about that later) the Cubs could have easily tied the game in the bottom of the 9th. While they didn't quite get the result they wanted, you have to applaud their tenacity and their ability to hang around games late.
The Bad
Before the game, it was revealed that Dexter Fowler will go on the 15-day disabled list with a hamstring injury. While we don't quite know how long Fowler will be out, it does hurt a little to see a guy who had been producing at such a high rate go down with an injury. On the flip slide, this means we will see more of Albert Almora Jr. or Jason Heyward in center. It must come as a relief to Joe Maddon to have such flexibility on the Major League club.
Depending on the severity of the injury, this could change how the front office approaches the trade market, which is beginning to take shape. It's not like Theo Epstein and Jed Hoyer to change their plans drastically, but if Fowler or Jorge Soler (or another outfielder) end up spending more time on the disabled list than expected, it wouldn't come as a surprise if the Cubs at least entertained the notion of acquiring another outfielder. That being said, the Cubs have a lot of depth to play with.
The Ugly
As a general rule, I'm not inclined to support stealing third base. That being said, I don't necessarily disagree with Albert Almora Jr. attempting to advance from second in the given situation. Almora certainly isn't slow, and if it hadn't been for an unlucky bounce (Cardinals devil magic at it again) he easily could have made it. Between that and the ensuing at-bats, it became clear how costly that extra out really was. It happens, and hopefully Almora learns from this and continues to get better on the basepaths.
Coming Attractions
The Cubs will try to bounce back on Wednesday at 7:05 PM local time. Jason Hammel takes the bump for the Cubs and is looking for his 8th win of the season. Hammel went 7 strong innings in his last start against the Nationals, but did not factor in the decision (the Cubs lost in 12 innings). He gave up five hits and one earned run and struck out four while lowering his season ERA to 2.26. For the Redbirds, Adam Wainwright is looking to build off a strong start against the Houston Astros. Like Hammel, Wainwright went 7 innings and did not factor in the decision, though he only gave up four hits without allowing a run.
If you're in the Chicagoland area, the Cubs will be on ABC-7 with Len and JD on the call.