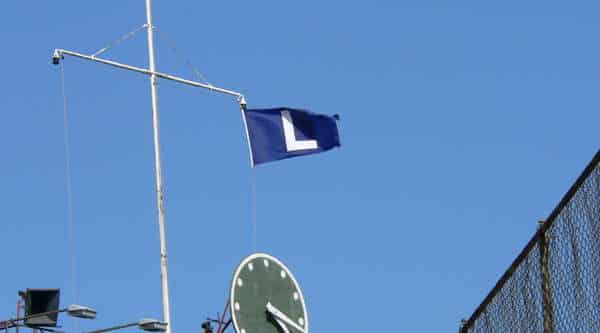 A Tip of the Recap – 6/21 (Cubs 3, Cardinals 4)
Cubs Record: 47-22 (1st in NL Central; 10.5 games ahead of St. Louis)
W: Adam Wainwright (6.2 IP, 3 H, 3 ER, 3 BB, 4 K)
L: Jason Hammel (5.2 IP, 6 H, 4 ER, 1 BB, 3 K)
S: Rosenthal (1.0 IP, 1 H, 0 ER, 1 BB, 2 K)
MVP: Cardinals' pitching
The Cubs yet again gave up early runs early and were unable to come back against the Cardinals pitching, whivh kept the Cubs from stringing hits together.
Gerardo Concepcion made his major league debut with the Cubs tonight, and it was awesome. He struck out the first batter he faced (Brandon Moss) on a nice, low, outside fastball. He also got Adam Wainwright looking on a nasty breaking pitch. It was a refreshing change from a certain lefty who's struggled to get outs all season long. I hope he performs well enough to stay on the 25 man roster for the rest of the season.
The Good
Chris Coghlan was getting on base today and scored two of the Cubs runs. It was great to see the former Athletic play well in the leadoff spot, drawing a pair walks and getting a hit while being good in left as well.
Willson Contreras did a good job behind the plate, along with a solid performance at the dish. He called a good game and didn't really get a chance to show off his arm, as nobody tried to steal against him.
Addison Russell looked better at the plate and made some stellar plays in the field. He had three hits and was able to get on base in the 9th to set up a potential rally, which unfortunately did not come to fruition.
The Bad
Jason Hammel wasn't as on top of his game as we've seen this season. He was living up in the zone and the Cardinals made him pay by hitting two long bombs and scoring 4 runs off of him, which was all that they needed to win the game. This is the second straight one-run game that the Cubs have lost, and it just had to come against those forsaken redbirds. I hate them. You hate them. Fortunately for them, but unfortunately for us, God does not hate them.
The Ugly
The Cubs grounded into three inning-ending double plays today. It seems to have become a running theme with this team as of late, and it is not getting easier to watch. Tied with this is their inability to drive in runners in scoring position with less than 2 outs. These kinds of rough patches where the Cubs are unable to get timely hitting are expected, however, and this should be no cause for concern yet.
In the 9th inning Adam Roy (@RoydRage12) made an observation on Twitter about Trevor Rosenthal that I have never noticed before. Rosenthal never comes to the set position because he taps his front foot multiple times before throwing a pitch and usually will throw a pitch right after tapping his foot. It's a small movement, but when runners are on base it's a good way to keep them from trying to run against you. It's clearly a balk, but he was never called for one Tuesday. I have no idea if he does it all the time, but if he does and he's never been called for a balk because of it, MLB should probably keep an eye on it because that's unfair to every team he faces.
Coming Attractions
In the final game of the series, Jake Arrieta (11-1, 1.74 ERA, 0.95 WHIP) squares off against Michael Wacha (2-7, 4.56 ERA, 1.41 WHIP), as the Cubs hope to salvage one win in this series. The last time Wacha pitched against the Cubs he only lasted 4 innings, giving up 8 earned runs on 8 hits. First pitch is scheduled for 1:20 PM central time.