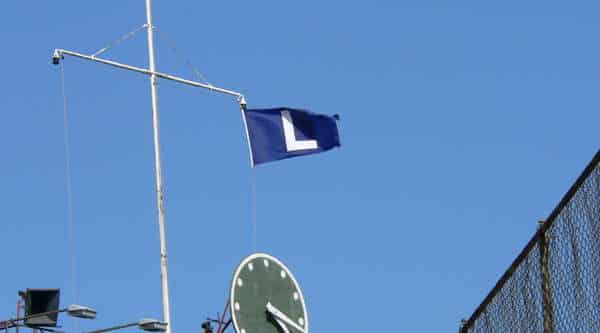 A Tip of the Recap – 6/25 (Cubs 6, Marlins 9)
Cubs Record: 48-25 (1st in NL Central; 9.5 games ahead of St. Louis)
W: Paul Clemens (5.0 IP, 4 H, 4 ER, 5 BB, 4 K)
L: John Lackey (4.1 IP, 7 H, 7 ER, 3 BB, 5 K)
S: AJ Ramos (0.2 IP, 0 H, 0 ER, 0 BB, 1 K))
MVP: Justin Bour
The Cubs got out to an early 4-1 lead in the 3rd and the pitching could not hold it today. The Marlins scored 4 runs in the 5th inning and then tacked on 2 insurance runs in the 7th to effectively put the game out of reach. This Marlins team is pretty good offensively and defensively, and I expect to see them compete for a playoff spot. All they need is some half-decent pitching to keep them in games and they'll be contenders.
Yes, the Cubs lost this game. Yes, the pitching kind of stunk today. Here are some things to focus on that are more important than a bad stretch of games: the Cubs are 23 games over .500, they have the largest first place lead out of all 6 divisions, and the Nationals just lost their sixth straight game. Over the course of a season, these downs are to be expected. So, don't you worry, fellow Cubs fans. There is a lot of baseball yet to be played, and much of that will involve the Cubs being better than their opponents. I have never seen the Cubs play this well so late into the season.
The Good
Willson Contreras continues to perform extremely well at the plate. He drew two walks, drove in a run in the 9th on a double, and scored a run in four plate appearances. His approach is ridiculously good for somebody with so little experience at the major league level. If this is his baseline performance level (which I'm sure it isn't), then look out rest of baseball. I was not entirely behind the decision to bring him up as the 3rd catcher, but Joe Maddon's found a way to keep him in the lineup. His defensive versatility is awesome, and pretty soon I bet we'll see Anthony Rizzo at a position other than first. Ok, maybe I wouldn't put real money down on that but you get my point.
The Bad
Don Mattingly made one of the stupidest challenges I've ever seen a manager make today in the 1st inning. He believed that Kris Bryant was out at third after tagging up from second, and it was determined that the call on the field (safe) stood. I'm not sure why you would make that challenge with 2 outs so early in the game, but I guess that's what you can expect from Donnie Baseball.
The Ugly
The Coomer inning (that the 5th for those who do not regularly listen to Cubs radio broadcasts, and should consider yourself thankful because their intro song is bad) was one to forget. Like the 1st inning Friday night it started with an Addison Russell error. Ichiro hit a bouncing ball to short with one out, and Addison Russel's throw was a little low, which allowed the ball to roll out of play. Ichiro was probably safe on a good throw, but the error allowed him to move to second.
The Marlins then began to hit John Lackey hard, chasing him from the ball game after scoring 2 runs to take the lead. Gerardo Concepcion came in and promptly gave up a double to Justin Bour and a run-scoring sacrifice fly to Derek Dietrich. The inning was pretty ugly and I wish to never see such an inning again.
The Marlins scored a couple more runs in the 7th, catalyzed by a Spencer Patton error. Anthony Rizzo made a diving stop on a sharp grounder and threw to Patton, who was covering first. The reliever did not run far enough and stopped short of where the ball was going, which was essentially right at first base. Luckily, the Marlins only scored two runs that inning, but unfortunately the game was put out of reach with those runs.
Coming Attractions 
Jason Hammel (7-3, 2.55 ERA, 1.08 WHIP) will take the bump against Marlins ace Jose Fernandez (9-3, 2.36 ERA, 0.99 WHIP) as the Cubs try to even the series. It will not be easy against Fernandez, who's gone 6-1 with a 1.78 ERA and a 0.87 WHIP in 8 home starts so far this season, and has been dominant in June (14.5 k/bb, 10 hits allowed, and 4 runs given up in 20 innings of work). First pitch will be at 12:10 central time.