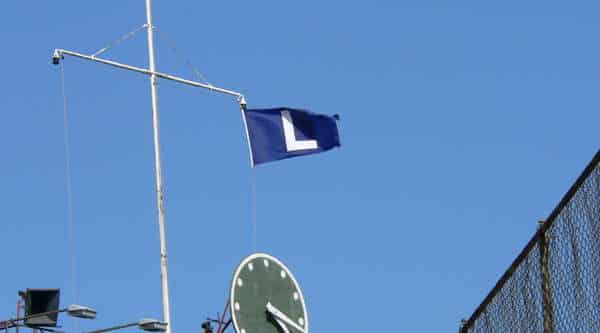 A Tip of the Recap – 7/6 (Cubs 3, Reds 5)
Cubs Record: 52-32 (1st in NL Central; 8.5 games ahead of St. Louis)
W: Anthony DeSclafani (6 IP, 8 H, 3 ER, 0 BB, 6 K)
L: Trevor Cahill (2.0 IP, 4 H, 3 ER, 1 BB, 5 K) 
S: Tony Cingrani (1.0 IP, 0 H, 0 ER, 0 BB, 1 K)
MVP: Michael Lorenzen and Tony Cingrani
It was a throwback day at Wrigley, with the Cubs and Reds sporting their 1916 uniforms. Adam Warren made his first start in his Cubs tenure and it was a good one. He gave up a leadoff home run to Zack Cozart, but settled in nicely to pitch 5 strong innings. Warren ended his day by retiring 11 batters in a row. Unfortunately, the warm Wrigley wind pushed a Tucker Barnhart fly ball into the basket in the top of the 7th to spoil his great start.
The Good
Warren was constantly getting first pitch strikes and did not walk any batters. He was good at getting to two-strike counts early in at-bats and didn't walk any batters, which was a refreshing change. Of his six strikeouts, three came on sliders, two on changeups, and one on a fastball. I can definitely see him getting more starts as the season progresses, because he has the stuff to dominate lineups.
The Bad
After a good 2nd inning, the Cubs offense could not muster much of anything aside from a Ben Zobrist solo shot. Cubs batters' inability to string together hits or even draw walks made for a fairly lackluster performance.
As previously mentioned, the Wrigley wind helped push a Tucker Barnhart fly ball into the basket in the top of the 7th. Trevor Cahill was not on top of his game, despite striking out the side in the 6th. After getting Eugenio Suarez to line out, he allowed Brandon Phillips and Jose Peraza to reach on consecutive singles to the outfield before Barnhart's three-run blast.
Carl Edwards Jr. had some difficulty with his command in the 8th. He walked Adam Duvall, who advanced to third on a Brandon Phillips single and scored a run on a wild pitch which was thrown unintentionally behind Jose Peraza. It took him 22 pitches — 12 of which were strikes — to get through the 8th.
The Ugly
There was not really anything that was ugly in this game, which is fortunate because I love to watch games with little to no ugliness. Wait. Yes, there was ugliness. The Cubs lost a series to the Reds. That's so damn ugly, it ain't got no alibi. That being said, there's still a long way to go, and this is one of those rough stretches of baseball that all good teams inevitably go through. I wouldn't worry about it just yet.
Coming Attractions
The Cubs face the Braves Thursday in a makeup of the April 30 game that was postponed. Jason Hammel (7-5, 3.45 ERA, 1.15 WHIP) will take the bump for the Cubs while Lucas Harrell (1-0, 1.50 ERA, 0.67 WHIP) will start for the Braves. Harrell's only start this season was a winning effort against Miami on July 2. He pitched 6 innings, allowing an earned run on 3 hits and a walk while striking out five. First pitch is at 7:05 CT.