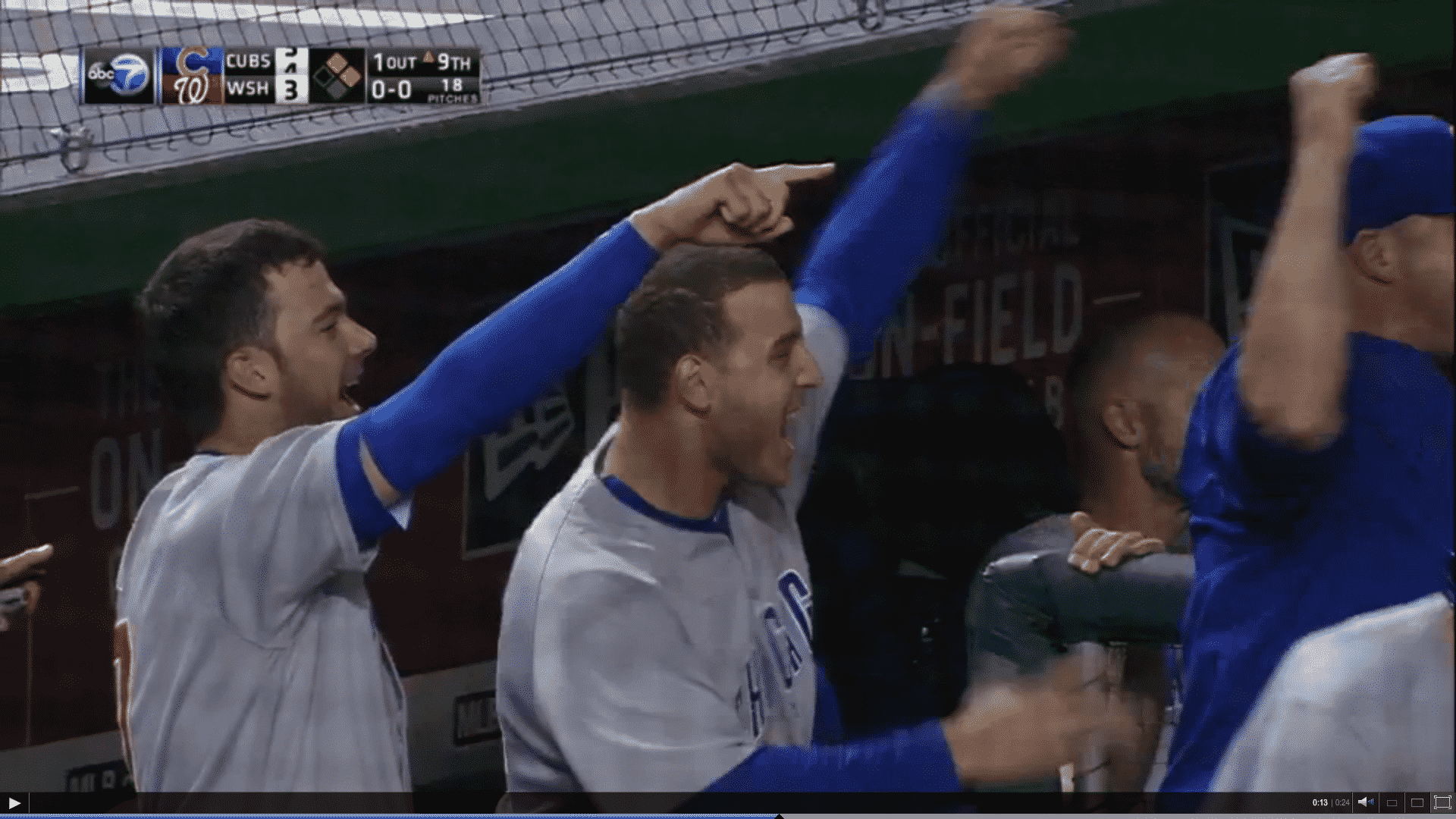 Cubs Can't Control 'Eric,' Know They Can Still Win Despite His Anger
"I can't control if Eric's sitting on his couch and doesn't play baseball and is mad at our team," Anthony Rizzo shared in a vulnerable moment during the All-Star festivities in San Diego. "I just can't control that."
The Cubs first baseman had to make a journey of a couple thousand miles just to take that first step, but by admitting his powerlessness over Eric, his recovery can now begin in earnest. As Yahoo's Tim Brown described him…
Eric with a C is a made-up guy who lives in Chicago and got drunk on 25-6 before getting really drunk on 28-29, but first endured four or five decades of sitting on his couch being so mad at their team he went to only, like, 50 games a year. In a Don Kessinger shirsey. And, fact is, Anthony Rizzo loves Eric with a C and his friends and the guys who fill his row in the bleachers, because part of this thing the 2016 Cubs are trying to do is win a town for real, not for being harmless go-getters whose only sin was believing they could be the ones..
Hold on, they actually make Don Kessinger shirseys? Color me excited.
As I'm sure you've all realized by now, Eric's actually a metaphorical effigy, an amalgam of all the fans who take to social media or their blogs to dissect/berate their favorite team and its performance. He's a pinch of you and a couple measures of you and, oh yeah, he's a whole lot of you. And he's probably even some of me, provided Eric is possessed of dashing good looks and a sharp wit.
The nice thing about glomming all of us together is that everyone gets to have a little bit of my personality. I'm kidding, of course, but only just a little. No, the best part of this for anyone not actually named Eric is that we all get to point the finger (index or middle, you choose) at that guy. We all know him or her, the one who would throw up their hands in disgust at an error that let a run score to close the gap to 10-2.
I'm not here to throw stones at Eric, though, that's not really fun. Difficult as it can be, I'm trying to obey the commandment that thou shalt not engage in a battle of minds with an unarmed opponent. Now's the time for us to take a break along with baseball, to stop hyperventrilocating [sic] over the last few weeks and to gain fresh perspective on the second half.
"We needed a break," Jon Lester admitted. "It's baseball. We play 162 games for a reason. It's such a roller coaster ride. Right now we're making it too big of a roller coaster. We're making it a little more difficult on ourselves. We'll get back to it. We're too good of a staff and too good of a defense to keep going this way."
He's right, you know? Absent context, Cubs fans would've been ecstatic had I told them at the beginning of the season that their team would head to the break with a 7-game division lead. It doesn't feel great to stumble bass-ackwards into the second half after having almost twice that cushion a few weeks ago, though, so the current situation is viewed through a flawed prism. And I get it. This week feels more like an oasis than a checkpoint.
So Eric's not happy and probably won't be until the Cubs eventually go 162-0 and sweep through the playoffs. We're gonna have to wait till next year on that one, though there's still plenty of time to make a run in 2016. Think about it: the Cubs boast the largest division lead in baseball despite struggling with injuries and aberrant pitching performances. Good health and the top three guys in the rotation not giving up a thousand runs every time through should help to get the house back in order.
Or maybe Eric's right and this team is doomed. Please don't be Eric. Unless you really are Eric, in which case just be more positive version of yourself.