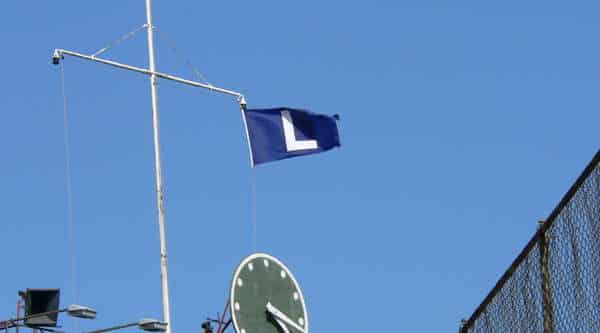 Tip of the Recap: Cubs Halt Sox Walk-Off Streak at Three
They weren't able to get the win Tuesday night, but the Cubs did at least prevent the White Sox from earning a fourth straight walk-off win. Small victories, baby, small victories. Kyle Hendricks was good but not great, the offense was stifled by Big Game James, and the only lefty reliever the Cubs turned to was Travis Wood. In all, the game was about as forgettable as the conversation the front office had with Aroldis Chapman regarding their expectations of him.
James Shields has been very not good for the most part this season, but put him up against Kris Byrant and the guy is freaking Cy Young. The Rookie of the Year and potential MVP candidate is now 0-for-7 with 6 strikeouts when facing the bearded changeup artist. All of the K's have been of the swinging variety and all, if I'm not mistaken, have come against the change. Bryant's been kind of scuffling here lately and he looked flat-out lost on Tuesday. Damn you, Melky Cabrera!
We knew Hendricks was due to give up an earned run again at some point after going four straight games without one. He allowed three men to score Tuesday, but only walked two while striking out seven more. Hendricks lasted 5 2/3 innings and was lifted after allowing a two-out single, the sixth and last the Sox would get, to Todd Frazier. It was a good enough performance to earn a win most days, though even a one-run effort would have netted him a loss this time out.
Travis Wood came on and proceeded to walk J.B. Shuck, Dioner Navarro, and Tyler Saladino, the 7, 8, and 9 hitters, to force Frazier home and push the score to its final of 3-0. Nothing draws my ire like bases-loaded walks, especially when they come from the bullpen. I'd much rather a guy give up a hit than just hand runs out like candy at a parade. Cue the snide comments about Chapman pushing the other relievers down a rung and making them better by allowing them to pitch in lower-leverage situations.
It's gonna be weird for the fireballing southpaw to make his debut in front of a hostile-yet-still-pro-Cubs crowd, though I guess that would have been the case Tuesday night too. That evil little part of me that just wants to watch things burn is hoping for a bad outing just for the fallout that ensues. Then again, I don't want to deal with the overreactions in terms of the team as a whole.
The Cubs get a chance to right the ship as they face Anthony Renaudo and his 6.33 career ERA (13 appearances) at Wrigley Wednesday night.