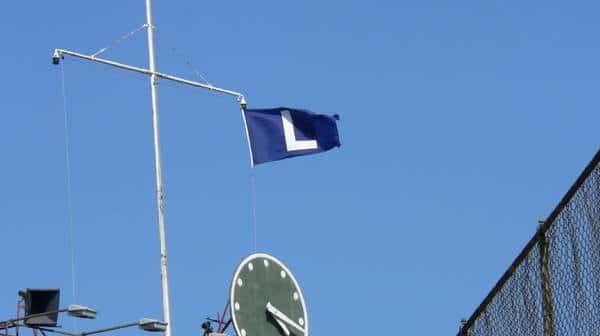 A Tip of the Recap 8/19 (Cubs 6, Rockies 7)
Cubs Record: 77-44 (1st in NL Central, 12 games ahead of St. Louis)
W: Matt Carasiti (1.0 IP, 2 H, 1 ER, 1 BB, 1 K)
L/BS: Aroldis Chapman (1.0 IP, 2 H, 2 ER, 0 BB, 0 K)
MVP: Felix Pena and Rob Zastryzny
After a lengthy rain delay on a rather cold day in the Mile High City, Dexter Fowler and David Dahl both led the game off for their respective teams with home runs. It was the first time since 1892, when Jimmy Ryan went deep for the Cubs and Bug Holliday went deep for the Reds, that the Cubs and their opponent both hit leadoff home runs in the same game. That bit of minutia courtesy of Christopher Kamka (@ckamka).
Kyle Hendricks had some trouble finding the strike zone in the 1st inning and ended up throwing 27 pitches (12 balls) to get out of the frame. He settled in nicely, though, and went on to pitch 6 quality innings. I had hoped the game would get weird, and my wish was granted! Unfortunately, the weirdness went against the Cubs, as they lost on a walk-off errant throw that went out of play.
The Good
Kris Bryant got 3 more hits. He has been an absolute monster this year, and he's a young player who can still develop his game. That is insane.
Kyle Hendricks put together another sparkling start, although he didn't strike out nearly as many as he usually does and allowed more contact into the air than normal. His emergence as the best and most consistent starting pitcher in the Cubs' rotation has surprised virtually everybody.
Anthony Rizzo collected 2 more hits today, driving in a run and scoring another.
Addison Russell hit a monster bomb to pad the lead. Granted, Coors Field played a role, but he murdered the ball. It would have been a no doubter in Wrigley with the wind blowing in.
Felix Pena made his major league debut in the 9th and pitched well. He struck out Daniel Descalso, induced a Nick Hundley ground ball to first, and struck out Ryan Raburn. Welcome to the Bigs, young man. I can say that because he's younger than me, which makes me realize that I'm getting older.
Rob Zastryzny also made his major league debut, and he also pitched very well. He struck out the hottest hitter in the league (Charlie Blackmon) to record his first out as a major leaguer.
The Bad
The rain delay was less than optimal. It lasted 2 hours and 10 minutes and I was wondering if they were going to be able to get the game in. It's been raining down here in Texas for the past week or so, so I'm not a fan of the rain. If they were going to call this game I would not have been pleased, but alas, the crew chief allowed the game to be played. And there was much rejoicing (yaaaaaaaaay).
The Ugly
The Colorado Rockies mascot, Dinger.
The Cubs bullpen had yet another 8th inning implosion tonight. They were up 5-2 and Travis Wood, who had pitched the previous inning, walked the first two batters and was promptly removed from the game by Joe Maddon. Carl Edwards Jr came in and allowed an RBI double, which was the only hit he gave up. The other runs were scored on a ground out and a sacrifice fly. I know some of you probably think Wood sucks, but he's been worked really hard this year, so these outings are unfortunately expected. He probably shouldn't have been sent back out to pitch the 8th, but I'm not going to play that game because we don't know what would have happened otherwise.
The defense in the 10th really let Zastryzny down. With 2 outs, a semi-hard-hit ball went right under Anthony Rizzo's glove. It wasn't a no-brainer, but it's a play that he normally makes. The very next batter hit a bouncing grounder up the middle, where Addison Russell was playing, and he booted the ball to allow both runners to advance. Rob Z shouldn't have had to labor through that inning to face Nolan Arenado.
Aroldis Chapman pitched poorly.
Coming Attractions
Mike Montgomery (4-5, 2.43 ERA, 1.18 WHIP) makes his first start for the Cubs Saturday as Jeff Hoffman makes his big league debut for the Rockies. A three-pitch pitcher, Hoffman works off of the fastball,and uses his curve to complement it. He should periodically mix in changeup to attempt to keep the Cubs' bats off-balance too. This is merely my interpretation of his stuff based on his Fangraphs page, so if I made a mistake feel free to @ me. Hopefully the Cubs welcome him to the league properly, and by that I mean by scoring more than 5 runs off of the rookie. First pitch is at 6:10 local time.