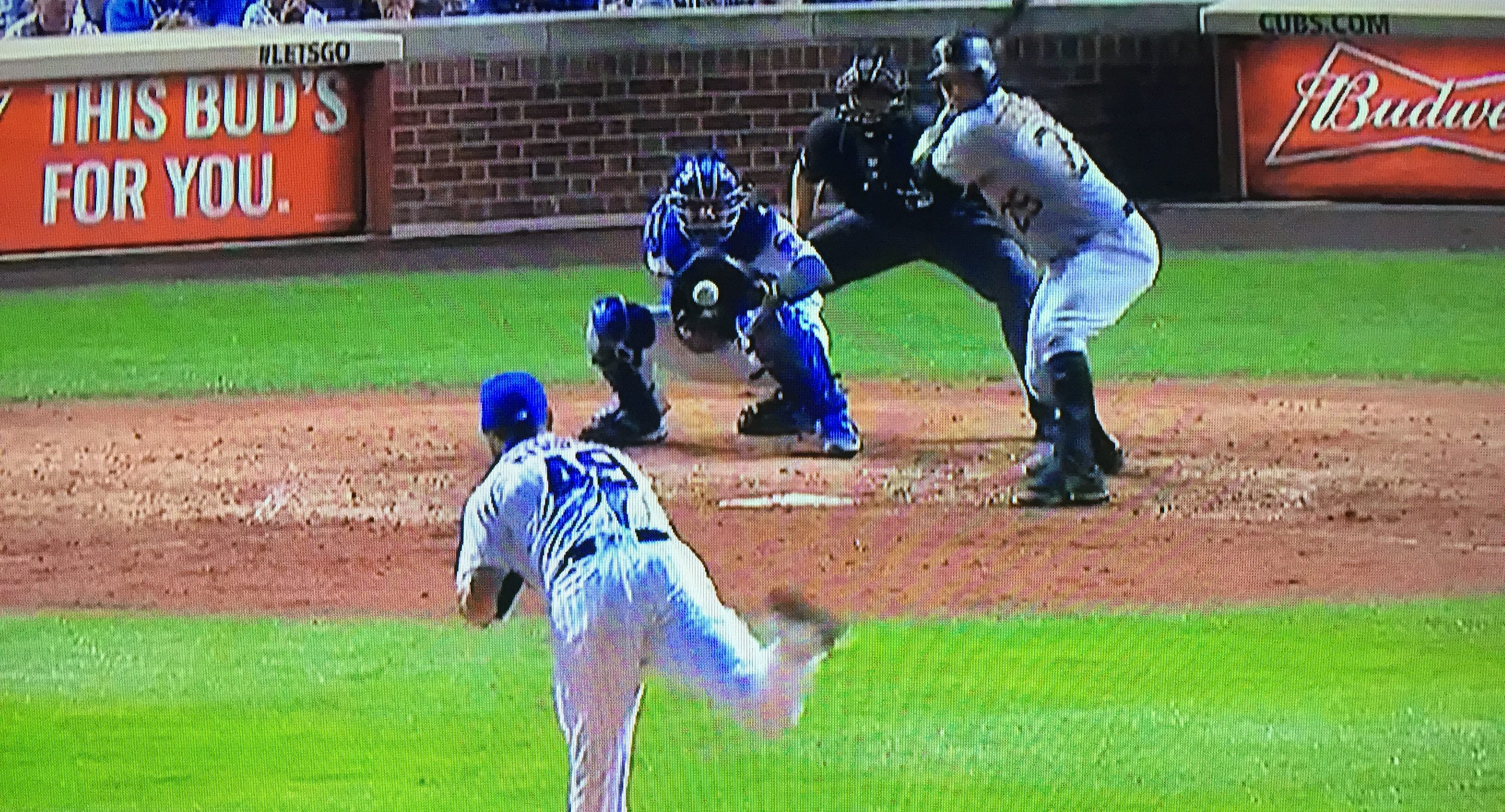 I'm Not a RoboUmp Guy, But I May Need to Reevaluate My Stance
Jake Arrieta had tripped up and allowed a three-run homer to Gregory Polanco in the top of the 6th, so there weren't many warm fuzzies when David Freese singled to open the 7th. But then Arrieta struck Francisco Cervelli out looking on the perfect full-count sinker you see in the featured image and Willson Contreras through to second to nab Freese trying to steal. Then Jordy Mercer grounded out Arrieta and the Cubs headed to the bottom of the inning down 4-3.
Except they didn't.
You see, Hal Harrison "Tripp" Gibson III, already the author of some questionable calls earlier in the evening, actually ruled that pitch to Cervelli a ball. So instead of bases clear and two outs, Arrieta was pitching with men on first and second and none out. He was clearly upset with Gibson and looked ready to get himself run from the game when Joe Maddon came out to save his starter.
Jake said to the umpire last night what we were all thinking. I feel a little vindicated now. pic.twitter.com/CxjnZcGPJm

— Randall J. Sanders (@RandallJSanders) August 30, 2016
In all honesty, I think a big part of why neither Arrieta nor Maddon was tossed was because Gibson know he'd messed up.
Whether he was shaken up or just caught the runner from second in his periphery, Arrieta threw to third to get the lead runner when Mercer poked one back the mound. Kris Bryant wasn't able to turn two, which meant the Pirates still had two on. Travis Wood came in for Arrieta and promptly struck out Matt Joyce before allowing a screaming two-run double to Josh Harrison.
Both runs were charged to Tripp Gibson.
While I've written about outfitting home plate umps with heads-up eyewear in order to maintain some humanity on calls not involving balls and strikes, I've never been a full-on #RoboUmp guy. This was one hell of an egregiously bad call, though, man. It was awful enough absent situational context, but when you throw in how the game hinged on that one call — more pitches for Arrieta, the Cubs having to go to the bullpen earlier than necessary, the runs — it just looks so much worse.
It became awful times infinity when the Cubs mounted a rally in the 8th behind a Jason Heyward double and Contreras two-run homer to open the frame. Javy Baez then doubled to put the tying run in scoring position with one out. Matt Szczur and Dexter Fowler struck out to swing the momentum back to the Pirates, then Kris Bryant coaxed a walk to set things up for Anthony Rizzo.
After taking a couple balls, Rizzo smashed a foul out of play and then foul tipped the next pitch to get to 2-2. Then he waved helplessly at a slider that was never even close and the threat ended with the Cubs still down a run. If only they'd have gotten out of the 7th unscathed.
Georgie Sunshine brightened everyone's day with a solo shot to tie the game in the 9th, taking Gibson off the hook for the loss. I was wondering for a moment if the ump might not high-five Soler as he crossed the plate. Of course, had the Pirates not scored those runs, the Cubs would have won already.
And don't even get me started on Javy's slide at home that appeared to beat Cervelli's tag. Yet again, a Gibson call was at the center of a game-changing moment. Out was the call, the call was upheld, and the band played on. I think that's one that remains as called either way, due in no small part to the inadequate camera angles, but I also think Baez was safe.
And then Baez tripled with one out in the bottom of the 12th and was thrown out trying to tag and score on a shallow fly to left from Addison Russell. The Pirates loaded the bases with no outs against Rob Zastryzny and only managed to push one run across, which gave the Cubs the opportunity to tie things back up in the bottom of the inning. And wouldn't you know it, Miguel Montero stepped up and laced a walk-off single to win the game for the third or fourth time.
All those extra innings and all ups and downs and all because of a bad call.
I know, I know, you can't just go blaming one call or changing it and expecting that everything still would have played out the same way. Maybe Tripp Gibson doesn't fall on his face on that not-a-walk and Jordy Mercer ends up igniting a back-to-back-to-back homer barrage to demoralize Arrieta and the Cubs. And maybe the Cubs don't rally at all and lose 4-3. It's impossible to say how things would have transpired had Arrieta's pitch been judged differently.
Except this isn't just about that one pitch. It's about paying with incremental portions of my soul, sanity, and sleep over the course of the final handful of innings. It's about the other five or six bad calls in this game and almost every game and MLB's utter disinterest when it comes to improving what seems to be a systemic issue. You can't choose to get some calls right while just completely ignoring others. But by all means, let's get a pitch clock in there.
The Cubs ended up winning (yay!) and I'm too tired to be mad any more, not mention to proofread this. I'm really just disappointed. Now go to your room and think about what you've done (I'm talking to Gibson there, not you, dear reader).
[poll id="8″]