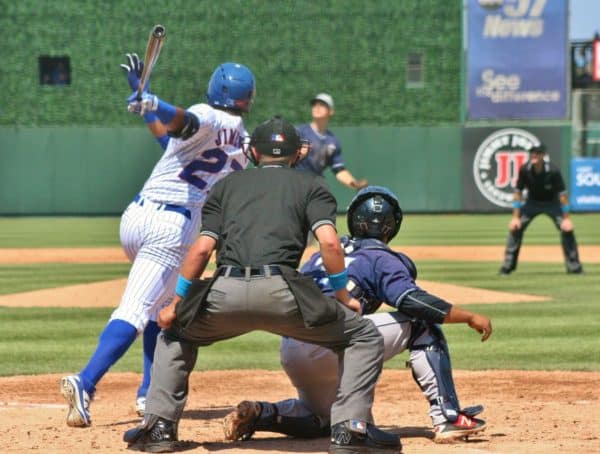 Final 2016 Team Report – The Dream Falls a Bit Short for South Bend Cubs
Another season is in the books for the South Bend Cubs and another attendance record, the second in two years for the Cubs' low-A affiliate, has been set. The young Cubs won the first half Eastern Division in the Midwest League and qualified for the playoffs, their first time as a Cubs affiliate. The deciding game went down to the wire with South Bend bowing out gracefully in extra innings.
The story of the year in the Cubs' minor league system took place at South Bend in 2016. The breakout season of Eloy Jimenez first captured the attention of the media covering the Cubs system. His breakout home run spree in late May added a few more spotlights. Jimenez then burst into the broader national baseball consciousness with an amazing catch and a three-run bomb in the Futures Game in early July.
At just 19 years old, Jimenez showed amazing pitch recognition skills as his average climbed to over .345 at one point this summer. He was named the Midwest League's MVP and number one prospect. He ended up hitting .329 with 14 home runs and 81 RBI despite missing most of the last month of the season with hamstring issues. He was also a great teammate, specifically to Eddy Martinez, whose season took off in July as the Cubs' Minor League Player of the Month.
Other Cubs prospects who had great seasons at the plate in South Bend include Donnie Dewees, PJ Higgins, Ian Rice, Andrew Ely, and Daniel Spingola, all of whom but Higgins were promoted to Myrtle Beach in June and July. Carlos Sepulveda took off in June after Ely left. Matt Rose, who was sent down to Eugene in May, returned in late July and was the Midwest League Player of the Month in August.
Led by a potent starting rotation in the first half, South Bend played some outstanding ball beginning in May and lasting through July. Preston Morrison had two great months in June and July with ERAs under 1.00. When Morrison was promoted to Myrtle Beach, Ryan Kellogg took over the ace role and had his best month of the year in August with a 1.93 ERA. Pitchers Carson Sands and Justin Steele struggled often through the year, with Steele finding some success in the second half. The key for him moving forward is to be more consistent.
Two other pitchers, Kyle Miller and Casey Bloomquist, were pleasant surprises for the Cubs. Both had ERAs under 2.00 in June. Bloomquist started and relieved, as did Miller, who missed most of the second half with minor injuries. Oscar de la Cruz, who is one of  the Cubs' top pitching prospects, finally arrived in late July and impressed many with his plus curveball and fastball command.
In the playoffs, the South Bend Cubs lost the opening series 2 games to 1. The third and final game was suspended due to rain and the Cubs lost 4-2 in extra innings when it resumed the following day. Their offense struggled to score runs throughout the past few weeks, a slump that could not have come at a worse time. I am sure they will use that for motivation next year at Myrtle Beach.
Looking Ahead to 2017
Most of the players from 2016 will head to Myrtle Beach next year. Andruw Monasterio might stay to begin 2017 in South Bend along with some other bench players. Most of the roster in 2017 will be comprised of this year's Eugene Emeralds squad. Some key hitters to watch include Wladimir Galindo, Trent Giambrone, Yeiler Peguero, and DJ Wilson. Wilson is an extremely exciting player and while Galindo has some major power, he is just beginning to tap into it at just 19 years of age.
The strength of next year's team will be pitching. Dylan Cease, Manny Rondon, Bailey Clark, Bryan Hudson, Tyson Miller, and Erling Moreno are starting pitchers who could take the mound next year. In addition, relievers Wyatt Short and Dakota Mekkes should arrive with Marc Huberman, Jed Carter, Chad Hockin, Michael Knighton, and Duncan Robinson.
As of right now, I also think that Tom Hatch, the Cubs' third round pick in the 2016 draft, could arrive to begin his professional career at South Bend. How long he stays there is up to his performance.
Sleeper Prospect for 2017
Robert Garcia is not going to hit a lot of home runs. He will hit for average, he will get on base, and he will score a lot of runs.
Midseason Help
I don't know if Isaac Paredes, who came up at South Bend at the end of the season, will be back in South Bend to begin the year or go to Myrtle Beach or even Eugene, but the 17-year-old kid has an impressive hit tool. I also expect South Bend to get two or three picks from next year's draft in the second half.
The Cubs have done a great job of aligning the teams throughout the system and South Bend has proven to be a great launching pad for young players just starting their professional journey. With a player development contract through 2020, the South Bend Cubs are here to stay. While this year was another excellent one for the affiliate, I think they can do just as well in 2017.