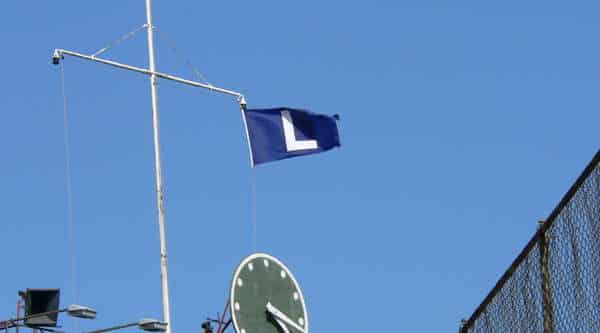 A Tip of the Recap – 9/15 (Brewers 5, Cubs 4)
Cubs Record: 93-53 (1st Place NL Central)  
W: Jimmy Nelson (8-14, 4.42)
L: Justin Grimm (1-1, 3.78)
S: Tyler Thornburg (10)
MVP: Scooter Gennett: 1-1, 2B, 2 RBI
The Cubs had a chance to secure the NL Central Division title Thursday night at Wrigley Field as Mike Montgomery continued to make a case for a bigger role on the 2017 team with a start. Familiar foe Jimmy Nelson manned the bump for Milwaukee.
The Cubs jumped on a Brewer mistake in the bottom of the 2nd to take an early lead. Addison Russell reached when an infield pop-up dropped between third baseman Hernan Perez and shortstop Orlando Arcia. Jorge Soler followed by smashing a line drive into the left field bleachers: 2-0 Chicago.
Milwaukee bounced back against Montgomery in the top of the 4th inning, when Keon Broxton took the Cubs lefty deep to cut the lead in half. After a two-out Russell throwing error, Domingo Santana and Arcia doubled to give the Beermakers a 3-2 lead.
An unlikely combination would help to tie the game the next half-inning, as Jason Heyward doubled down the right field line and was singled home by Montgomery. It was Monty's first career base hit and run batted in. Jon Lester and Montgomery have now gotten clutch hits two games in a row.
Justin Grimm had a rare bad outing after taking over for Montgomery in the 7th. Santana doubled and catcher Martin Maldonado walked, putting two on for pinch-hitter Scooter Gennett. Living up to his annoying name, Scooter doubled to right to make it 5-3 Milwaukee.
The Cubs got a run back from the Brewers in the bottom of the 8th when Heyward doubled home Ben Zobrist, who had walked earlier, to make it a 5-4 lead for the Cheeseeaters. Closer Tyler Thornburg escaped the inning without further damage. In the bottom of the 9th, Anthony Rizzo walked with two outs but was stranded to end the game.
The Good
Jorge Soler continued to drive the ball with authority Thursday with his long homer. It's good to see Georgie really tapping into his power of late, as it can mean big things for the Cubs line-up in the playoffs. It was also good to see Heyward double twice. A hot J-Hey would also be a pretty large playoff boost.
Montgomery had a quality start on Thursday posting a line of: 6 IP, 3 R, 1 ER, 4 H, 7 K, and 1 BB. If not for a Russell error in the 4th, the swingman might have gotten a win. Still, it was an encouraging sign for pitcher with a lot of talent who could become a reliable starter in the future. The best sign was that he only walked one Brewer in his 6 innings.
The Bad
Addison Russell had a rare bad defensive game for the Cubs. He made two throwing errors and was saved from a third by a leaping Anthony Rizzo. I don't think this is anything to be worried about long term, just a bad day.
The Ugly
Soler did take a weird route on Gennett's double in the 7th inning, though it seemed unlikely Jorge would have been able to catch the diving liner. However, he could of gotten in front of the ball and maybe held Maldonado at third. In the end, it's the part of the growing process for a young player. Georgie has improved his defense over last season and has been less noticeable this season (in a good way).
Coming Attractions
The Cubs have already clinched due to a Cardinals loss, but they're still looking to celebrate on their own terms. John Lackey (9-8, 3.35 ERA) is off the DL and looking to build up stamina. Chase Anderson (8-11, 4.53 ERA) got knocked out of his last start at Wrigley by a Kris Bryant liner. Joe Maddon is planning to start every bench player he can for the 1:20 CST game Friday. Here's hoping the Cubs can do some partying.