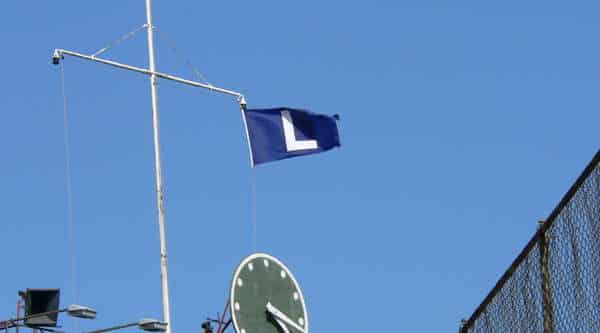 A Tip of the Recap – 9/17 (Cubs 3, Brewers 11)
Cubs Record: 94-54 (1st in NL Central, NL home-field magic number: 8)
W: Zach Davies (5.0 IP, 7 H, 3 ER, 1 BB, 5 K)
L: Jake Arrieta (6.0 IP, 4 H 3 ER [4 R], 4 BB, 5 K)
MVP: No MVPs, moral victories, or statements in losses
The Cubs started strong, but quickly fizzled out as they failed to score any runs after the 1st inning and could not keep the Brewers from leaving the yard. Ryan Braun (boooooo) led the Brewers with 2 home runs and 5 RBI.
The Cubs bullpen came in and did a pretty bad job at keeping a one-run lead, as Carl Edwards Jr. and Spencer Patton combined to give up 7 runs in 2.0 innings of work. Trevor Cahill did a good job in the 6th inning by not allowing a baserunner.
Overall, this game means nothing and the Cubs are sitting pretty in the race for the home-field advantage in the National League.
The Good
The 1st inning was good, because it involved a Kris Bryant triple and a Chris Coghlan home run. Other than that, the offense and pitching was not that great.
Munenori Kawasaki's walk-up song is so much fun. If you haven't heard it, you should watch the next Cubs game he plays in, because every time he batted the broadcast crew increased the volume on the PA's mic so viewers could hear it clearly.
The Bad
Grown Man Named Scooter has hit well against the Cubs this series, and I hate him for it. Today he went 2-for-4 and scored 3 runs.
Ryan Braun drove in 5 runs on 3 hits, and I am still not a fan of him.
Jake Arrieta's fastball command was off all day long, and eventually it caught up to him. He was constantly missing his spots and the Brewers made him pay. He started the game getting good results, but the walks caught up to him. Hopefully he gets it turned around, because he hasn't pitched particularly well as of late.
In his last 4 starts (23.2 innings pitched including today) he's given up 15 earned runs, allowed 17 hits, and has administered 11 walks while striking out 18.
The Ugly
The Cubs had the bases loaded with no outs in the 4th inning and were not able to score a run. Matt Szczur struck out and Kawasaki grounded into a 6-4-3 double play. I know it wasn't the regular starting lineup, but there's really no excuse for not scoring at least a run in that situation. This was a theme for the day, as the Cubs went 1-for-8 with RISP.
Coming Attractions
Cy Young candidate Kyle Hendricks (15-7, league leading 2.03 ERA, 0.96 WHIP) takes the bump for the Cubs while Wily Peralta (6-10, not-league-leading 5.42 ERA, 1.57 WHIP) will start for the Brewers. Hopefully Kyle throws a no-hitter, because he was unfairly robbed of one the last time he pitched by some annoying St. Louis Cardinal.