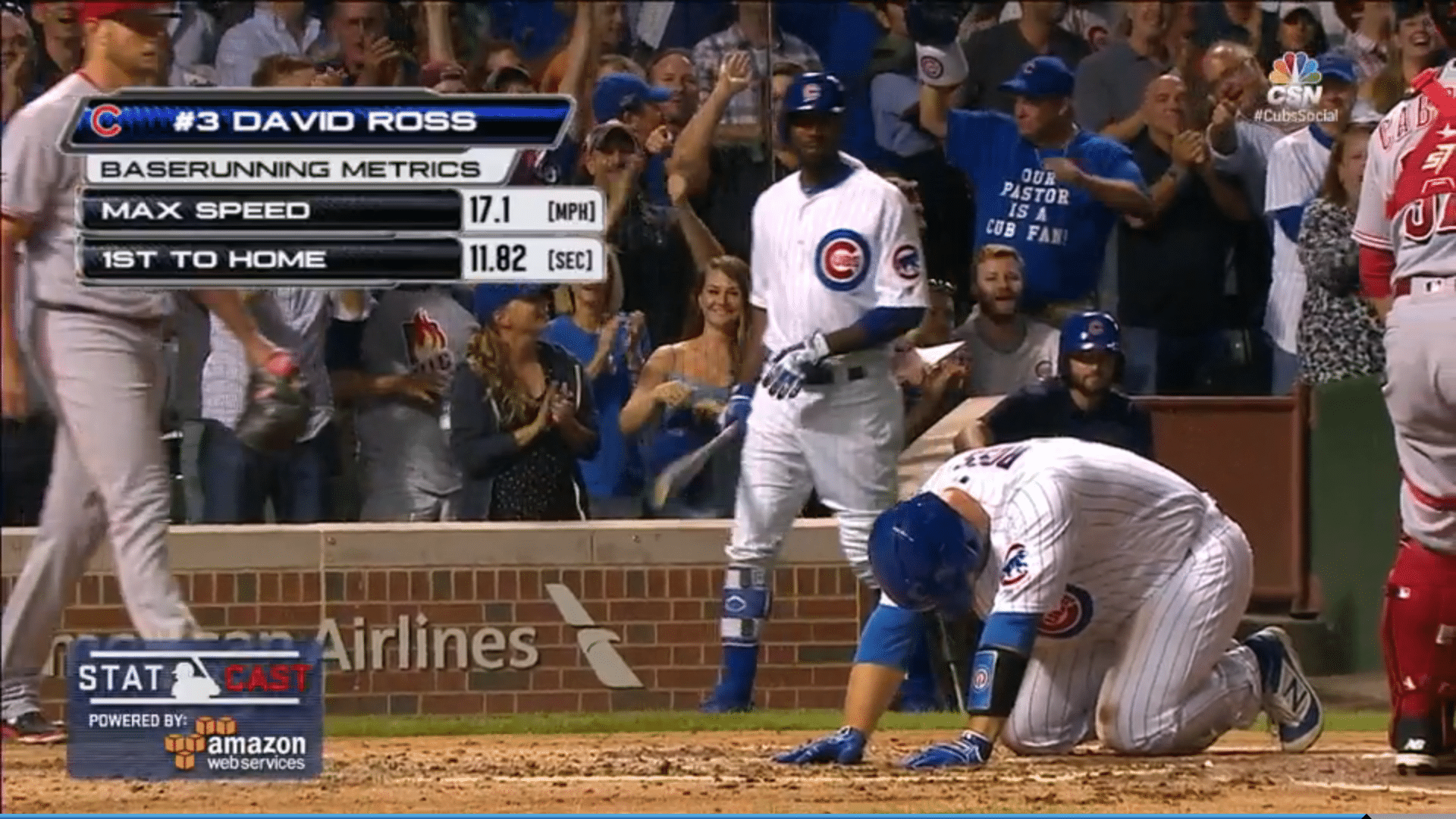 Grandpa Rossy Needs an Oxygen Tank, Jon Lester Doesn't Need His Right Arm as Cubs Electrify Crowd Once Again
I don't know if the meteorological science backs it up, but I'd be willing to bet that the rain in Chicago Wednesday is a direct result of the low pressure zone created by the collective gasp when Jon Lester took a Joey Votto liner off the right wrist Tuesday night. And we're not talking a soft come-backer, either. The 102 mph laser left a mark angry enough to make John Lackey look blissed-out by comparison.
[beautifulquote align="right"]The 102 mph laser left a mark angry enough to make John Lackey look blissed-out by comparison.[/beautifulquote]
Disbelief, fear, and maybe just a dash of here-we-go-again were shaken into a potent cocktail no one could swallow because their hearts were lodged in their throats. Lester crouched, refusing to rub the sore spot as Joe Maddon and the training staff came out to the mound. Then the lefty stood up, nonchalantly put his glove back on, and called for the ball as though nothing was amiss.
The look on his face told you there was no way in hell he was coming out of the game. More than his glove arm, I think the real health risk was to Lester's jaw and teeth. Dude was clenching like a mug to get past the pain. As the camera panned first to the darkening welt and then to the lefty's determined visage, it was evident he'd sooner follow Ronnie Lott's example than leave a relatively meaningless game against a haggard opponent in which he already had a 5-1 lead. Come to think of it, maybe Jim Abbot is a better comparison.
"It's my right hand, I don't need it," Lester deadpanned during the postgame presser. "Like I said, I mean, all it's there for is to hold the glove. It'll be fine. It's a long way from the heart."
Anatomy lessons aside, Lester's assessment was on the money. I'm not sure how he could even feel his off-hand to use his glove to catch, but it sure didn't seem to affect his pitching. After collecting himself, the Cy Young front-runner struck out Adam Duvall swinging. He then gave up a double to Brandon Phillips to put two men in scoring position with only one out. A backwards K of Scott Schebler and a Tyler Holt ground out ended the threat and Lester walked away unscathed. Or, more accurately, without being further scathed.
[beautifulquote align="right" cite=""]"It's my right hand, I don't need it."[/beautifulquote]
And then he came back out to pitch the next inning. What the what?!
On one bruised and battered hand, this seemed a little foolish, given the disposable nature of the game and Lester's importance to the team moving forward. On the other, it's not as though the dude was struggling or grinding out high-leverage innings. As if to underscore the general badassery he'd displayed during the previous frame, Lester sandwiched an Ivan De Jesus fly out between strikeouts of Ramon Cabrera and Jose Peraza in the 7th to close his outing in style.
"I don't care what the lead is," Lester explained. "My mentality's the same going into every start: I want to win every start. I don't take days off when it comes to that.
"When it's my day to go, it's my day to go. I'm going to show up with the same intensity as if it was Game 1 or if we're fighting for a playoff spot right now. I feel like if I let off the gas mentally, then I'm doing a disservice to my team."
While this may end up going down as a signature start due to the grit — and I don't mean like Ryan Theriot and other grindy sparkplugs, I mean that Lester was literally gritting his teeth through the pain — he showed, I'll remember it for the pitcher's RBI double in the 2nd. Okay, that's not entirely true. I'll remember it for laughing my backside off watching Grandpa Rossy being forced to go first-to-home to score on the play.
Lester has actually chalked up some mad batted-ball velocity in his time as an NL pitcher, so I suppose the hit shouldn't have come as much of a surprise. Still, Ross was not prepared for what happened. With two outs and the game tied at 0 in the 2nd, the big southpaw jacked a fastball into the alley in right center, turning a 90 mph pitch into a 107 mph two-bagger. I was seated in Section 235 at the time, so I had a great view of Ol' Graybeard huffing and puffing around third like an rusty pickup dropping into passing gear to get around a line of semis on the interstate.
[beautifulquote align="full"]I had a great view of Ol' Graybeard huffing and puffing around third like an rusty pickup dropping into passing gear.[/beautifulquote]
Seeing him sprawled out on all fours, gasping for breath like a defensive tackle who just went 90 yards on a pick-six, I couldn't help but smile. If the Cubs don't already have oxygen tanks ready for such occasions, they might want to think about stocking up for the playoffs.
It was one of those moments that you got to really enjoy because it's actually happening slowly enough to process in real-time. The capper was when Ross slid headfirst into home with a lumbering pratfall that was equal parts resolution and resignation. Maddon referred to that as Ross adding his own little embellishment on the play, but I beg to differ. Dude wasn't bedazzling his Rascal scooter, Joe, he was straight-up acting out the title of a Michael Douglas movie.
Whether in spite of or because of the aging catcher's trudging feet, the Cubs got one step closer to home-field advantage in the NL and Jon Lester may have tightened his grasp on the NL Cy Young. With his good hand, that is. I hadn't expected much from the game, other than the promise of a free shirt from the Social Media Night festivities. And I had sold my extra ticket to a guy from Twitter who I'd never met before, which meant there was a distinct possibility for awkwardness.
But Michael turned out to be really cool and very knowledgeable and the game was exciting. We eventually moved over to sit with Corey Freedman from Cubs Related and ended up having a spirited conversation about the playoff roster, as well as the various and sundry nuances of postseason play. I got to see Rossy's high-stepping shenanigan's from one section and Lester's potential demise from another, surrounded all the while by tens of thousands of my closest friends.
There was a palpable energy in the park, a low-grade thrumming that made it seem as though I was sitting beneath a cluster of power lines all night. Is that weird to say about a Tuesday game against a hapless Reds team in which the outcome was only marginally important? Maybe so, I don't care.
This is something special, folks, and I'm exceedingly happy to be a small part of it, even if that's only as a bit of flotsam being carried along on the current.