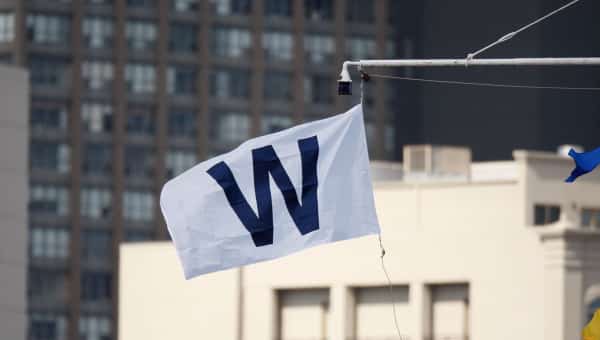 A Tip of the Recap — 9/20 (Cubs 6, Reds 1)
Cubs record: 96-55, 1st NL Central, (magic number for NL home field: 3)
Cubs Home Field Magic Number: 3
W: Jon Lester
L: Josh Smith
MVP: Jon Lester
The Chicago Cubs faced off against the Reds, and it was a by-the-book win. Jon Lester left Cincinnati feeling blue as they instantly looked overwhelmed by his pitches on Social Media Night at the vine-covered Wrigley Field. #FlytheW
In the bottom of the 2d, Jon Lester almost sent David "Grandpa" Ross into early retirement when he smacked a double to score the old man from first to make it 1-0 Cubs. Ross needed a moment to collect himself after hustling around the bases, kneeling at home plate, clearly gassed.
In the top of the 3rd, Lester hit Tyler Holt to start the inning. With one out, pitcher Josh Smith laced one through the infield to move Holt to third, but Lester managed to escape unscathed after getting Jose Peraza to pop out and Tony Renda to ground out.
In the bottom of the 4th, Jason Heyward led off the inning with a walk and Lester took a walk as well (helluva night at the plate for him). Dexter Fowler singled, Kris Bryant doubled, and Anthony Rizzo singled to open this game up and make it 5-0.
The Reds got on the board in the top of the 5th when Steve Selsky singled with two outs and Peraza tripled to make it 5-1. The Cubs added one more run in the bottom of the 6th when Fowler walked, stole second, and scored on a Rizzo single.
Carl Edwards, Jr. came in for the 8th and put two men on before getting out of it and handing it off to Trevor Cahill for the 9th. He got the first two outs, thanks to a beautiful double play by Russell, Zobrist, and Rizzo, and then Travis Wood came in to finish it. One step closer to October!
The good
Jon Lester is completely and totally locked in right now. After tonight, he currently sports a career low in WHIP and hits per nine innings and is one point away from his best ERA ever. Over his previous nine starts, Lester has pitched to the tune of a 1.02 ERA and he was holding batters to a .183/.227/.254 slash line with 12 walks to 61 strikeouts. Tonight was more of the same. He finished with seven innings pitched, only six hits, and one earned run allowed with five strikeouts and no walks. Great night from Lester.
Also Good
Hey now! Jason Heyward was 1-for-2 with two walks and a run scored. Including this game, he is 8-for-16 with a home run over his last five games. Small sample alert, but any step towards positive results from Heyward is great to see.
The Ugly
Lester got hit by a comebacker and looked to be hurt, but all is well. Nothing truly ugly in this one.
Coming Attractions
The Cubs finish their last home series against the Reds Wednesday night when John Lackey takes the mound against Robert Stephenson. Over three starts against the Reds this year, Lackey has surrendered 13 earned runs while striking out 16. He will look to get into playoff form as he only has a couple of starts left this season. Stephenson is set to make his sixth MLB start, and the Cubs should have some good opportunities as he's allowed six home runs already in his young career. Be sure to tune in at 7:05 CST for the Wrigley finale of this division rivalry.