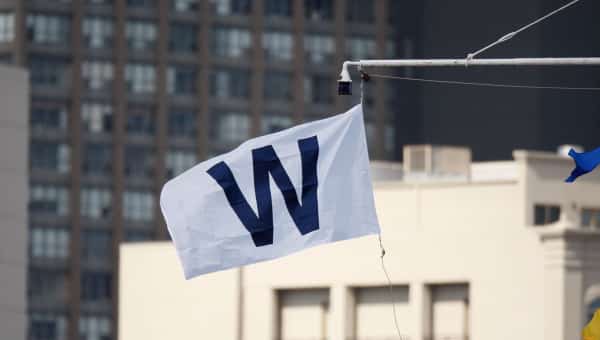 A Tip of the Recap — 09/27 (Cubs 6, Pirates 4)
Cubs record: 101-56, 1st NL Central, (19.0 games up)
W: John Lackey
L: Ryan Vogelsong
S: Felix Pena
MVP: Chris Coghlan
We've reached the point of the season where the Chicago Cubs are playing meaningless games against the Pittsburgh Pirates, yet they still look like the best team in the league. They keep on winning, as they did in this one by the score of 6-4 at PNC Park.
This game was Chris Coghlan's latest showcase for making the playoff roster (and my money says he does) as he went 2-4 with a triple, single, walk, stolen base and three RBI. Coghlan was a difference-maker for the Cubs in this one as he was responsible for 50% of their runs scored.
John Lackey also looked decent, allowing one earned run over 5 innings with three strikeouts, five hits, and three walks. You'd like to see fewer than eight baserunners, but Lackey has now allowed three or fewer runs over nine of his last ten starts.
The most important part of this game is that every regular starter is still healthy, which can't be said about a lot of the Cubs' main playoff competition. In case you haven't heard, Nationals catcher Wilson Ramos is out for the season with a torn ACL, Stephen Strasburg isn't likely to pitch in the NLDS against the Dodgers, and Mets starter Steven Matz is out for the season after opting for elbow surgery and rest for his shoulder. The playoffs are and always will be a crapshoot, but geez, the path to the World Series keeps getting "easier" for the Chicago Cubs.
Speaking of those Cubs, when they won 100 games on Monday night, it was for the first time since 1935. With this victory, they now have 101 wins for the first time since the 104-win season in 1910. We are watching a truly historic year for our favorite baseball franchise, and it's important to remember that it's always going to be special in the context of regular seasons no matter what the end result is. That said, obviously, a World Series parade in Downtown Chicago would be acceptable.
Hang in there gang. We are one step closer to the playoffs.
Coming attractions
Jake Arrieta is making his last start of the regular season in game three of this four-game set in Pittsburgh, and the Cubs will get a second look at Jameson Taillon. The first time he faced the Cubs, he allowed four runs on three homers at Wrigley. Since then, he has a 3.49 ERA over his last 14 games with only 10 walks allowed over 80 innings pitched with 68 strikeouts. He's worn down a little bit lately, but he looks like a staple for the Pirates' rotation heading into next year. Arrieta looks to close out the season strong as he carries a 2.96 ERA in the month of September, holding opponents to a .198 batting average. After tomorrow night, the next time we see him pitch will be in the playoffs (squeeee!). Don't miss his final action at 6:05 CST, Wednesday night.