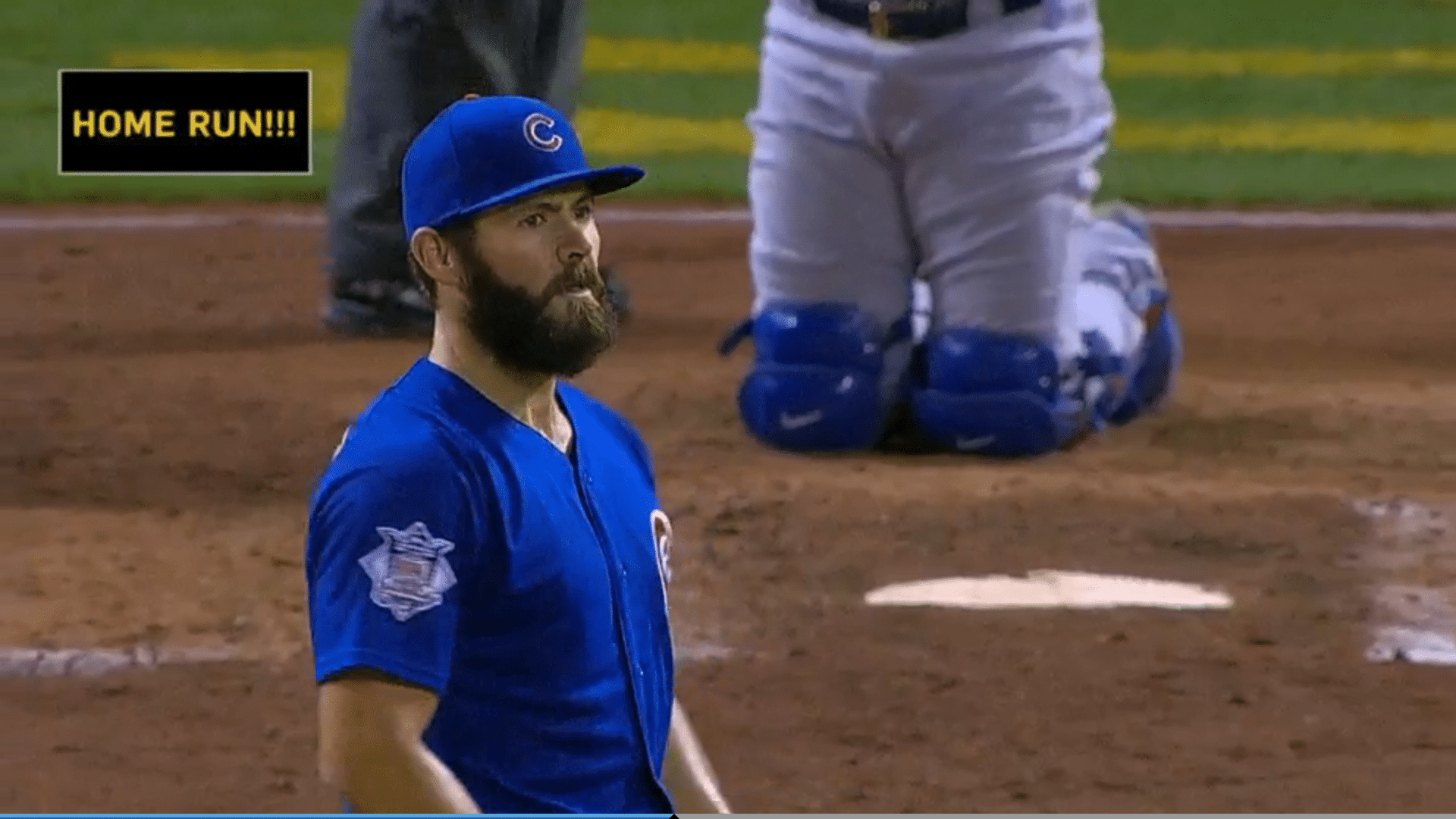 Scarrieta: Jake's Performance Down the Stretch Cause for Concern
Like a good neighbor, my foot. I don't know whether Jake Arrieta was mimicking his skipper's Spring Training approach or simply test-driving his Jason Hammel Halloween costume Wednesday night, but it wasn't fun to watch. Even worse, it wasn't really an aberration.
While the 7 earned runs on 10 hits over 5 innings wasn't his worst outing in a Cubs uniform (6 ER in 4 IP 8/21/13 vs. Washington; same line 8/28/14 at Cincy; 9 ER in 5 IP at Colorado 8/6/14), it was easily the ugliest he's produced in the last two seasons. And it came in his final start of the regular season, immediately following an excellent outing against the Cardinals in which he'd gone 7 strong with 10 strikeouts and no runs allowed.
Watching Arrieta this season has been like going trick or treating through a really weird neighborhood. One house has Snickers bars — the big ones, not the Fun Size trash — but the next two have Smarties and Good & Plenty. One of them hands out homemade Rice Krispies treats and the next drops a stale popcorn ball in your bag. Hershey's minis are followed by quarters and then travel toothpaste.
Then you get a a big ol' handful of the good stuff at the next-to-last house and you're riding high on expectations for what the finale will bring, only to find…no, huh-uh, this isn't cool. Pumpkin Spice Peeps?!
I've taken several looks at Arrieta's performance this season, the most recent of which got into his pitch location and release-point mechanics. I'll spare you another attempt at analysis, but I do want to talk about his utter lack of consistency in 2016. Whether we're talking game over game or even just inning over inning, Arrieta hasn't been able to find that groove in which his results are repeatable time and again.
I'm not even talking about that incredible second half from last season, the duplication of which we all understood to be impossible. But when you see last year's Cy Young give up 5 earned runs one game; zero the next; 14 over the next four; then zero; then 7, it can be frustrating. Not all of the inconsistency can be directly attributed to Arrieta, though, and he voiced his opinion on Joe Maddon's decision to swap catchers midstream Wednesday night.
"Yeah, I threw some strikes, but just didn't have it tonight. Wasn't good," Arrieta admitted. "The feeling of the game, from the first pitch, just wasn't there. Switching catchers just felt like we were trying to do a little too much instead of win a ballgame. But I didn't throw well, no way around it.
Miguel Montero echoed his battery-mate's feelings, expressing dismay at getting only 4 innings of work before conceding his spot behind the plate to Willson Contreras. He claims to have understood Maddon's motives, but that doesn't mean he has to like being part of the drawn-out chess match.
I don't take too much from this, as it's really no different from what fans are expressing. After going through a long season with a goal in mind, it sucks to be forced to dial things back to who-gives-a-crap mode. It's like blasting along down the interstate on your way to a Disney vacation only to get stuck in traffic once you hit Orlando. The destination is so close, but now the batteries in your kids' tablets are dead, your blood sugar is low, and you need to pee.
Hurry up and wait, folks. And marinate in the juices of fear and worry that crop up when there's really nothing else to think about until the playoffs start. But what about the Cubs, how are they handling it?
"We're moving on," Arrieta declared after his poor showing. "We'll prepare for the next one. I don't like giving up seven runs. I'm pissed about that. But moving forward, everything's fine."
Is it fine, though? I'd been a staunch advocate of Arrieta and his ability to put it together down the stretch, though my faith has been shaken to the point that it's now resting on a cracked foundation. Nothing has really been announced, but the implicit statement on the order of the rotation is that Jon Lester and Kyle Hendricks will indeed open the NLDS as the Cubs' top two starters. That leaves Arrieta with 12 days to chill before he makes a Game 3 start against what's looking like either the Mets or Giants (with the Cardinals still very much alive too).
As much as these guys thrive on having a set routine, I really believe having more than twice his normal rest between starts will do Arrieta a great deal of good. Though he'll probably never admit it, I'd be willing to bet the pressure has worn him down this season. And I don't even mean the external expectations from fans and media and overall national exposure. Arrieta has been no shrinking violet when it comes to discussing his confidence in his own abilities and his desire to be paid commensurate with them.
He's playing for both this season and for a contract extension or even a free-agent deal, and it probably doesn't help that two of his teammates have zoomed past him in terms of this season's performance. It's appeared at times as though Arrieta's reaching back for a little something extra when he pitches, perhaps trying to force those desires and fears and expectations into that horsehide sphere before he fires it home. All that psychological weight might explain why he's throwing down in the zone and missing his spots.
Having the chance to unplug, so to speak, and to get out of his routine — and maybe his own head — might be just what Arrieta needs to hit the reset button. There's also the idea that his worst starts have generally been followed by very good ones, a pattern that bodes well for his next outing.
I'm not afraid to admit that I'm worried about how Jake Arrieta has pitched this season and what that means for the playoffs. At the same time, I'm approaching the future with a cautious optimism born of both knowledge of historical performance and the inexplicable because-I-said-so hopefulness of a starry-eyed fan. Oh, and because I want to sell more hats.
What say you, dear reader? Are you worried about Arrieta's inconsistency or do you believe he'll shake that all off under the bright lights of postseason play? Are his issues due to a vain attempt to live up to expectations or is something else at play? Have at it in the comments or on the Twitters.