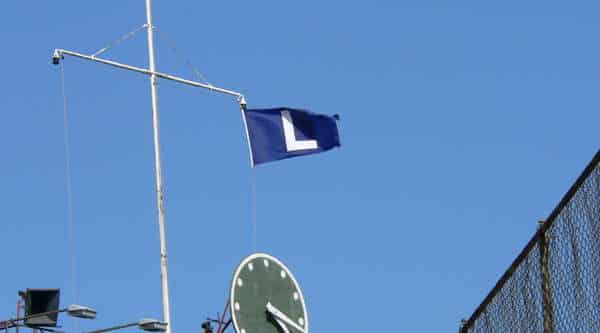 A Tip of the Recap – NLCS Game 2 (Cubs 0, Dodgers 1)
W: Clayton Kershaw: (7 IP, 1-0, 0.00 ERA, 2 H, BB, 6 K)
L: Kyle Hendricks: (5.1 IP 0-1, 1.69 ERA, 3 H, ER, 4 BB, 5 K)
SV: Kenley Jansen (1)
MVP: Clayton Kershaw (4 perfect innings, 2 H, 0 ER)
The Cubs and Dodgers duked it out at Wrigley in game two of the NLCS and suffered a heartwrenching 1-0 loss.
Maybe heartwrenching isn't the best word, since they were facing this era's best pitcher, Clayton Kershaw. However, it was one of those games that just punched you in the heart, because Kyle Hendricks made one mistake all night and that turned into a solo home run by Adrian Gonzalez.
The Cubs just didn't have the right ingredients in the recipe for a win. Their offense was relatively cold as they managed only two hits in the entire game. In fact, Kershaw carried a perfect game into the 5th inning before back-to-back singles by Javier Baez and Willson Contreras. Kershaw pitched seven strong innings and then Dave Roberts brought in his closer, Kenley Jansen, for the last six outs.
Jansen was just as sharp as his teammate as he pitched two perfect innings to get the save and secure the win. Kershaw is 3-0 this postseason and even got the last three outs in game five of the NLDS vs. the Washington Nationals.
The Good
Clayton Kershaw was almost unhittable Sunday night, starting and ending his outing with some of his best stuff. The only blemishes were two singles in the 5th inning and a walk in the 7th. The Cubs were not able to capitalize on any of it as Kershaw kept mowing them down. The closest the Cubs got to getting anything going against Kershaw were a few warning-track fly balls.
Kenley Jansen got his first career six-out save. He was on fire as he struck out four of the six batters he faced, and was able to throw a first pitch strike to four of six batters of the batters as well.
Cubs pitching was not bad at all last night. As I mentioned before, Kyle Hendricks made one bad pitch that resulted in a home run that cost the Cubs the game. He was able to limit a very good Dodgers lineup to only three hits. The Cubs bullpen also held it down as Carl Edwards Jr., Mike Montgomery, Pedro Strop, and Aroldis Chapman combined to throw 3 2/3 innings of no-hit baseball. They did find themselves in a jam in the 7th inning, when there were two runners on base, but they were able to get out alive.
The Bad
The only thing I can refer to on either side as bad was the Cubs offense. They did not seem like a team that had pulled off a late victory by scoring five runs in one frame the night before. The one real scoring chance they had was in the 5th inning where they had two men on with two outs. Jason Heyward ended that inning with a fly out. That's the thing about baseball, though. One day you're unstoppable and the next, the other team is untouchable. You can never get too comfortable and think that you'll be able to repeat from the previous game. The offense is more than capable of piling on runs to get ahead in this series and I have no doubts that they will.
The Ugly
If there was a category on Cubs Insider called "The Awful," home plate umpire Eric Cooper would be at the top of the list. He made some very questionable calls, the majority of which favored the Dodgers. Hendricks uncharacteristically issued four walks, two of which came on botched calls. Then, in the bottom of the 9th, the first pitch Kris Bryant saw was clearly a ball but was called a strike. Credit has to be given to Dodgers catcher Yasmani Grandal for fooling the umpire with his good framing. There were more instances of bad strike calls than I can put my finger on. Of course, this loss cannot be completely blamed on bad umpiring, as the Cubs didn't perform offensively.
Coming Attractions
The Cubs head to Los Angeles for three games and will play game three of the NLCS Tuesday night. Jake Arrieta who pitched a good game his last time out against the Giants, giving up two earned runs over six innings and even hitting a three-run homer off of Giants ace, Madison Bumgarner. Arrieta's no stranger to success against the Dodgers, even no-hitting them last season on the last game of a West Coast road trip. In May of this year, he threw seven shutout innings against the Dodgers for a pretty good encore. Left-hander and former Cub Rich Hill will be going for LA. He made two starts in the NLDS against the Nationals and suffered a 5-2 loss in his first start. In the second go-round, he was lifted by manager Dave Roberts in the third inning as he was pitching on three days rest.
With the series tied at one game a piece, it's anyone's to win. The Dodgers are 3-0 when Kershaw has appeared this postseason and are 0-4 when he has not. The Cubs will look to capitalize on that as they try to either finish the series in Los Angeles or hold a series lead if they have to come back to Chicago.