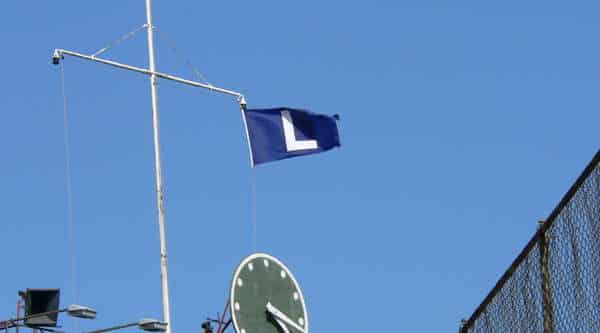 A Tip of the Playoff Recap – 10/18 (Cubs 0, Dodgers 6)
W: Hill (6.0 IP, 2 H, 0 ER, 2 BB, 6 K)
L: Arrieta (5.0 IP, 6 H, 4 ER, 0 BB, 5 K)
MVP: There are no MVP's, statements, or moral victories in losses
The Cubs' bats must have missed their flight, because tonight's effort at the plate was rather subpar. Rich Hill (yes, that Rich Hill) pitched decently for the Dodgers, but he was not the unhittable pitching machine the Cubs made him appear to be. Jake Arrieta pitched a good game today, with the Dodgers capitalizing on their few opportunities with runners in scoring position against him.
Yasmani Grandal launched a well located two-seam fastball into the right center seats to drive in 2 runs and Corey Seager hit a hanging breaking pitch to right to drive in another run, which is all the Dodgers needed. They tacked on another run on a Justin Turner solo shot that knocked Arrieta out of the game, and they later scored twice in the 8th inning.
The 2nd inning was the Cubs' best opportunity to push runs across. Anthony Rizzo walked and stole second before Jorge Soler walked with one out in the inning. Hill seemed very uncomfortable and focused on Rizzo too much throughout the inning, but promptly struck out Addison Russell and induced a weak ground ball to second off of Miguel Montero's bat.
From that point on, it was all Dodgers.
The Good
Kris Bryant was the lone bright spot in the offense, collecting a pair of hits in 4 at bats. He was the only Cub who looked comfortable at the plate, though I guess that's what you expect out of the NL MVP (simple speculation here, folks).
Rizzo looked much more like himself as well, forcing Hill to work hard to get him out. He walked once and ended up stealing a bag in the 2nd inning before becoming the only Cubs hitter in the game to reach third base.. Oh and HE FINALLY GOT A HIT against Kenley Jansen. I can't tell you how excited I was to see him get on base via a hit. Hopefully that translates to more hits in future games.
The Bad
Pretty much everything about the game that I didn't go over in the previous section.
The Ugly
The Cubs offense was, for the most part, silent tonight. They got only four hits, two by Kris Bryant, and walked twice. That was it. They looked off balance and lost at the plate all night long. It got so bad that Joe Maddon pinch-hit Jason Heyward for Addison Russell, which resulted in Heyward swinging at a slider that would have hit him in the legs for the third strike.
Coming Attractions
John Lackey will face Julio Urias in a game that the Cubs essentially have to win in order to have a realistic shot at advancing to the next stage. Yes, they have to play Game 5, but having to win 3 straight games in any series is a difficult task. I fully believe the Cubs can turn it around and win this series regardless of what happens Wednesday, but it makes things easier if they win Game 4. First pitch is scheduled for 7:00 central time.