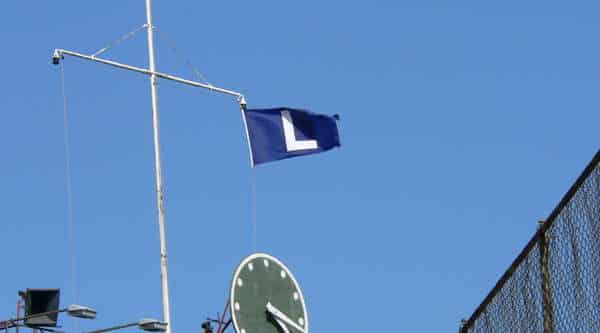 A Tip of the World Series Recap – Game 1 (Indians 6, Cubs 0)
Series Status: Indians lead 1-0  
W: Corey Kluber (3-1, 0.74)
L: Jon Lester (2-1, 1.69)
S: None
MVP: Roberto Perez: 2-4, 2 HR, 4 RBI, 2 R
The Cubs opened their first World Series in 71 years against the Cleveland Indians at Progressive Field Tuesday. I have to say, entering this game I wasn't sure how to handle the moment. It left me strangely calm and happy beforehand, a feeling I rarely have before big games. Both teams went with their aces to open the series, Jon Lester for the Cubs and Corey Kluber for the Tribe.
Kluber made quick work of Chicago in the top of the 1st inning. Lester started strong, retiring the first two batters he faced, but Francisco Lindor singled and stole second. Lester then walked Mike Napoli and Carlos Santana to load the bases for Cleveland. Jose Ramirez dribbled a ground ball down the third base line for an RBI infield single. Brandon Guyer was then hit by a Lester pitch to force in a second run and it was 2-0 Indians after one.
Those two runs were more than enough for Kluber, who was dominant on Tuesday as he pitched around doubles from Ben Zobrist and Kyle Schwarber and striking out 9 in 6 shutout innings. Catcher Roberto Perez took Lester deep in the 4th to extend the Tribe lead to 3-0.
The Cubs' best chance to score came in the top of 7th inning. Kluber allowed a leadoff single to Ben Zobrist and was pulled for super-reliever Andrew Miller. Schwarber was able to draw an incredibly rare walk off of Miller and Javy Baez singled to load the bases with no one out. That was all Miller was ready to give to the Cubs that inning. The tall lefty got Willson Contreras to pop out, then struck out Addison Russell and David Ross to end the threat.
Miller escaped another jam in the 8th inning, striking out Schwarber with two men on to keep it 3-0. Roberto Perez staked an early claim on World Series MVP with his second homer in the bottom of the inning. The three-run blast gave the Indians an insurmountable 6-0 lead. Cody Allen closed out the easy Indians win in the 9th.
The Good
Not much went right for the Cubs on Tuesday night, but one thing that did was Kyle Schwarber. The big guy looked very comfortable in his at-bats in game one. He hit a long double that nearly got out of the park for a solo homer. Perhaps most impressively, War Bear drew a walk from Andrew Miller, which almost never happens. While he did strike out against Miller in the 8th, it's safe to say Schwarber should start game two.
Ben Zobrist was the best Chicago hitter on Tuesday night, going 3-4 with a double against Kluber and Miller to continue his excellent World Series performance from last season. The fact the Cubs were able to make Miller work hard in his two innings may pay dividends in later games.
The Bad
The bottom of the 1st inning was more about bad luck than bad pitching, with a weak infield single and a hit by pitch to produce two runs. Still, I'm sure Jon Lester will tell you the two-out walks to Napoli and Santana were the fatal blows in the inning. With Kluber as dominant as he was, all Jon really could have done was hold the score even. I'm sure he will come out angry next start and pitch very well, at least I hope so.
The Ugly
I'm never really shocked when other teams' fans bring up goats or 1908 with the Cubs. I mean, that is the go to move to troll fans of the Chicago National League Ball Club. That said: Really, Cleveland fans? That's how you are going to play it this series? With goat masks and signs about 1984 and Bartman? I guess a team with the title tradition of Cleveland can talk trash.
Coming Attractions
Jake Arrieta (0-1, 4.91 ERA) needs to be 2015 Jake if the Cubs want to even this series. Trevor Bauer (0-0, 5.06 ERA) had to leave his last start when his drone wound reopened. The game is starting an hour earlier at 6:08 CST due to a threat of rain. If they want to win the series, Chicago will have to beat the non-Kluber Indians starters. That makes game two absolutely key for their championship chances.