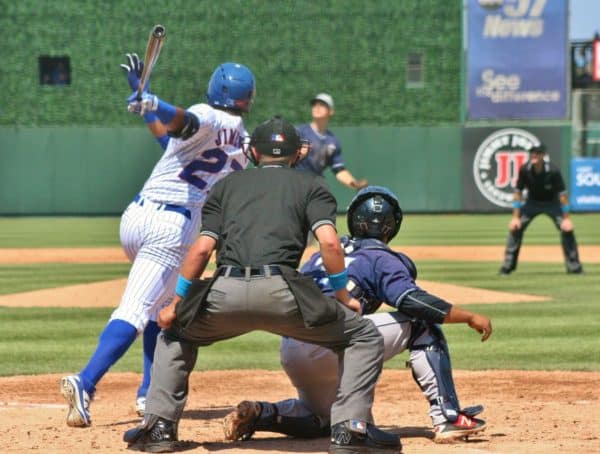 Translated Interview Reveals Eloy Jimenez's Winter Off Is Not His Choice
I have a strange fascination with Eloy Jimenez, to the extent that I wonder what he's doing in the offseason. I know there are others like me because we talk to each other all the time about Jimenez. When one of us comes across something — typically an article or a video clip — we often contact the others in order to feed our shared obsession, er, to keep them in the loop.
The most recent tidbit came in the form an interview Jimenez gave in the Dominican Republic to the announcer of his would-be winter team, the Cibao Giants.
paging @Crewsett Eloy Jimenez interview in need of translation!! @CubsCentral08 @thetweethaver https://t.co/6cUWv2VoJI

— Eldrad (@thats_so_cub) December 18, 2016
With the help of Stan Croussett, I was able to get the interview translated. Stan did an excellent job in creating a fluid conversation between Jimenez and the interviewer, through which we get a glimpse of what the superstar prospect is doing this offseason and what plans the Cubs might have for him in the future.
---
Interviewer: We find ourselves with Eloy Jimenez, the number one overall selection in this year's draft by the Cibao Giants.
Eloy, so far we know you have yet to receive permission from your organization the Chicago Cubs, but how did you feel today as you've fraternized and socialized for the first time with this organization?
Jimenez: I feel very grateful for the opportunity given to me by the Giants to make me their top choice and to support them from within. We're all just waiting for the OK from the Cubs to play here.
Interviewer: You had a fabulous batting practice session just now, hitting out many baseballs.
Jimenez: Haha, yeah there it was. Just working on the swing a bit.
Interviewer: Have you been able to speak with Dickerson, this team's manager, and his staff?
Jimenez: I haven't been able to speak with the manager yet, but I have spoken with his staff, thank God.
Interviewer: Leury Garcia, Moises Sierra – what have these veterans advised you today?
Jimenez: I haven't been able to speak with them yet. But I am here to offer support.
Interviewer: Is this just a spontaneous visit, or will you be taking BP every time they come here [to Santo Domingo] or maybe even back to San Francisco de Macoris?
Jimenez: It's probable that I will go to SFM to visit the club there, but I don't know. I do know that whenever they're here in Santo Domingo I will make the effort to come offer support.
Interviewer: So we can officially consider you unavailable for the rest of the winter?
Jimenez: Honestly I can't say. If it were up to me, I'd grab a jersey and get to playing right now, but that's an organizational issue.
Interviewer: What is the organization telling you in that sense? Are you not prepared for this experience of playing winter ball?
Jimenez: Not necessarily. The main concern is they feel I've taken enough at-bats this year, and so they'd like me to rest up so that I can be ready for Spring Training.
Interviewer: What's your impression of Quisqueya Stadium? Is it your first time here?
Jimenez: No. I've been here numerous times, but it's a little different showing up after being selected first overall in the draft.
Interviewer: In that occasion, what did you feel when you learned you were the top pick?
Jimenez: I was very proud of myself. I knew then that all the work I've been putting in is being noticed and I thank God for this opportunity.
Interviewer: Have you been following the Giants on TV? Have you come to any games this season?
Jimenez: I've followed the team on TV, yeah, but I haven't been able to make it to many games.
Interviewer: How's your communication with the team's GM Mr. Ismael Cruz and Mr. Juan Mercado?
Jimenez: We've spoken a lot and they treat me very well. I hope this relationship continues to flourish.
---
I found several interesting things in Stan's transcription of the interview.
1. The Cubs did not give Jimenez permission to play winter ball, as they felt he had already had enough at-bats. Considering that game experience was his weakness last year, I found this a little odd. Then again, he did hobble through the last month of the season as well as the Arizona Fall League, so it figures that the Cubs might want to give him some time off.
2. Winter ball in the Dominican has more cultural significance than what Americans may afford it. You get the sense that Jimenez is just raring to go to play for the Giants. From the content and tone of the translation, Jimenez feels very much indebted to Giants management and wants to do everything he can to pay them back for selecting him number one.
3. This winter league is not just some fly-by-night organization. The games are televised and generations of fans still hold the team dear to their heart through TV and seeing the games in person. Sounds very familiar, doesn't it?
It's hard to believe, but Eloy Jimenez will be back in Mesa hitting balls off the roof again in a little over seven weeks. His assignment for 2017 has not been decided, but he'll likely begin his third professional season at Myrtle Beach. Even though he might prefer it otherwise, the time off will keep him healthy and rested up for spring.