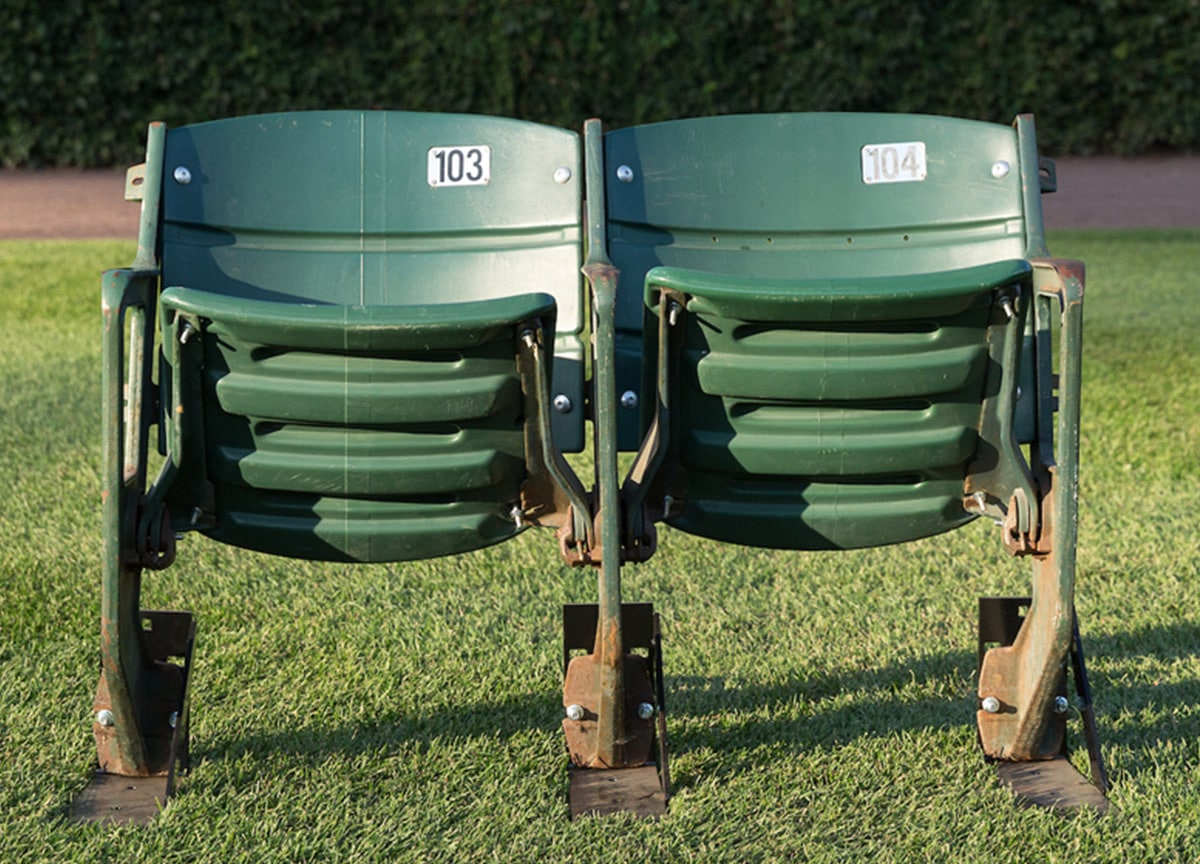 Would You Pay $900 for a Pair of Plastic Seats? You Might for These
Have you ever been to Wrigley Field and thought to yourself how incredibly comfortable the seats were? I'd guess the answer to that – minus the view, of course – would be a resounding "nope." All things considered, though, those seats have been there through thick and thin, they're incredible pieces of Cubs' history.
Thanks to the Wrigley renovations, formally known as the 1060 Project, there are a number of seats that have been torn out and are being replaced. You may have seen the gaping hole behind home plate or read about it on Cubs Insider.
Work continues in the hole at Wrigley this week – looks like foundation poured, rebar going vertical (American Airlines 1914 Club). pic.twitter.com/j4UM6zBrjh

— Wrigley Aerials (@WrigleyAerials) January 12, 2017
According to the following press release issued today by the Cubs, you can soon buy seats that were removed after the 2015 season or the 2016 season and have them all to yourself. Imagine settling into those familiar molded plastic pieces of history as you crack a cold Old Style while watching the Cubs from the comfort of your man-cave. What could possibly be cooler than that?
The Chicago Cubs today announced the Wrigley Field Seat Sale for fans looking to own a unique piece of Wrigley Field history. The Wrigley Field Seat Sale will feature limited quantities of seat sets removed and replaced from the ballpark as part of the Cubs' ongoing effort to restore and modernize Wrigley Field, known as The 1060 Project.

Several sections of ballpark seats will be removed and replaced through the duration of the project, and will be made available for purchase. The removal and replacement of seats began during the 2015 offseason and most recently took place at the start of the 2016 offseason.

Starting Friday, February 3, fans will be able to purchase 2015 and 2016 seats removed from the ballpark through the Wrigley Field Seat Sale. Seats will be available to purchase as two-seat sets and have been authenticated with Major League Baseball's seal of authenticity. Each seat set purchased will include a certificate of authenticity and a hologram on the seat back signifying its authentication by Major League Baseball.

These collectible seats were removed from several sections including the Terrace Reserved, Terrace Box and Field Box, and feature two ballpark riser-mounted seats attached to metal "L" shaped brackets. Seat sets removed in the 2015 offseason cost $799, and a smaller quantity of seat sets removed in the 2016 offseason cost $899. Shipping will cost $132.99 per seat set in the continental United States. Pick-up is unavailable.

For more information about the Wrigley Field Seat Sale or to purchase seat sets, please visit www.cubs.com/seatsale.