Joe Maddon Says Willson Contreras Will Catch Jon Lester (GIFs)
Though most had already assumed as much, Joe Maddon confirmed Tuesday that Willson Contreras would take over as Jon Lester's personal catcher. Because of Lester's inability/unwillingness to throw to bases, he needs to be paired with a catcher who can pick runners off and catch them trying to steal.
Plan is to have Contreras catch Lester. David Ross will work with Willson this spring #Cubs

— Carrie Muskat (@CarrieMuskat) February 14, 2017
While David Ross's leadership will be missed, it's the loss of his outstanding arm (check out this video of all the pickoffs by Cubs catchers last year) that will be felt most. Miguel Montero, a capable framer and experienced vet, just doesn't have the arm to form a reliable battery with Lester. And even if Kyle Schwarber was ready to get back there every fifth day, throwing out runners isn't his forte.
It's about more than just WillCo's ability to peg baserunners, though. The numbers show that he made significant improvements in his own framing and can probably create a pretty significant number of strikes over the course of a full season. For a couple examples of that, take a look at him working with Lester in Pittsburgh last season.
First up, we see Contreras keeping the glove stationary and avoiding the kind of sweeping in or swiping out that can change the umpire's perception of the called strike on an inside pitch.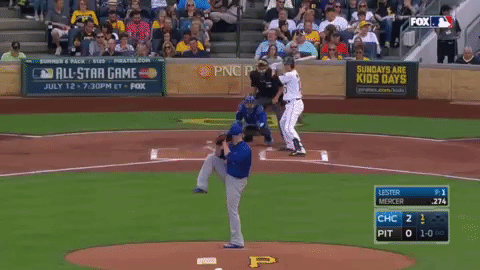 This pitch was actually called a ball, but you can see how Contreras attempts to pick it cleanly and pull it back up a bit.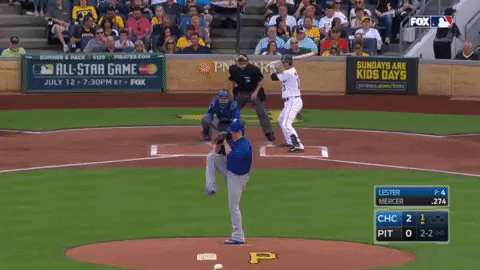 For what it's worth, my money's on Montero catching John Lackey and/or Kyle Hendricks, two known strike-throwers who are decent — by the Cubs' standards — when it comes to holding runners on base. Which reminds me, here's a video of Hendricks picking guys off.