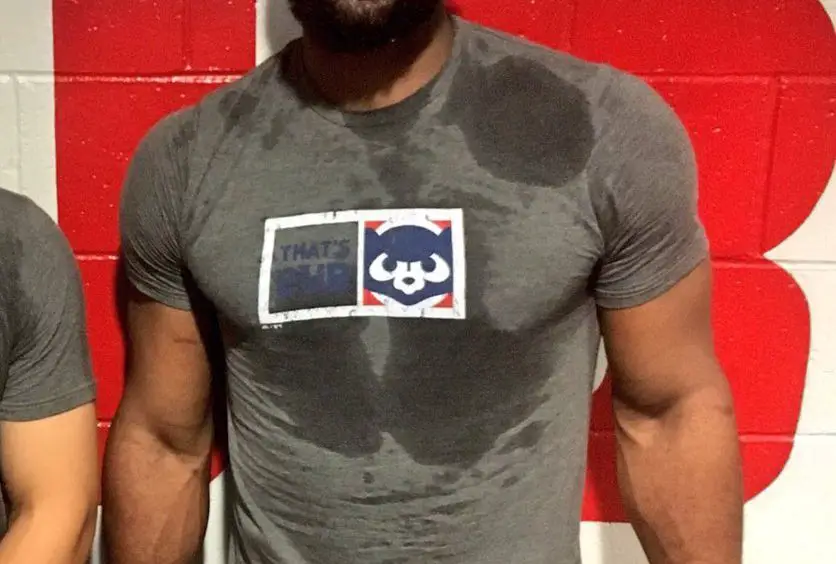 The Rundown: War Bear Knows His Role, J-Hey Jacked, Kris Bryant's Ceiling is What?!
Wow, what an interesting weekend this has been. Between getting our house ready for the market and dealing with a sick kid, I'm just glad I found time to write and edit. As we speak, there's probably something I'm supposed to pack in a box or move into a storage unit.
Apologies for any delusory content here, it's probably just the result of huffing a cocktail of paint and Lysol fumes.
War Bear knows the deal
If Anthony Rizzo is the heart of this Cubs team, I'd venture to say that Kyle Schwarber — and I will get a broadcaster to use his nickname on the air — is the aorta. Or at least the anterior vena cava. Anatomical analogies aside, there's no doubt the World Series hero is going to play an integral role in the Cubs' title defense.
But what exactly will that role be? Schwarber has begun to ease back into catching, but we've been told that he's only doing it a couple times a week and it's clear that he're more of an emergency option at this point. He shed a little light on his future when he spoke with ESPN Saturday morning.
"I'm 100 percent and I'm really looking forward to the Spring. Obviously it's going to be slow at first, I've got to work my way back into things. I can't just go rushing in.
"Everyone has this conception of me thinking I'm going to be a starting catcher. I know my role here. We all know how Joe does some things and if I have to come out from left field behind the plate I wanna be ready for that. That's why we're doing this catcher's work.
"We got Willson Contreras, we got Miguel Montero. You know, those guys are going to be our beasts back there. And if I can give them a break or something like that or we have to pull me in from left to catch late in the game, I gotta be ready for that."
This should clear up any of the questions people had about where War Bear's head is at in terms of his desire to catch. Which is to say there was some concern that he could either become a malcontent or that the Cubs were being too doting and that indulging the slugger wasn't in the team's best interest.
It's pretty clear from this that Schwarber knows what's up and so do the Cubs. Having him available as a possible injury or platoon replacement is just smart baseball.
J-Hey in a smedium? That's Cub
Though most of the roster has been in Mesa for a while, Saturday was the first day of full-squad workouts, which also apparently meant everyone had to wear matching "That's Cub" shirts. I continue to hold that the slogan is a little cheesy — unless the Cubs actually send me one of the shirts, in which case I'll change my tune because I'm easily bought — but one thing stood out.
First, how did that little kid…wait…is that…Willson Contreras next to Jason Heyward? My God, J-Hey is massive.
#ThatsCub pic.twitter.com/jwbjeGYAIP

— Chicago Cubs (@Cubs) February 18, 2017
Two things I learned today: 1) J-Hey is jacked; 2) The new That's Cub shirts come in smedium pic.twitter.com/qVoWIc1dq1

— Cubs Insider (@realcubsinsider) February 19, 2017
Wowsers.
What's Kris Bryant's ceiling?
Loyal readers have probably already seen Part 1 of our interview with Mike Bryant, father of Kris, in which the hitting instructor talks about the science behind crafting an MVP swing. I'm unabashedly biased, but I think it's really awesome stuff and I'm very proud to have it on our site. Part 2 will be dropping later today and I think you're going to like it.
I think you'll like Parts 3 and 4 also, but I can pimp those in the future. In the installment on deck, the elder Bryant gets into even more of his teaching philosophy, including a funny story about his son's early time with the Daytona Cubs. Then he drops a bit of a bomb when asked what Kris's ceiling is (hint: it rhymes with Schmiguel Herrera).
You're gonna wanna read this.
More news and notes
Things got ugly between the Yankees and stud reliever Dellin Betances, who had asked for $5 million in arbitration.

While the ask represented nearly a 1,000% raise over his rookie level of $507K, it's cheap for a good reliever
Betances didn't get a raise at all last season, so the water was already brackish from that
Yankees president Randy Levine came off like a total doucher when he claimed Betances's value isn't high because he's not a closer
While it's true that closers get paid more, Levine's myopic reasoning is a problem
Even if this wedge between player and team precipitates a trade, Betances still has three years of control left and won't come cheap
No matter what comes of this, it was dumb as hell for Levine to say what he did the way he did