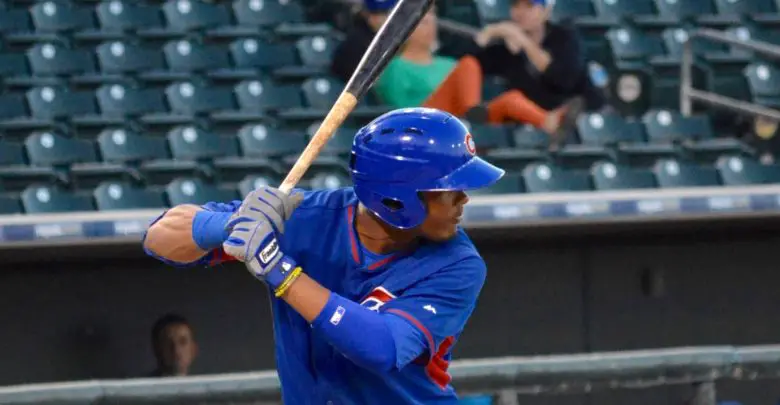 Cubs Prospect Profile: Eddy Martinez Might Be Ready to Bust Out
Two years. That's how long Eddy Martinez was away high-level competition. It takes a while to get used to hitting breaking pitches or fastballs coming in over 90 mph.
When I interviewed him last summer during his hot streak, he said through an interpreter that he was trying to play "happy." It cannot be easy to uproot yourself from your family and escape your country just to play baseball. Sometimes people forget that these prospects are human and have their own stories that go well beyond what we see on the field.
Adjustments to both the sport and the culture can affect performance for a while. I think 2017 will be much different for Martinez.
Current Info
6'1', 195 pounds
Bats: Right
Throws: Right
22-years-old
Strengths
Power bat
Power arm
Decent Speed
Areas of Concern
Pitch recognition, keep improving approach
Strikeout rate (went down over course of season)
Long-term batting average
Walk rates (went up last season)
Next Up in 2017
Martinez will be at Myrtle Beach in 2017, where he could be playing alongside his best friend, Eloy Jimenez. They are a very dynamic duo in the lineup. Most would think it's an easy call, but I am not yet sure who is Batman and who is Robin.
What I Would Like to See
Fun.
Out of all the Cubs outfield prospects, Martinez easily has the best arm. In fact, it is not even close. Many times last summer — it was 12, in fact — he gunned down runners at second, third, and home. Defensively, he might be ready for the majors now. It really is exciting to watch him play defense right now.
As the year went on in 2016, Martinez got better at the plate. He was more selective, not chasing as many pitches or swinging wildly. In July (27 games), he hit .362 with 3 HRs and 22 RBI while taking 15 walks. He still has some space for improvement there, though, and I think he could be a top ten prospect by the end of 2017 if he can further refine his plate approach.
By the end of last year, Martinez was worn out a bit and his hitting suffered. He should be in much better physical shape in 2017, as he's been putting in a lot of work to prepare for the upcoming season. At least, that's what his Instagram account tells us, along with the fact that he likes to sit on his car.
As a result of being better acclimated to the US and MiLB, I think Eddy Martinez will have a breakout season in 2017 as a Cubs prospect. He can hit for average (.275-.280), put up a decent OBP (.350-.360), and hit some dingers (15-20), even into the wind at Myrtle Beach. That would be very exciting. For him, it is all about being comfortable and playing happy.