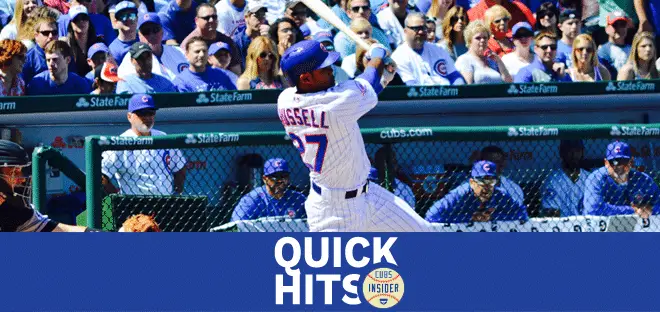 Cubs Quick Hits: Small Sample Size Update on Addison Russell's Contact Rate
We've chronicled Addison Russell's peripherals for a while now. Googling "Addison Russell contact rate" will bring up Cubs Insider first on the search engine results (go ahead, try it). Obsession? Maybe.
It's never too early to be excited about Russell's numbers, even though contact rate doesn't stabilize until around 100 PA. But in 32 PA thus far, the shortstop with the cat-like reflexes and improving bat has struck out at a mere 12.5 percent rate, the result of a robust 77.6 percent contact rate.
Russell finished 2016 with a contact rate similar to what his current — yet still premature — rate. In about two weeks, once the numbers become more reliable, we'll have a better idea of what to expect going forward. Stay tuned.