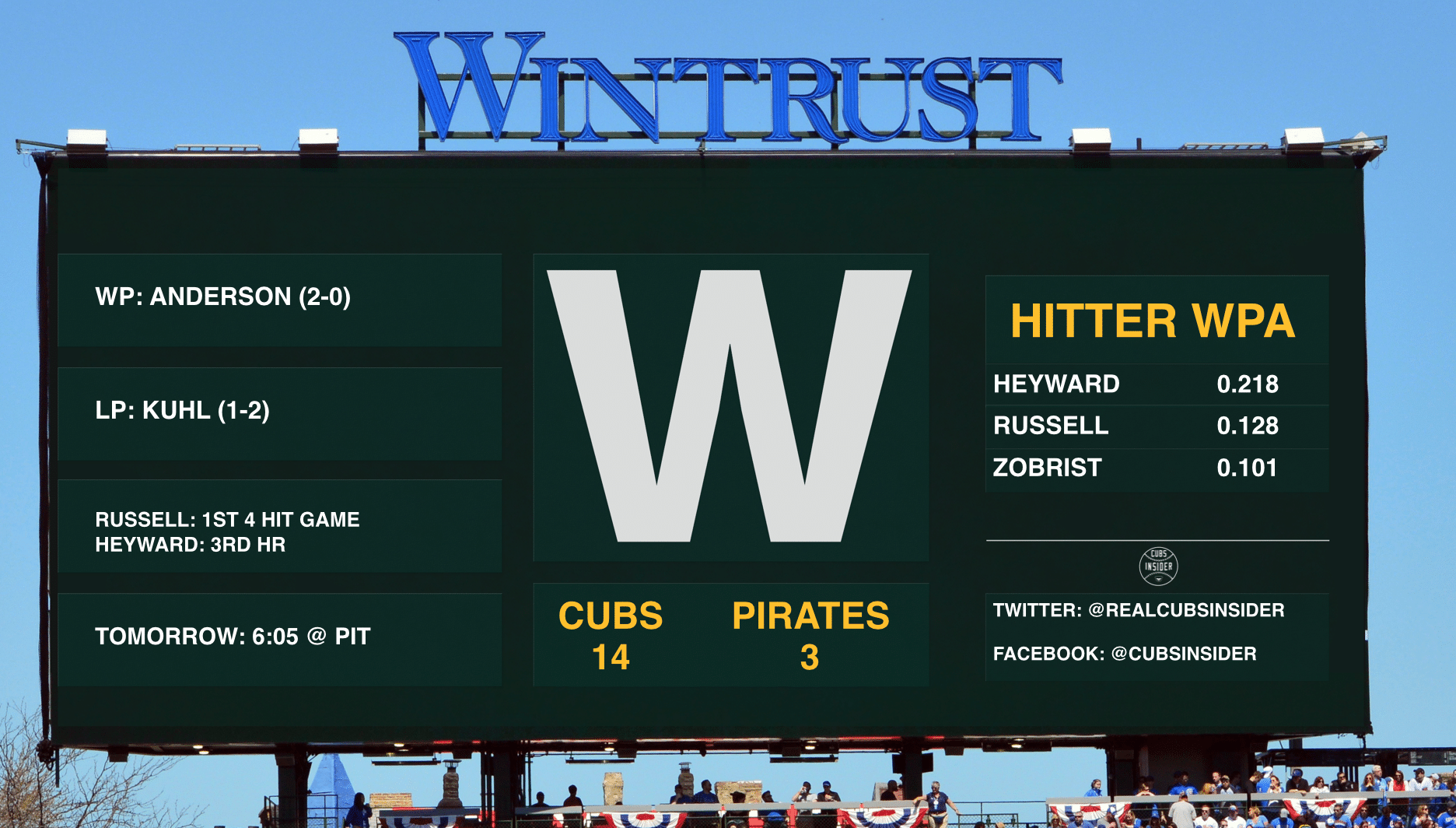 CI Recap (4/24/17) – Cubs 14, Pirates 3: Offense Explodes Early as Cubs Cruise
Anthony Rizzo and Ben Zobrist walked, Addison Russell hit an RBI single, Jason Heyward hit a three-run bomb, and Miguel Montero hit a double. This is what happened in the top of the 1st with two outs against Pirates starter Chad Kuhl.
The Cubs broke out for 4 more runs in the 2nd, and that was all she wrote for Kuhl, who gave up 8 hits, 9 runs, 4 walks, and recorded one strikeout. The Cubs added a run in the 3rd, two in the 6th, another each in the 7th and 8th to cap off the blowout.
Basically, they got some sweet, sweet revenge for being swept at Wrigley.
Brett Anderson pitched pretty well until the 6th inning. With one out, Francisco Cervelli hit a sharp bouncing ball back to the pitcher's mound, which Anderson knocked down and threw to first to record the out. He started shaking his hand as though it hurt, but stayed in the game after the trainer came out and looked at it.
Anderson then gave up a triple to Jose Osuna, a single to Josh Bell, and walked the opposing pitcher, Antonio Bastardo, on four straight pitches. Luckily, he got Alen Hanson to ground out weakly to third in the next at-bat to end the inning. Anderson ended up walking six, which is something you never want to see. Fortunately, he was able to induce weak contact and keep the ball on the ground.
Stats That Matter
Of the outs recorded in the field while Brett Anderson was pitching, 12 came on the ground (including two double plays) and only one was on a fly. Anderson is at his best when he's inducing ground balls, so it was great to see him do that tonight and keep the Pirates from making it interesting.
Addison Russell went 4-for-6 tonight with three runs scored and one run batted in. He has been nothing short of impressive on defense since he came up to the Bigs, and he just keeps improving at the plate. After tonight he's slashing .289/.341/.802 on the year. If he can keep that line up all year long it probably means the Cubs will cruise to a second consecutive NL Central title.
Jason Heyward went 1-for-4 with a three-run home run, his third of the year. For reference, he hit his third home run last year on June 6th. He looks more comfortable at the plate and is getting much better contact. It'll be great to see how good he can be with the stick, because we already know how great he is with the glove.
Anthony Rizzo went 0-for-4 with 2 walks, ending his 12-game hitting streak.
The Cubs offense went 9-for-18 with runners in scoring position, which was something they struggled with in the previous series against the Pirates. It was great to see them do so well with guys on second and/or third.
The Bottom Line
The Cubs got back to their winning ways and finally blew out an opponent so fans could enjoy the game in a nice, relaxed fashion. How nice of them.
On Deck
Kyle Hendricks and the Cubs take on Gerrit Cole and the rest of the swashbucklers Tuesday night. First pitch will be at 6:05 CST and the game will be broadcast on WGN.