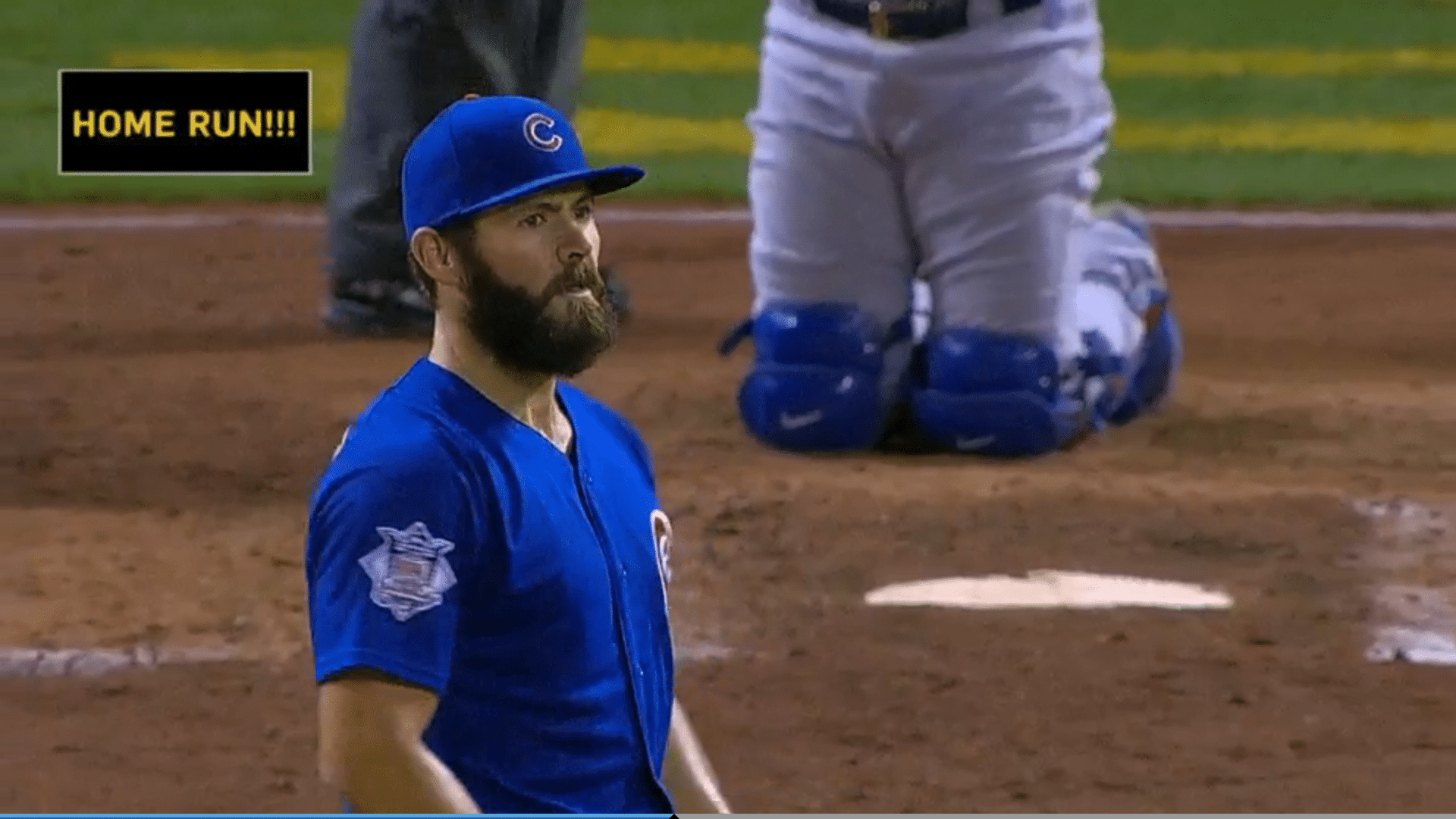 The Rundown: Cubs Are a Bad Team Right Now, Jake Arrieta Is a Bad Pitcher Right Now
The Cubs are just flat-out playing bad baseball right now, there's really just no other way to put it. They're 2-7 over their last nine games and have averaged only 3.33 runs per game over that stretch. It's not much better if we tack on the results over the previous eight games, giving them a 6-11 mark and 4.0 runs/game. In that span, they've gone from leading the division by two games to fourth place and trailing by three and a half.
This is still not as bad a stretch as what we saw last June and July, and several factors have conspired to limit the Cubs' health of late, but this isn't a fun team to watch right now. As trite as it is to keep saying it over and over again, that ubiquitous spark of enjoyment that fueled the Cubs over the last couple seasons seems to be flickering. Whether that's because the dream was finally reached and it changed the perception and/or behavior of the fans and/or players, I can't say.
What I can say is that this season has felt, at least of late, like trying to drive a car up an icy hill. You've got the pedal to the floor and the speedometer is telling you you're going somewhere, while you can see out the window that you're just barely inching along. Maybe even losing ground.
Anthony Rizzo, Kyle Schwarber, and Addison Russell can't seem to buy hits, Kris Bryant has been sick, Ben Zobrist and Jon Jay have tender backs, and Jason Heyward has a jacked-up finger. We'll get to Jake Arrieta here soon. You know what this reminds me of, at least a little bit? The 2010 season, when Derrek Lee, Aramis Ramirez, and Alfonso Soriano were all having down years and the team was incredibly frustrating to watch.
The big difference, of course, is that 2010 featured very little in the way of youth and hope, whereas you watch this Cubs group and say it has to get better at some point. Right? I mean, they can't continue to go out there for the rest of the season and lay eggs half the time. I hope. No, I know. I don't know when this funk will be lifted, but I've got a feeling it'll be soon and it'll be quick.
Right?
Jake Arrieta is lost
It's a question we have to ask every five or so days now: What's wrong with Jake Arrieta? After winning the Cy Young in 2015, there was a noticeable drop-off in his performance last season, one that had a few people worried about the future. While a little regression was inevitable after an historic campaign, it's how Arrieta fell off that elicited worry.
His release point had gotten shaky, he was over-rotating in order to get more velocity, and he was just not very consistent. This year is a whole 'nother animal, one that has roared loudly enough for long enough to drown out those who pointed to his 3.10 ERA as evidence that he was still an elite pitcher and that there was nothing to worry about. The signs have been there for a while and now they're impossible to miss.
Some of this may very well be mental, too, a manifestation of the pressure to pitch his way into that huge ace contract that had been waiting at the end of this season. And maybe it still will be, there's a lot of time left to right the ship prior to free agency. But the way things have looked so far, Arrieta's gong to be wishing he'd sat down with the Cubs over one of the previous winters to talk turkey on an extension.
After going 6 innings and giving up no earned runs against the Cardinals in his first start of the season, Arrieta has given up at least 3 earned runs each of his last seven times out and has given up 33 total runs (27 earned). That tally includes eight home runs, already half of what he gave up last season and only two shy of his 2015 mark. A lot of that is location, as Arrieta has been working more inside to righties rather than down and away. When he's missing, his pitches are far more juicy.
His velocity is way down across the board, too, a troublesome development when it comes to getting good results. As much as Arrieta has tried to downplay that throughout the season, it's impossible to deny that how hard you throw is going to be a difference. And don't "well actually" me with Kyle Hendricks. Yes, some guys can soft-toss their way to success, but velocity is still king.
If Arrieta doesn't rediscover something soon, he's going to have a hard time making good on that whole "aces get seven years" thing. My sincere hope heading into the season was that he'd pitch his way into a monster contract, with the Cubs benefiting from an elite performance and then being able to walk away with a $180 million contract. As it is, Arrieta is dragging them down thus far and they've got nothing to show for it.
Hey, maybe the Cubs can flip him at the deadline for a guy like Scott Feldman.
More news and notes