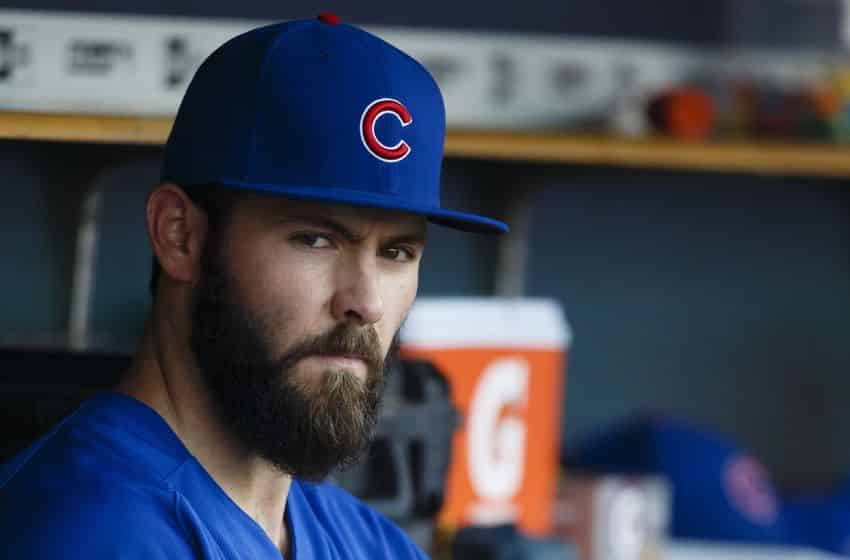 Jake Arrieta's 'Decline' Actually Began About a Year Ago
The purpose of this post is not to engage in sensationalism, but to take you on a journey of Jake Arrieta's decline.
Contrary to what the ugly numbers are telling you, it all started back in May of 2016, not this year. Troubling warning signs from last season have continued to snowball into 2017, and maybe the snow is starting to give way and avalanche (okay, excuse the hyperbole here). In all seriousness, though, Arrieta's poor start is not surprising; it was bound to happen.
Warning Sign #1: The slider disappears
In 2015, Arrieta became Jake Arrieta when he started churning 90+ mph sliders to batters regularly. In this I cannot be more clear: the slider made Arrieta's career. Throwing the filthy pitch at a 30 percent rate, the intimidating pitcher took baseball on a historical ride along which he allowed the lowest wOBA ever in half a season of baseball.
I repeat, no other pitcher in baseball history prevented more runs than Arrieta over that stretch of dominance. All of this was in large part due to a slider that saved more than 23 runs (wSL: 23), which complemented a sinker that saved more than 21 runs (wSL: 21). Both pitches ranked highest in MLB for starters who accumulated at last 200 innings.
Then, a month after the 2016 season started, Arrieta's slider disappeared. Poof, gone. I'll never forget his start against the Cardinals on May 25 because this was the first warning sign. Whereas Arrieta had thrown about 30 sliders for every 100-pitch outing, he only threw seven in just about 100 pitches this time. I thought it was especially odd, too, because his slider horizontal movement dropped by nearly one inch.
From then on, he abandoned the pitch that made his career. He didn't throw sliders at a 30 percent rate again until the last week of September (first image). Even when he did throw his famous pitch, it didn't have that trademark cutting action, as illustrated by the sharp decline in the second image.
Arrieta's once extraordinary weapon became mundane and hitters began to mash it just like any other average slider. By the end of 2016, Arrieta's slider didn't even prevent one run (wSL: 0.7).
Warning Sign #2: Release point inconsistency predicted flatter sliders
To me, it made sense that Arrieta would stop throwing sliders if he didn't feel comfortable with the pitch. I sought to explore comfortability by defining it as release point consistency. After all, no one feels comfortable doing a task if repetition is difficult.
I found that Arrieta's slider release point was 29 percent more inconsistent in 2016 than it had been the previous season. The chance of this being a fluke is less than 0.1 percent, or so my numbers tell me. Let that sink in a bit.
Further, it was clear that the more inconsistent Arrieta's mechanics were, the less his slider moved. The chance of this also being random was less than 0.1 percent.
Warning Sign #3: Command
Arrieta's command in 2016 ranked in the bottom tier of Major League Baseball. Using Called Strikes Above Average, a "measure of how many called strikes the player in question creates for his team," Arrieta's ability to get strikes on the edges ranked No. 704. In other words, at times, Arrieta didn't know where his pitches were going.
Warning Sign #4: Velocity dip
My biggest fear going into 2017 was that Arrieta's stuff could get worse because of natural age and the burden of two consecutive postseasons. If his stuff indeed got worse, I thought, then his wobbly command could spell doom for the former Cy Young winner.
Unfortunately, his stuff has gotten worse, thanks in part to a dip in velocity. Once throwing fastballs over 95 mph, he's now only throwing them around 92.5 mph. And when you consider that Trackman is measuring fastballs about 0.7 mph faster than PitchFX, it's possible Arrieta's velocity is down over 3 mph.
I imagine that the dip in velocity has affected his secondary offerings, as pitch-type whiff rates are down across the board since 2015. Even more, Arrieta's grounder rate has dived from 56 percent in 2015 to 40.2 percent this year, which is below the league average of roughly 40 percent. Fewer whiffs and grounders? No thank you.
Conclusion
Arrieta's decline is exactly why Theo Epstein built the Cubs around young positional talent. At a moment's notice, a pitcher can lose his stuff. For Arrieta, it started on May 25, 2016 against the St. Louis Cardinals. Since then, his mechanics have been inconsistent, his command worse, his stuff flatter, and his fastball slower. A combination of those things resulted in a ballooning ERA. Whether you should be concerned over the pitcher is up to you, but it's indisputable that Arrieta has changed.