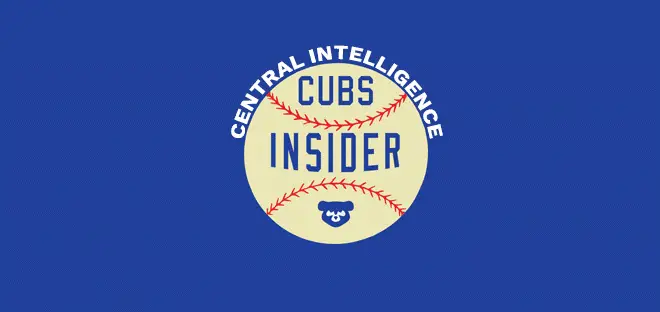 Central Intelligence: Divisional Goings-On for the Week of May 14
The Brewers lead the NL Central and a lot of action has gone down since we last talked. Here's a look at the week that was in the Cubs' division.
Milwaukee Brewers
The Brewers went 5-1 this week and the Crew currently sits at 25-18 and in first place in the Central. Their rebuild has sped up a bit, it would seem.
They still lead the majors in home runs (65), but are also a bit of an all-or-nothing team, as they lead the NL with 399 strikeouts.
Eric Sogard was called up earlier this week due to an injury to Ryan Braun, and all Sogard has done is post a .476/.607/.905 slash line in 21 at-bats. Not too shabby. Maybe the Brewers should trade Braun and let Sogard play?
Neftali Feliz was removed from the closer role and replaced by Corey Knebel, who has converted his first three opportunities and is pitching to a 0.82 ERA so far.
St. Louis Cardinals
The Redbirds went 1-4, dropping them to 21-19 on the season. They dropped two gut-wrenching extra inning games in there too; the Red Sox knocked them off in 13 innings Wednesday before the Giants beat them in 13 Saturday.
Matt Adams was traded to the Braves Saturday evening. There wasn't really a place for him in the outfield, with Pham, Fowler, Piscotty, and Grichuk already there. Kolten Wong can also play outfield in a pinch.
Seung-Hwan Oh's streak of 10 straight saves ended Friday night when he lost the game to the Giants.
Magneuris Sierra had a date with history this week when he became one of the few players to record a hit in his first seven Major League games. His reward? A demotion to AAA, following the activation of Jhonny Peralta from the disabled list.
Chicago Cubs
The Cubs went 3-2, bringing them back above .500 at 21-20.
Top prospect Ian Happ got called up last Sunday, and what's he done in his short stint? Oh, only blast two dingers and post a .462 OBP. Even with Jason Heyward returning Sunday (technically it was Saturday, but the rainout), it appears Happ is in Chicago to stay.
The Cubs' starting pitching improvement was in full force again this week. Jon Lester, Kyle Hendricks, and even John Lackey had good starts. Aside from two home runs on Saturday, Jake Arrieta was not too bad, either. The team ERA could still use some work, though, it sits at 3.92.
A bit of an odd stat here: The Cubs are 0-7 on Friday and Sunday home games so far this season.
Cincinnati Reds
The Reds have plummeted. They managed to snap a seven-game losing streak, but only went 1-5 on the week to drop to 20-22 overall.
Amir Garrett struggled big-time in his start against the Cubs this week. He lasted just four innings, giving up 6 earned with four walks, which led to a moonshot grand slam from Javy Baez. The ups and downs of being a rookie.
The Redlegs bullpen has pitched the most relief innings in baseball (172.1). Despite this, they've been effective, pitching to a 3.45 ERA.
The starting pitching? Not so much. The Reds have the worst rotation in baseball, with a 5.83 ERA.
Pittsburgh Pirates
The Buccos posted a 3-3 record and now sit at 19-24, the only team in the Central without 20 wins.
Tyler Glasnow showed some positive signs against the Nationals. He was able to scratch out five innings with just two earned runs and six strikeouts. He did walk three hitters, which is one of his better starts of the year. His ERA still sits at 7.94, a tad high.
Gerrit Cole is improving his trade stock by the start. Against the potent Nats offense, he dominated for seven innings, giving up just three hits and one earned run. The whole Pirates staff did a nice job of shutting down the Nationals' offense this week.
Adam Frazier is still raking. He put together another multi-hit effort on Saturday and is hitting .358 with a .402 OBP on the year, along with a nice .469 slugging percentage. Frazier kind of came out of nowhere and continues to make an impression, so that's a nice story.