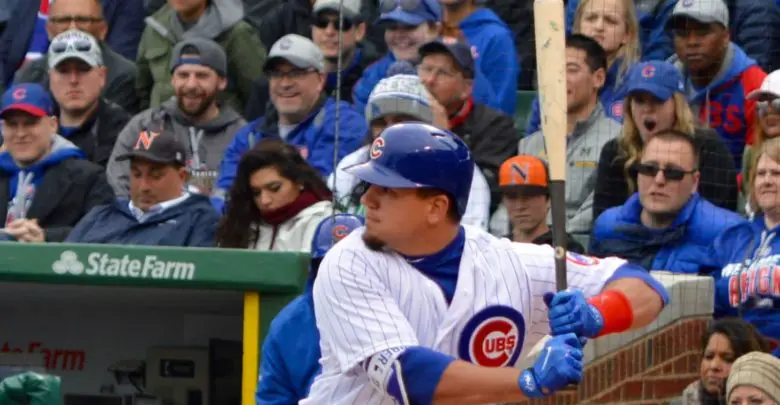 The Rundown: La Stella Back Down as Happ Stays, New Lineup, What's the Deal with Grimm?
True to form, I whiffed on a fastball when predicting the corresponding move to Jason Heyward's activation from the DL. My logic held that Tommy La Stella could be the role player the Cubs needed for the bench, while Ian Happ would be better served with more at-bats. That's what happens when you get cute and overthink what Joe Maddon had already said was an easy decision.
Then again, Happ's presence does everything but alleviate the pressure on Maddon to come up with an equitable distribution of playing time. With Heyward and Ben Zobrist healthy, there's that much less room for the rookie. Still, there he was in the heart of the order for Saturday's postponed game. Could be something we might need to get used to seeing.
Except…wait…what about Javy Baez?
Happ is the new Zobrist, which would be cool if Zobrist wasn't still the old Zobrist. And if having one Zobrist was already enough to prevent Baez from being an everyday starter, what'll two do? What would you do? Voodoo? Sorry, I just wanted to keep the rhyme going.
This has naturally stoked the trade-talk hot stove, with takes of all manner licking their flaming fingers over logs emblazoned with the names of Baez, Happ, Kyle Schwarber, and more. Ah, what fun.
Different order
Not only did the washed-out lineup give us Happ at five and Heyward's return, we saw Zobrist jump to the top and basically push everyone else down a spot. Or, in Addison Russell's case, a few spots. The shortstop was hitting eighth, which is weird because he's not a pitcher.
I can't imagine this setting a mold for the shape of things to come, though we're seeing that Maddon is willing to shake things up a little to see what happens. That's the benefit of a great roster and a long season, you can monkey around with things and don't need to ascribe some greater significance to every move.
It's entirely possible for Schwarber to assume the leadoff role once again, particularly if he can adjust his approach a little bit. He says hitting first hasn't altered his thought process at all, but he's almost too patient up there. He's taking more strikes (25.9%) than he's swinging at and missing (19.4%), but he's got three times as many swinging strikeouts (37) as he does looking (12).
Seeing a lot of pitches is a very good thing, but when he gets into two-strike counts and is forced to protect, he's left swinging at some less desirable pitches. When he's not whiffing, he's not able to barrel up quite as many as he'd like. That leads to more ground balls and fewer line drives, not exactly ideal. Perhaps a new role will result in more liners and a return to form.
Grimm fairy tAAAle
Justin Grimm would be high on the list of the Cubs' most enigmatic pitchers over the last couple seasons. He doesn't seem to have that governor that keeps keeps him in the middle, so he's either awesome or awful. Even with allowance for the magnified significance of relief outings, Grimm's performances appear to be controlled by a light switch.
The lights have been out during his time in Iowa, as he's allowed only one hit while striking out six men in 4 innings of work. He's also walked four, which is the downer here. Even so, you figure an on-point Grimm is an upgrade over Dylan Floro and Pierce Johnson, who have been splitting time at the back end of the pen.
If he can come back and perform like did following last season's options, Grimm will be a huge boon to the Cubs bullpen. If the starters can keep the game close for them in the first place.
More news and notes
The White Sox landed highly touted Cuban teenager Luis Robert

The deal is reportedly worth $25-30 million
This means the Cardinals lost out on yet another free agent
Between offseason trades and this move, the Sox have a killer farm system

Matt Adams traded to Atlanta

The Braves needed a first baseman after Freddie Freeman broke his wrist
Adams didn't have a spot in St. Louis after it was clear he's not an outfielder

Eloy Jimenez hit another home run, video of which only took about 10 hours to locate

Thanks, Salem Red Sox
I'll cut some slack for the delay, as the homer's force may have altered the local time continuum

The Cubs have now decided to Embrace the Suck, which is cool

I actually used that phrase a couple years ago, though I wasn't smart enough to put it on a shirt