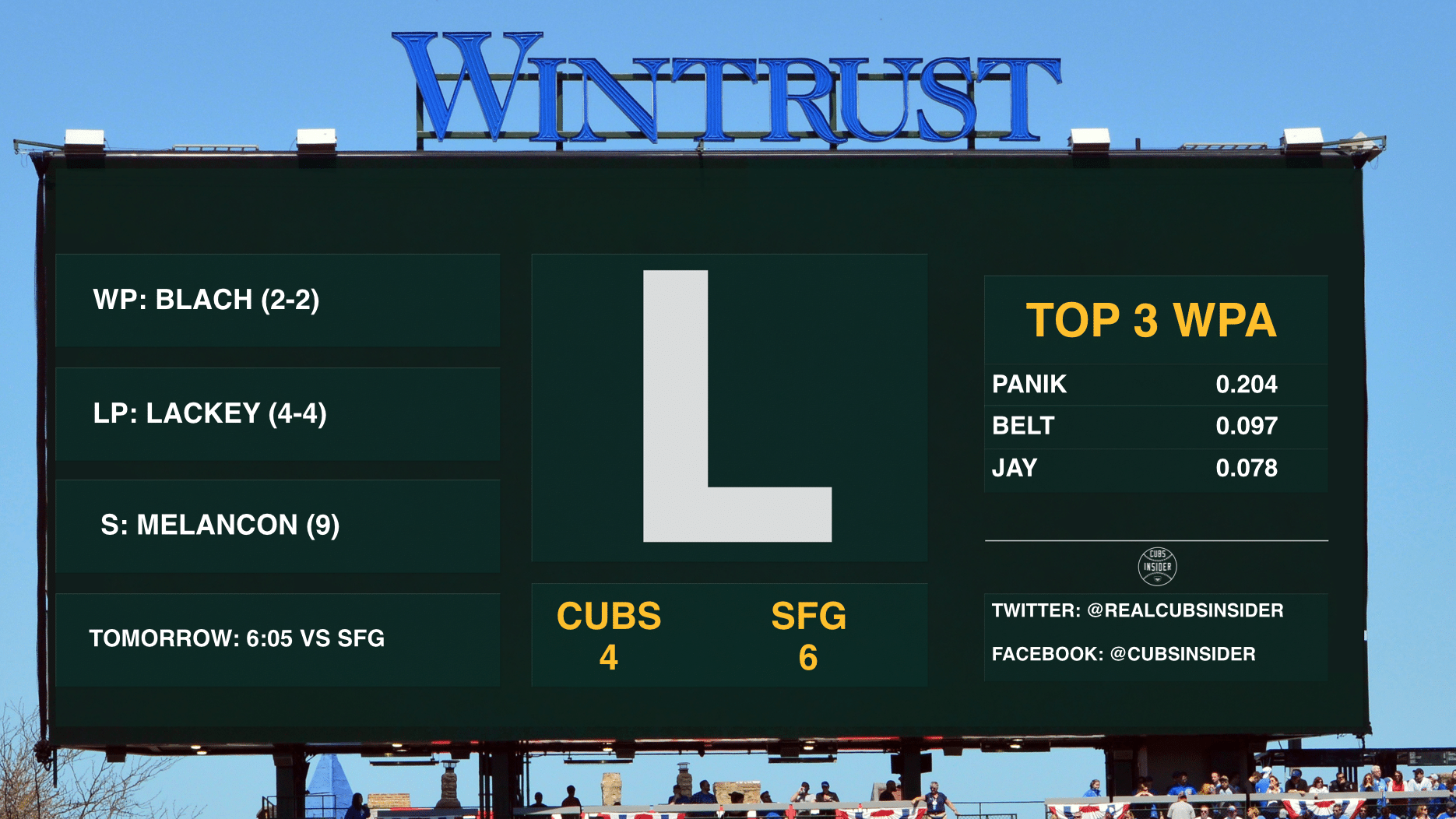 CI Recap (5/22/17) – Giants 6, Cubs 4: Late Surge Fails To Erase Giants Lead
The Cubs were 4-1 halfway through their crucial nine-game homestand and a strong series against the San Francisco Giants could turn a good homestand into a great one. For a moment it looked like a late surge would erase a huge deficit, but it wasn't meant to be.
Joe Panik greeted starter John Lackey with an opposite-field home run to open the game. Center fielder Albert Almora Jr. made an unbelievable diving catch to retire Buster Posey and prevent any further damage in the inning.
Panik struck again in the 3rd, this time a double to score a run. Brandon Belt then singled to score Panik and give the Giants a 3-0 lead. Former Cub Justin Ruggiano doubled to deep center off Lackey to score another run in the 4th. Belt then rode the jet stream to left for a solo homer in the 5th inning to make it 5-0.
Ruggiano added on when he tagged Hector Rondon for a homer in the 8th inning to make it 6-0. Somehow Ruggiano's blast was the 18th consecutive Giants home run to be of the solo variety.
The Cubs could do almost nothing against San Francisco starter Ty Blach, who allowed only runners to reach in the first seven innings of the game. Blach finally began to tire in the 8th inning. After a single, Javy Baez blasted a two-run homer into the rightfield bleachers.
After pinch-hitter Ian Happ tripled, Derek Law replaced Blach and gave up another two-run bomb to Ben Zobrist to make it a 6-4. Hunter Strickland (the fourth pitcher of the inning) came on and coaxed a double play out of Willson Contreras to finally end the inning.
Mark Melancon restored order in the 9th, earning the save in the 6-4 Giants victory.
Stats That Matter
John Lackey was not good on Monday night: 5 IP, 5 R, 7 H, 6 K, 2 HBP, and 2 BB. After a few solid starts, Lackey reverted to his April form giving up tons of hard contact.
Javy Baez continued his power surge of late with his two-run blast. Baez is projected to hit 26 homers this year, which will work.
Ben Zobrist had the two-run homer and hit a triple on the night and seems to fit well in the leadoff spot.
Bottom Line
The Cubs showed almost no life through seven innings Monday. They showed some fight during that 8th-inning rally, but the deficit was too much. Hopefully it's something to build on for the rest of the series.
On Deck
The Cubs will look to even the series Tuesday night in the second of a four-game series. Jon Lester takes on Johnny Cueto in an NLDS rematch at 6:05 CT. The game will air on ESPN nationally and will be available on CSN Chicago locally.