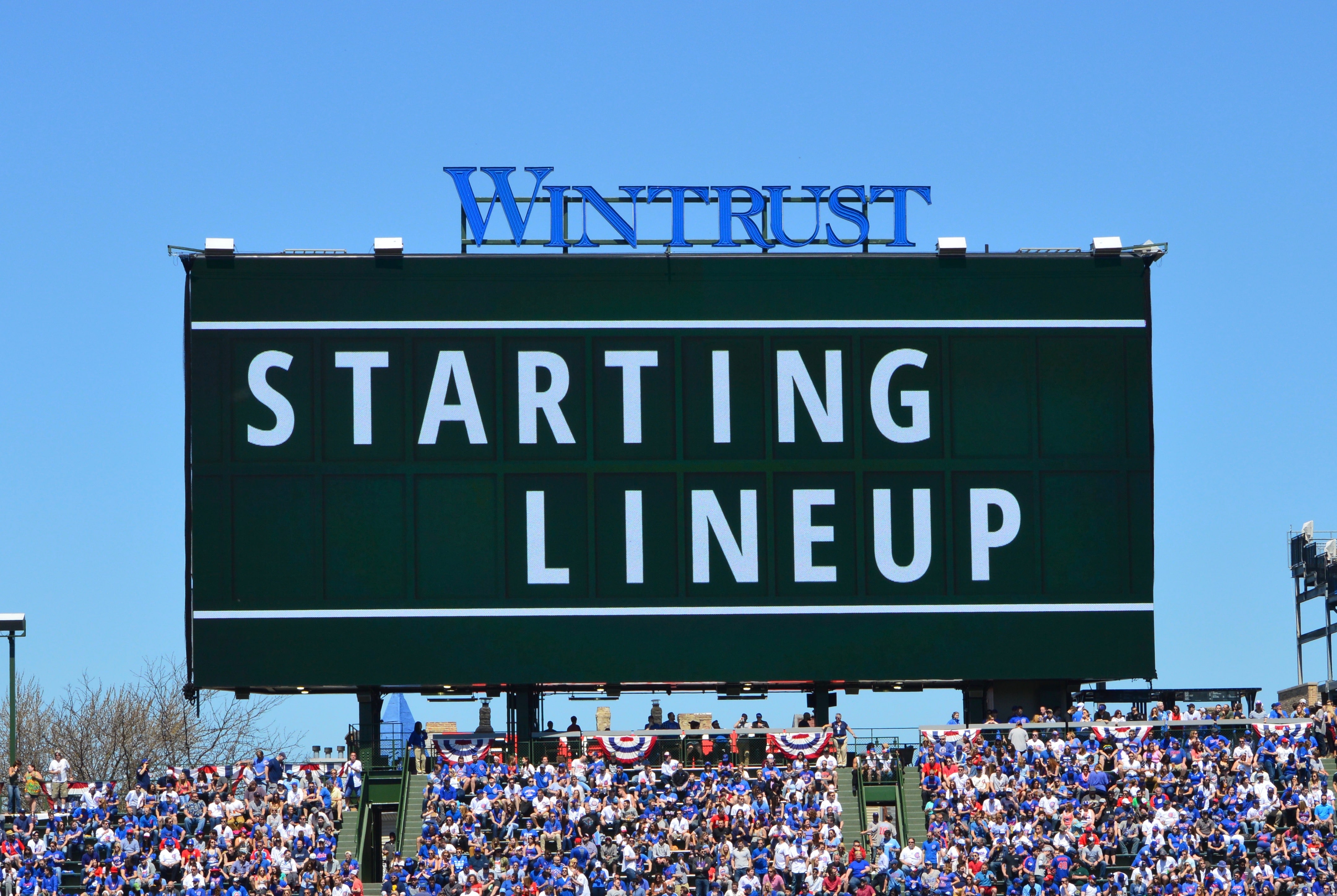 Chicago Cubs Lineup: Zobrist Leads Off, Schwarber Second, Rizzo Cleanup
I'll say this for Joe Maddon: despite his eccentricities and disdain for the old-school tropes of the game, he sure can be a stubborn sumbitch.
After making the move to bat Ben Zobrist leadoff — where he's slashed .303/.343/.697 — Maddon has continued to bat Kyle Schwarber right behind him. And while War Bear has taken on somewhat of a platoon role in order to fight through his funk, it's become a bit frustrating to see him flailing away in such an important spot.
The Cubs are going lefty-heavy again, as five of their first six hitters can bat from the left side which you and I both know is the best side). That includes three straight, with Anthony Rizzo, Miguel Montero, and Jason Heyward following Kris Bryant.
Javy Baez and Addison Russell are both in as well, which means a break for Ian Happ. After a scorching start, it appears the book has gotten out on the rookie. He's seen a heavy diet of high fastballs and has not been able to either lay off or hit them. He'll surely see some time against a Padres staff that is anything but intimidating, though.
Opposing the Cubs will be righty Jarred Cosart, who has already pitched for three different teams in parts of five seasons. Unlike his homophonous colleague in Cincinnati, the Padres pitcher should not be a guy who's name fans are likely to be cursing by the end of the game. Let's hope not, anyway.
Primarily a sinker-baller, Cosart also works in a curve and change. At 93 mph, his average fastball velocity is slightly higher than league average. But average is really the best descriptor for that pitch. His peripherals are mediocre at best and he doesn't posses the kind of stuff that fools hitters.
Cosart throws a first-pitch strike in only 52.8 percent of plate appearances and is neither a big-time strike thrower nor a guy who generates swings and misses. To wit, his 0.73 K/BB mark is fourth-lowest in the majors (min. 10 IP). That's only based on 16 innings over five appearances this season (four starts), but his career mark of 1.26 means he's not a guy who's going to blow anyone away.
The Cubs should be able to get to Cosart, who hasn't gone past 5 innings all season, though they may not do it with the longball. San Diego is not exactly a homer haven and the Padres starter has yet to surrender a dinger all season. Even if that remains true this afternoon, though, this could be a game for guys like Schwarber and Russell to compel some of those demons to GTFO.
Likewise, Kyle Hendricks may really benefit from the spacious confines of Petco Park. He's been stung by big hits season and could use a little extra margin for error as he tries to continue what has been a very solid run of late. A 1.96 ERA over his last six starts is reminiscent of last season, but it'd be nice to see that walk rate come down a little bit. The Padres are 17th in MLB in homers and rank 20th in walks taken, a perfect match for Hendricks.
First pitch is set for 3:40 CT and ABC-7 will have the broadcast for you, which, am I the only one who feels like they've been carrying an inordinate number of games lately? As usual, I'll remind you that fans outside of the greater Chicago are but inside the Cubs' blackout zone can check here for a list of local affiliates. Or you can list to Pat and Coom Dawg on 670 The Score.
Here is today's #Cubs #MemorialDay lineup in San Diego.

Game preview: https://t.co/ynKNn2bS9s pic.twitter.com/mN0VCZfAGE

— Chicago Cubs (@Cubs) May 29, 2017