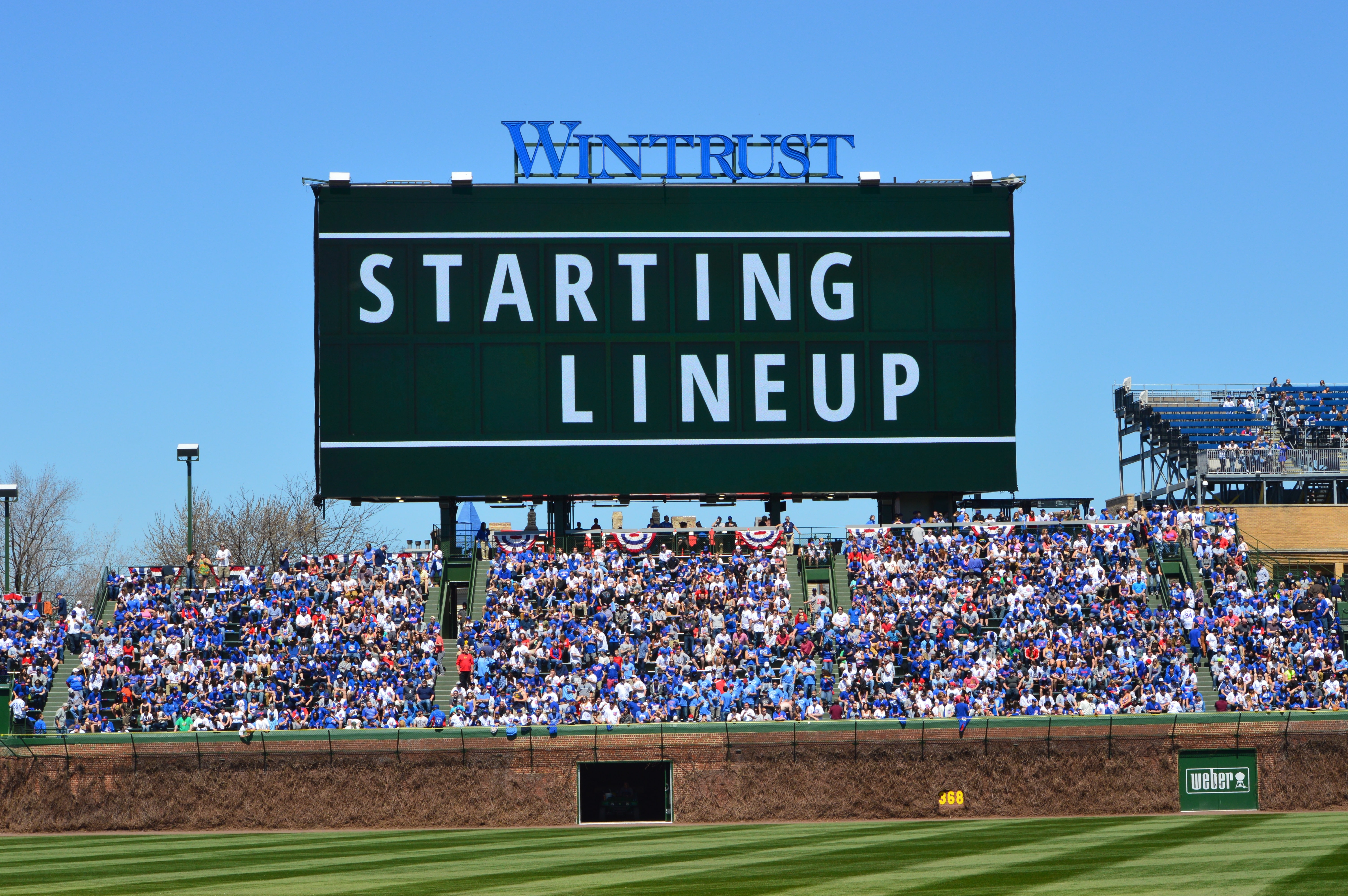 Chicago Cubs Lineup: Schwarber Second, Happ Sits Again as Cubs Look to Rebound Against Rookie Lamet
After bunting late in Monday's game and then leaving for a pinch hitter, Ben Zobrist is right back at the top of the lineup. He's followed by Kyle Schwarber, who is going to hit a home run tonight.
Perhaps the biggest surprise is Jon Jay starting in center and batting fifth, which is the spot Ian Happ has been occupying of late. Joe Maddon is probably going to be more judicious with his deployment of Happ, who has seen a serious drop-off in production as pitchers have figured him out.
The rest of the lineup is generally as you'd expect, with Willson Contreras back after Miggy Montero has started four of five. Addison Russell is batting eighth again, protecting the pitcher's spot.
Not the guy you'd peg as a stopper, Eddie Butler will put his 2-0 record and 1.93 ERA up against the Padres in an attempt to pump the brakes on any full-scale freak-ous. His three starts this season have been all over the map, statistically speaking, but Butler has done enough to limit his opposition. How exactly he has done that, I still don't know.
He's been wild at times, has given up tons of hard-hit line drives, and has only struck out nine batters in 14 innings. But the numbers look kind of normal when you average everything out, so perhaps Petco's spacious confines will afford him the necessary margin for error to settle into a more consistent groove. It would help if his offense could supply a few early runs.
Knowing that the Cubs are facing a rookie starter would normally get you salivating, but Dinelson Lamet isn't necessarily a pushover. The lanky Dominican righty has a mid-90's heater that he offsets with a slider and a power changeup that averages around 90 mph. He's only pitched 5 MLB innings, but he struck out eight Mets and allowed only one run (on a solo homer) in his debut.
The strikeouts aren't a fluke, as Lamet has averaged around 11 K/9 over the course of 198.1 minor league innings. Though the 24-year-old gives up a lot of fly balls, he has avoided giving up many home runs as a pro, something the Cubs need to be mindful of as they try to end a four-game skid. Joe Maddon recently admitted what has been plainly obvious to those watching the games, which is that Cubs hitters are trying too hard.
If they continue to step to the plate looking to hit five-run homers every time up, it could be a long night. If, however, the Cubs actually take what the pitcher gives them and get back to doing what they do best, we'll see an end to what has been a very frustrating Western swing. First pitch for tonight's game is scheduled for 9:10 CT and will be broadcast on CSN-C+, which is a much better grade than the Cubs earned yesterday in San Diego.
Tonight's #Cubs lineup.

Game preview: https://t.co/KJX8zFrogQ pic.twitter.com/7M6fE2zJaE

— Chicago Cubs (@Cubs) May 30, 2017