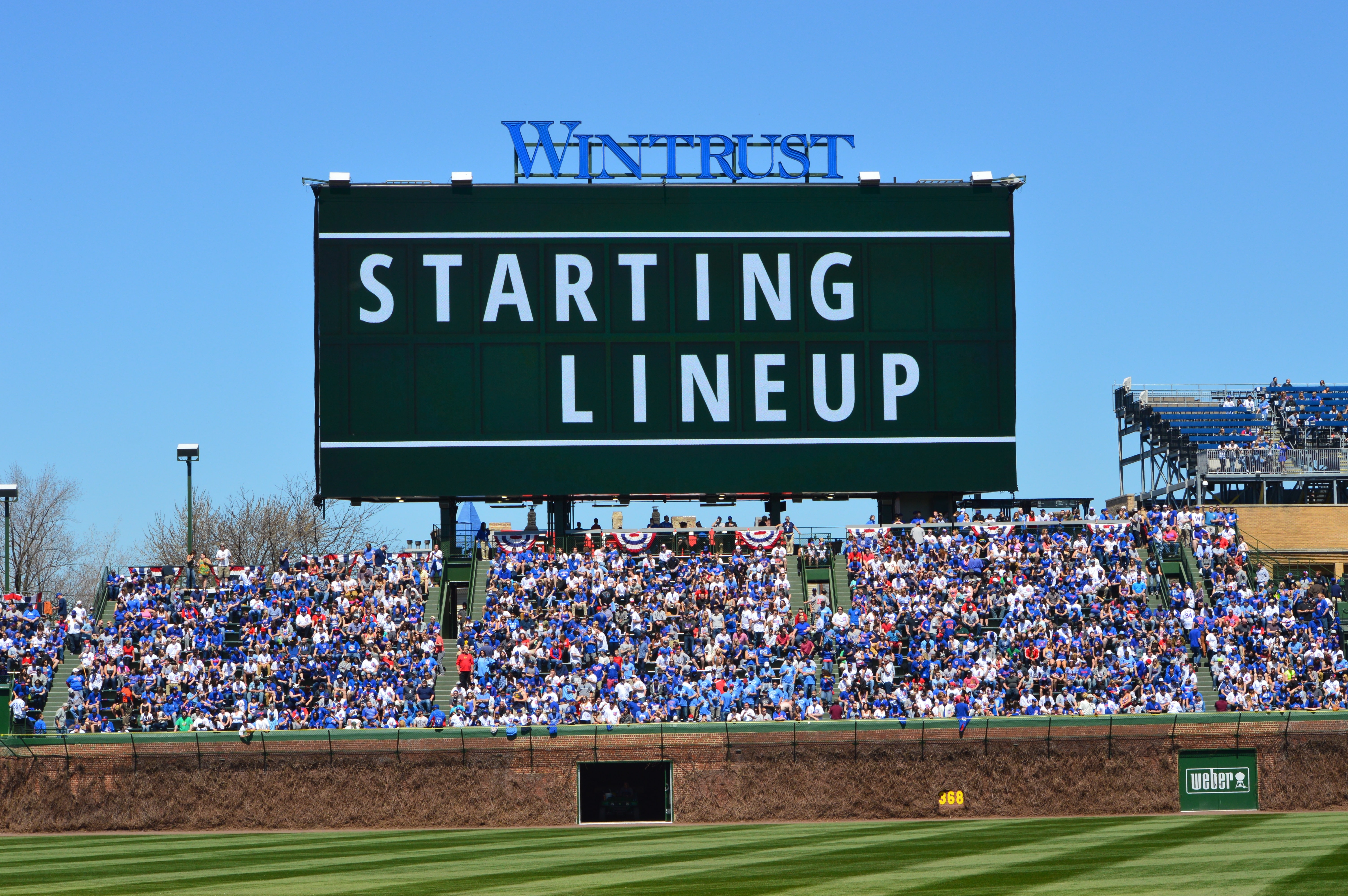 Chicago Cubs Lineup: Top Four Unchanged, Happ Back in Center as Arrieta Tries Keep Cubs from Being Deep-Sixed
It's got to work eventually, right. Joe Maddon may be crazy like a fox, but I think a lot of folks might be thinking he's flat-out insane for doing the same thing over and over and expecting different results. Then again, there's a pervasive sense that something's got to break the right way here soon. To that end, Kyle Schwarber is right back up there in the two hole against another righty.
Maddon has said that he's confident that his struggling slugger is mechanically sound, though the mental aspect of his game needs to come around. Last night's home run was a good start. Ben Zobrist has been playing through a sore wrist, but he's right back in there as well. He actually moved over to short late in Tuesday's game, displacing Addison Russell, who himself has been the subject of injury speculation.
To that end, Russell is getting a day off as Javy Baez plays short. Ian Happ is back in the lineup, batting fifth and playing center after not starting the last two games. You could see last night in his lone at-bat that Happ is unable to either lay off or hit high heat. In fact, he's been fighting through a very rough patch over the last week-plus as opposing pitchers have taken to attacking him up in the zone. This is a chance to prove he can adjust at the highest level. 
Jason Heyward continues to anchor the bottom half of the order, with Willson Contreras and Baez complementing him nicely. After opening this ugly West Coast trip with a loss, Jake Arrieta will be looking to make good on what the peripheral metrics say should be much better performance. The Cubs could really use a day off and some home cooking, and it sure would be nice for them to get out of California with a win.
Opposing the Cubs will be second-year man Luis Perdomo, a hard-throwing righty San Diego picked up last year in the Rule 5 draft. Though his numbers alone — 5.68 ERA and 4.60 FIP in 190 career innings — aren't impressive, the context shifts a little when you consider that he had never pitched an inning above A-ball when the Padres elevated him to the bigs last season.
The 24-year-old Perdomo spent parts of five seasons knocking around the lowest levels of the Cardinals' system, only once pitching more than 72 innings (126.2 in 2015) in a season. But the Padres saw something they liked and he's become a rotation mainstay after pitching 146.2 innings in 35 appearances (20 starts) last season. Despite a fastball that sits in the mid-90's, he isn't a guy who'll beat teams with strikeouts.
Rather, Perdomo gets a ton of ground balls and avoids walks. Among pitchers with at least 40 innings under their belt thus far this season, Perdomo's 65.9 percent ranks third in baseball behind Dallas Keuchel (67.6) and Alex Wood (68.7). His fly ball rate, then, is predictably low (18.9 percent) and also ranks third-best behind that aforementioned pair. The difference comes in soft and hard contact, which Perdomo allows at lower and higher rates, respectively, than either Keuchel or Wood.
This could be a good matchup for a Cubs team that has been pressing and is desperately in need of a get-right game. Perdomo will work in the zone, as evidenced by a 67 percent first-strike percentage that is higher than all but nine other pitchers (min. 40 IP). And lefties have absolutely crushed him to the tune of .370/.439/.562, which means this is no time for those guys to go up there looking to wait him out.
First pitch is set for 2:40 CT, which is good for those of us who stayed up later than we would have liked watching last night's steaming pile of pony loaf. WGN has the game, so check local listings if you're outside Chicago.
Here is today's #Cubs lineup.

Game preview: https://t.co/XUBWRWHE0h pic.twitter.com/FTqDldX1TA

— Chicago Cubs (@Cubs) May 31, 2017