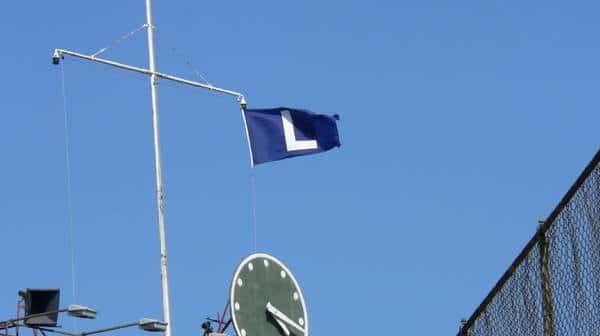 CI Recap (5/31/17) – Cubs 1, Padres 2: Jake Arrieta Great Again, Offense Stalls
The offense did very little, while the defense and pitching performed well today.
The Cubs' sole run was scored when Javy Baez hit an infield single in the top of the 2nd inning. Anthony Rizzo, who got pegged by a pitch leading off the inning, scored from third base after he stole second and then advanced on an Ian Happ fly ball. Rizzo was clearly agitated after the beanball but stopped short of going full Bryce Harper.
The team collected only three hits on the day, one of which was a Willson Contreras double. They also walked twice and struck out five times, while getting hit two pitches.
Jake Arrieta pitched a good game, which was certainly encouraging to see. He gave up a home run to Ryan Schimpf — who basically only hits homers — in the 2nd inning but was otherwise very solid. Outside of that long bomb, Arrieta allowed six baserunners (four hits, two walks) while striking out seven. The Padres' offense was off-balance for most of the game and Arrieta had that familiar nasty movement on most of his pitches throughout.
Carl Edwards Jr. pitched a clean 7th inning and Koji Uehara took over in the 8th. After striking out former Cub Matt Szczur, Uehara allowed a near-home run to Franchy Cordero that turned into a triple. Yangervis Solarte promptly grounded to Ian Happ, whose throw home was way too high for Contreras to get the tag down. That allowed Cordero, who was running on contact, to score.
Thus, the Cubs dropped their sixth in a row, scoring a grand total of nine runs over the course of the road trip. Three of those came to the Padres, who are not good. Using the transitive property, we can safely say the Cubs kinda suck right now.
Stats that Matter
1: hits the Cubs had in 9 at-bats with RISP this game
3: hits the Cubs had in 26 at-bats with RISP this series
12: the total number of hits the Cubs got in the entire series against the Padres, who have the fourth worst team ERA in MLB at 4.74
Bottom Line
To say the offense is struggling right now is a bit of an understatement. During the entire West Coast road trip the Cubs went 3-for-40 (.075) with runners in scoring position. They also left 45 runners on base. If the last couple of years made you forget what the five years before were like, here's your reminder. Hopefully the day off and coming back to Wrigley will help the Cubs set things straight.
At this point, we can only hope.
On Deck
The Cubs have an off day tomorrow to try and regroup. They're back in action Friday, as John Lackey takes on Lance Lynn and the St. Louis Cardinals at 1:20 pm on CSN Chicago and MLB Network (out-of-market).