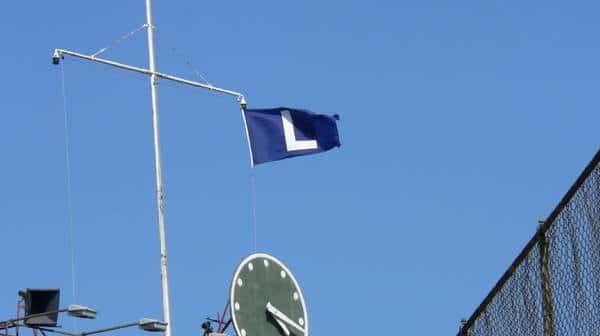 CI Recap – Cubs 5, Marlins 6: Not Even Schwarber's Heroics Let Lackey Off Hook
You can call him a mean sumbitch or scary as hell or  maybe just straight-up country, but don't you dare call John Lackey inconsistent. Wednesday's start was his fifth straight allowing at least one home run and when Marcell Ozuna clubbed a dong in the 5th inning, it marked the fifth time Lackey had given up multiple jack-jobs in a game.
Anthony Rizzo's ringing two-run double in the 3rd offered fleeting hope that this game would be another like the last one, a crooked-number fest in which the Cubs ran away and hid. Then the Marlins struck back with three runs in the 4th and would not relinquish the lead.
The teams traded single tallies in the 5th and 7th innings, all of one of which came via the home run. Ian Happ smacked one to left center after the Marlins' Ozuna had gone deep. Then Dee Gordon came around to score from second after Giancarlo Stanton struck out on a wild pitch and Miguel Montero's throw to first allowed the runner to sneak home.
Upon further review, it actually appeared as though Gordon was rounding third thinking there were three outs. He slowed to a jog about halfway home and then picked up the pace when the throw from Anthony Rizzo came back to the plate.
Kyle Schwarber rewarded the organization's faith in him when he went yard to bring the Cubs to within two runs again. It was launched to left-center, like his Saturday grand slam, and you have to feel good about the big nine hitter munching on oppo tacos. Oh, his double earlier in the game was hit out to left too.
Schwarber capped the Cubs' scoring with a laser-etched double to the gap in right-center, but Ian Happ struck out to end the 8th inning and that was that.
Stats that matter
War Bear was 3-for-4 with a homer and two doubles; too early to say he's back, but the last four games have been nice
Both of Schwarber's RBI hits came in 1-2 counts
Due to the shifting around to defend against the bunt, Ben Zobrist's box score positional breakdown looked like this: 2B: 1B: 2B: 1B: 2B: SS
Bottom line
The Cubs lost after winning five straight, so this just means they'll need to go on another run. It was great to see Schwarber string together several nice at-bats, it's just too bad they were largely buried under Lackey's start.
On deck
The Rockies come to town for a four-game set that begins with the Cubs' fifth straight night game and continues with three consecutive 1:20 starts. Jon Lester, Kyle Hendricks, former Rockies prospect Eddie Butler, and Jake Arrieta will take the bump for the Cubs.