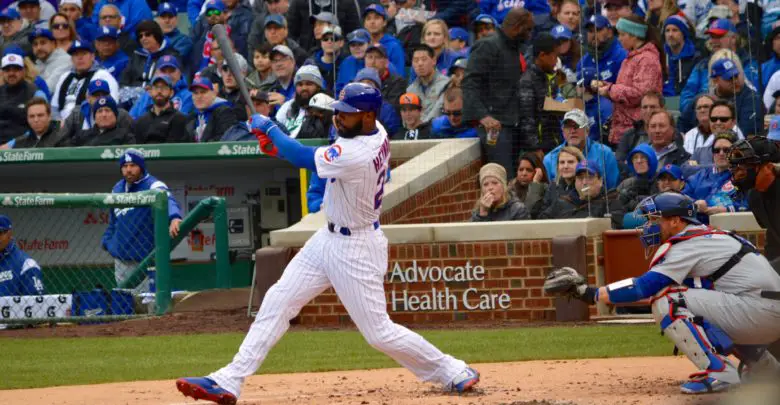 The Rundown: Vintage Cubs Performance, Heyward Hammering, More
Whether it's one of a handful of disappointing individual performances or the aggregate product the Cubs have been manufacturing, we've been waiting for them to show some consistency. It's like when I started up my lawn trimmer for the first time last month. Not only had it sat dormant all winter, but it was out of gas. So even after filling the tank and priming it, I had to meticulously control the choke and throttle for a long time just to get it running.
Once it finally got going, though, the grass around my house didn't stand a chance. Whether it was the meeting Jon Lester called in San Diego or just the embarrassment of being swept out of two cities in six days, something has awoken the hibernating Cubs.
Though we dared not put it out for public consumption, conversations were had about Friday's series opener against the Cardinals being a turning point. Not only was it the birthday of your 15th-favorite Cubs blogger, which would allow me to lay claim to credit for the shift, but it felt like one of those moments that could turn into something bigger. The Cubs came from behind, the game was close and had its dramatic moments, and was the start of the homestand.
Sure enough, they went on to an even more dramatic win Saturday before falling behind and surging back once more Sunday night. Monday was another close one in which they put up a trio of runs in the first four innings and then held on. In total, the Cubs had outscored their opponents by only six runs in their four consecutive wins. They were manipulating the choke and the throttle, but weren't really able to open it up all the way.
Until last night.
One of the trademarks of the 2016 world champs was the ability to wait out opposing pitchers, to make them work for a few innings. Then, like the lightning strike attack of the world's most feared predators, they'd pounce and eliminate their prey. Between the claws and fangs of extra-base hits and the smothering constriction of a lineup that offered no reprieve, games often ended in a single inning.
That was the 7th last night, when the Cubs hung half a dozen on the Fish after having already built a 4-1 lead. They sent 10 men to the plate, six of whom collected hits and seven of whom reached. Four of those hits were doubles, four of them drove in runs. They were just spraying the ball all over the yard to the point that it felt as if they were running up the score.
Not everyone was in on the action, though. Addison Russell was hitless on the night and both Kyle Schwarber and Ben Zobrist remained on the bench. But more performances like this allow the Cubs to better foster growth in those players, or even mask their shortcomings should they continue.
"We don't need everyone to get hot," Theo Epstein said prior to the blowout. "We don't need everyone to hit their projection. We don't need everyone to have a nice, steady progression building off of where they were last year. We just need a few guys to get going to make our offense really viable."
Sounds good to me.
Jason Heyward's weird numbers
"Everything he's hitting is like on the barrel," Maddon said of his right fielder after Tuesday's win.
That's very true, and has been since Heyward returned from a finger injury that sidelined him for a couple weeks, but there are some weird underlying numbers in there as well. First things first, Heyward is now doing exactly what was expected of him when he signed that big contract last year, which is to put up career-average offensive numbers while playing stellar defense.
His .264/.322/.415 slash line is nearly identical to the .262/.345/.415 he's put up over parts of seven seasons, though the latter marks are somewhat deflated by last year's flailings. Still, it's good to see what Heyward can do when he's fully healthy. The glaring weak spot in all this, though, is the OBP that sits significantly lower than we'd expect. That's the product of a 7.5 percent walk rate that is the lowest of Heyward's career.
It's largely due to a change in plate approach of late, as Heyward has been more aggressive and is really looking to drive pitches with authority. Prior to going down with the finger injury, the right fielder was batting .253/.333/.364 with a 9.9 percent walk rate, a 17.1 percent strikeout rate, and a .111 ISO (measure of raw power). Since coming back, he's at .283/.302/.500 with a 9.5 percent strikeout rate and a .217 ISO.
Notice I left out the walk rate, which is almost nonexistent. Heyward has only walked twice in his last 63 plate appearances, and both of those free passes came on May 21 in his first game back off the DL. That means he's made 58 trips to the plate with drawing a walk, something we saw last year at times. The difference is that he's able to make solid contact when he's up there, thus mitigating the lack of walks.
The eight extra-base hits (5 doubles, 2 homers, triple) in those 63 plate appearances are twice as many (3 HR, triple) as he posted in his first 111 PA's. Batting where he has been in the order, it's not really necessary for Heyward to be a big on-base guy, though we should see the numbers start to stabilize a little more moving forward.
More news and notes
A grown man named Scooter just had one of the best offensive performances in history

Gennett was 5-for-5 with 4 HRs and 10 RBI
That's a wOBA of 1.777 and wRC+ of 1055
The homers represent 9.5% of his career total and the RBI are 5.3%

Jake Peavey is reportedly mulling a midseason comeback
Bartolo Colon has been placed on the 10-day DL with a strained oblique, which is weird because I associate obliques with abs and core muscles and I do not associate Colon with those same things