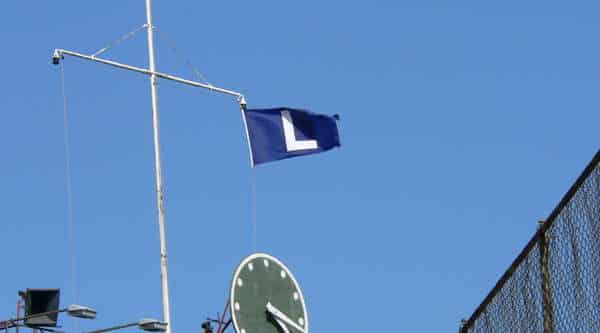 CI Recap (6/9/17) – Rockies 5, Cubs 3: Cause Of Death, Runners in Scoring Position
The Cubs continued to hug the .500 mark heading into Friday's game with Colorado. The complete lack of timely hitting again would prove costly to the struggling champs.
The Northsiders jumped out to an early lead in the bottom of the 1st. Anthony Rizzo walked and Ben Zobrist singled up the middle to put two on for Jason Heyward, who lined a single to center to score Rizzo. Zobrist followed when centerfielder Charlie Blackmon dropped the ball.
The 2-0 Chicago lead would not last long. Mike Montgomery, starting for the injured Kyle Hendricks, had trouble the next inning. Ian Desmond singled to open the frame, then light-hitting catcher Ryan Hannigan smoked a cutter into the leftfield bleachers to tie the score.
Rockies starter German Marquez struggled, putting tons of runners on. As would be a theme in this game, the Cubs could cash in on too few of those runners.  Montgomery pitched well the next two innings before getting pulled.
Reliever Seth Frankoff made his MLB debut in the 5th inning after spending parts of eight seasons in the minors. It was a dream come true for the North Carolina kid, but apparently Charlie Blackmon is a dream-killer. The Rocky Mountain Yeti (hat tip @RandallJSanders for the name) mashed a two-run homer to right off the rookie, giving Colorado a 4-2 lead.
Chicago put two men on against former Cub Chris Rusin with none out in the bottom of the inning. Alas, they could only produce a Heyward RBI grounder.
A hit-by-pitch, stolen base, and throwing error put Raimel Tapia on third with two outs in the 7th inning. Nolan Arenado blooped a Carl Edwards pitch that almost hit the dirt for a run-scoring single to make it 5-3 Rox.
Rockies closer Greg Holland (no relation) walked the bases loaded with one out in the 9th. Amazingly, the Cubs again squandered the chance. Zobrist popped out and Heyward struck out to end the 5-3 loss.
Stats That Matter
Mike Montgomery had a solid outing in his spot start: 4 IP, 2 R, 3 H, 5 K, and 3 BB. As with most Cubs starters this season, a homer was his only blemish.
Anthony Rizzo continues to get on base with three walks and a single on Friday.
The Cubs again got people on base without getting hits: nine walks, two hit batters, and catcher's interference. Once again, though, they struggled to get the big hit, going 1-for-11 with men in scoring position.
Bottom Line
The Cubs' inconsistent 2017 season continues. Every time it appears they may be ready to go on a run, things fall apart. As time passes it seems more and more like this is what this team is.
On Deck
Chicago looks to bounce back Saturday afternoon in the third game of the series. Eddie Butler takes on Jeff Hoffman at 1:20 CT and ABC-7 will have the broadcast.