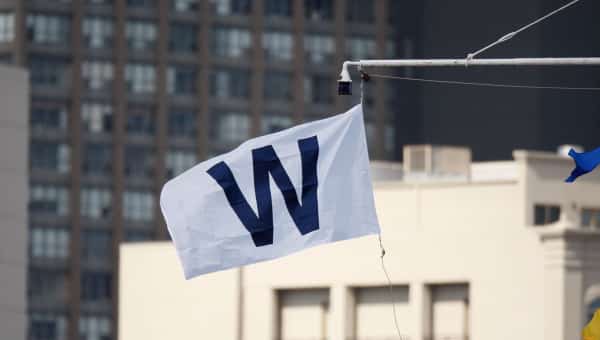 CI Recap (6/11/17) – Cubs 7, Rockies 5: Cubs Hit It High And Let It Fly
Conditions were ripe for offense at Wrigley Field again Sunday. This time the Cubs were able to take advantage via the longball and snap their four-game skid.
The Northsiders jumped all over Rockies starter Antonio Senzatela in the 1st inning. Jon Jay and Kris Bryant hit back-to-back singles, followed by an Anthony Rizzo double to score Jay. The scuffling Ben Zobrist then ripped a three-run homer to right.
The Cubs had a chance to extend their 4-0 lead in the 4th inning when Miguel Montero doubled and Addison Russell singled to put two on with none out. But Senzatela ended his day striking out the side and escaping the jam.
Chicago starter Jake Arrieta was not so lucky in the 5th. A double, walk, and disputed hit by pitch loaded the bases for Colorado. A walk to DJ LeMahieu forced in a run and Mark Reynolds singled to cut the lead in half.
That was all for Arrieta as CJ Edwards came on in relief, but he couldn't stop the bleeding. Ian Desmond ripped a single up the middle to tie the game at 4-4. Edwards got the next two batters to finally escape the frame.
A pair of homers from two struggling hitters put the Cubs back ahead in the 6th. Russell hit a Jordan Lyles hanger just over the basket in left and pinch-hitter Kyle Schwarber followed with a long homer almost over the right field bleachers to make it 6-4.
Koji Uehara relieved Edwards in the 7th and pitched two spotless innings of relief. Miguel Montero hit a long homer to center (his second extra-base hit of the game) in the 8th to make it 7-4.
Wade Davis allowed an RBI single to LeMahieu in the 9th, but was able to close out the 7-5 Cubs win.
Stats That Matter
Ben Zobrist has been fighting a bad wrist of late, but he looked good today. Two hits (especially the homer) from the left side were nice to see, a lineout from the right side was more important. It might be an indication his wrist is feeling better.
Jake Arrieta's inconsistent season continued Sunday: 4.1 IP, 4 R, 5 H, 3 K, and 3 BB.
Jon Jay had two hits from the leadoff spot on Sunday. Might see that a bit more often with the Cubs' offensive struggles recently.
Bottom Line
Chicago started out their ten-game homestand with a sterling 5-0 record. Then the bottom dropped out with four losses in a row. 6-4 isn't a great record, but it's a lot better than 5-5.
On Deck
The Cubs head to New York to begin a road-trip against the Mets and Pirates. John Lackey does battle against Jacob deGrom at 6:10 CT. The game airs on CSN-C.